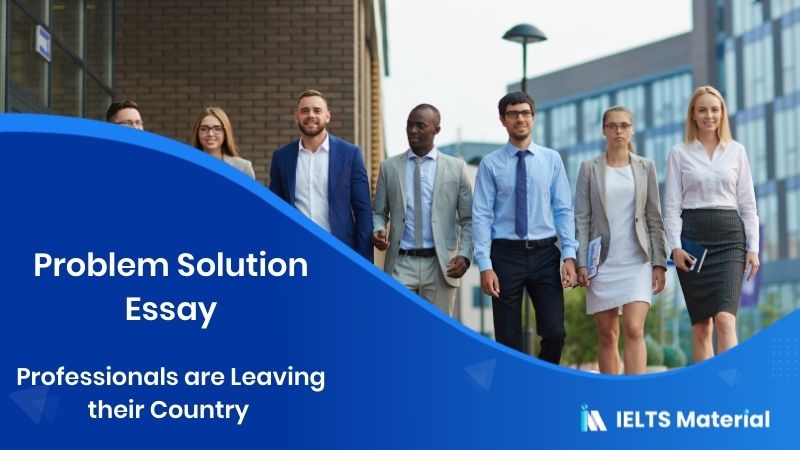 Professionals are Leaving their Country – Problem-Solution Essay
An increasing number of professionals, such as doctors and teachers, are leaving their own poorer countries to work in developed countries. What problems does this cause? What solutions can you suggest to deal with this situation?
Brain drain has been in existence since the early 1950s. The numbers continued to increase steadily, and the situation has not reversed, which is why it has become a serious concern for developing countries now. Loss of skilled human resources will weaken the economy, which will lead to other problems like poverty, unemployment,  social unrest, and in some extreme cases, create situations of war. Skill retention can be done by recognising and rewarding the meritorious lot, increasing the pay scale, and enabling research opportunities alongside work.
Poor countries will become poorer with the migration of skilled workers. The doctor to population ratio recommended by WHO is 1:1000. Underdeveloped countries will be unable to achieve this, and the death rate will continue to increase due to lack of proper treatment. Many students will opt out of school due to the lack of good teachers. The country will fail to produce talented individuals due to the poor quality of education. This will lead to mass production of unskilled human resources who may not help in improving the economy of the country. Poor economic conditions, coupled with an unhealthy living, will exacerbate poverty, lead to unemployment and ultimately disintegrate the nation.
Skill retention can be done in several ways. Poor countries receive considerable foreign aid which could be channelised in positive ways. As a first step, the government should reward the deserving candidates with scholarships and increase facilities for research-oriented activities.
Secondly, the pay scale should be increased for doctors and teachers, and the work environment should be made fair and transparent. People who perform well in their respective fields of study should be honoured with awards and incentives. The secret is to make the right people happy.
In conclusion, it is indeed a significant loss for the country to become deprived of its skilled people. But it should also be noted that they migrate because of lack of opportunities and recognition. The government should step in and create an environment conducive to growth and development.