Storytelling – IELTS Reading Answers
Justin,
Updated On
The Academic passage 'Storytelling' is a reading passage that appeared in an IELTS Test. It contains some of the IELTS reading question types.
We at IELTSMaterial.com would urge every IELTS aspirant to time this test as in the real exam and find the answers without looking at the key. If you have scored 40/40, then we wish you all the best. If you are interested in familiarising yourself with all the question types, don't hesitate to take an IELTS reading practice test.
Storytelling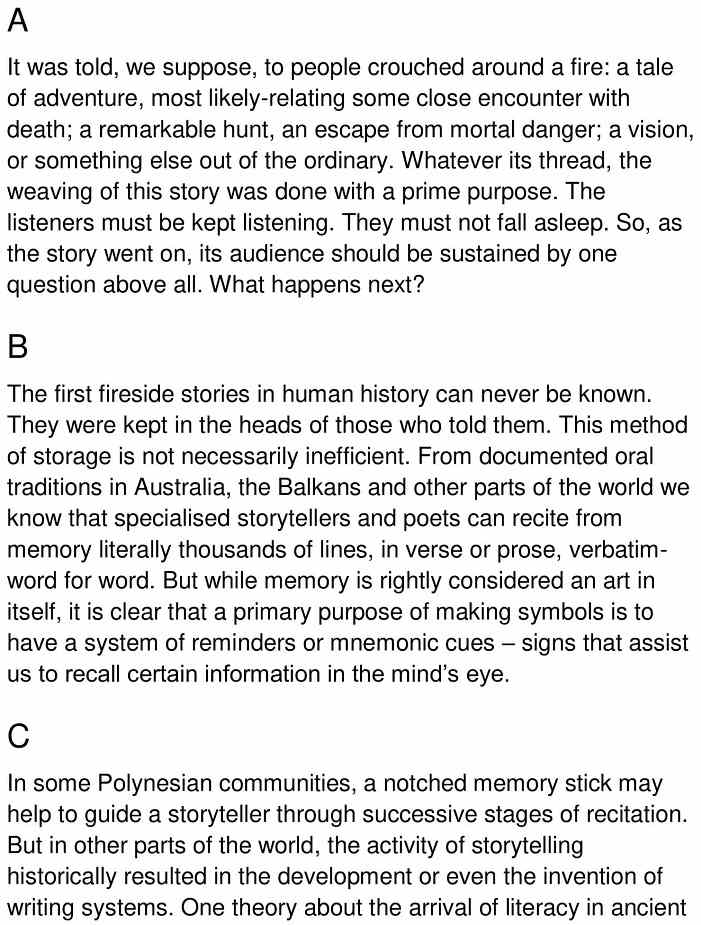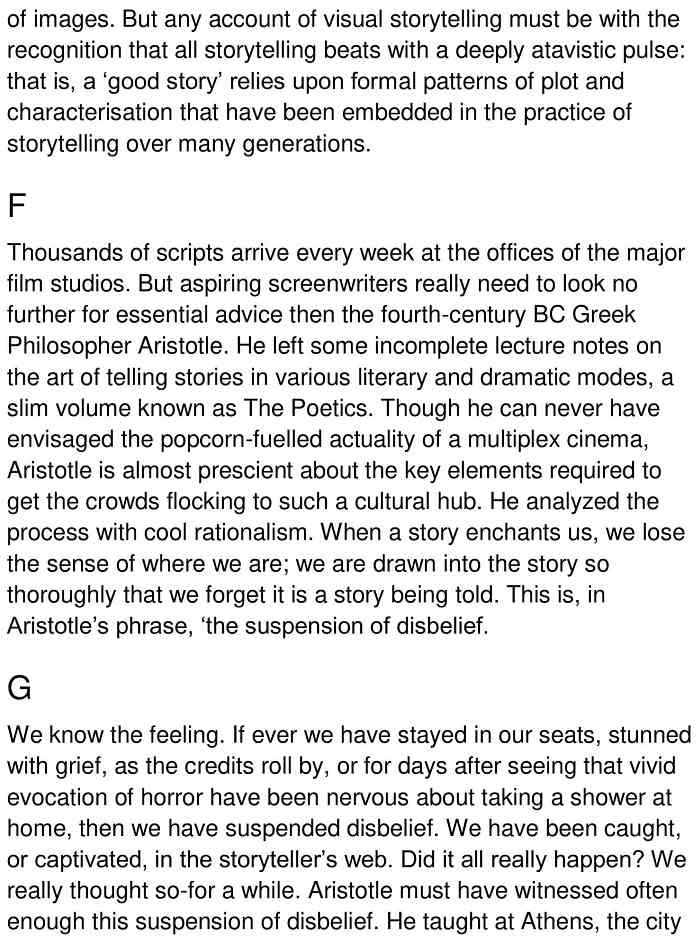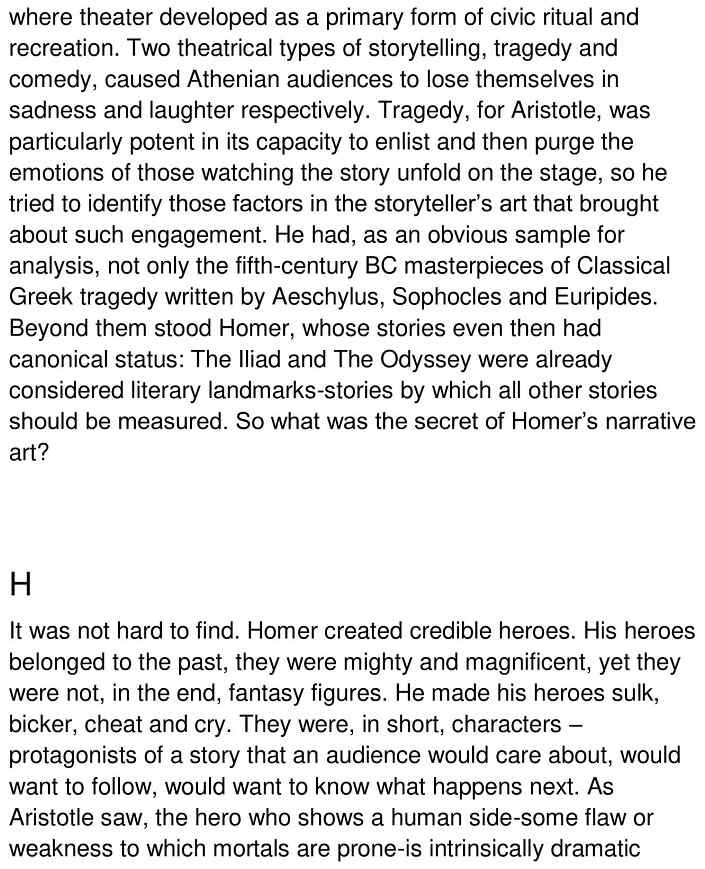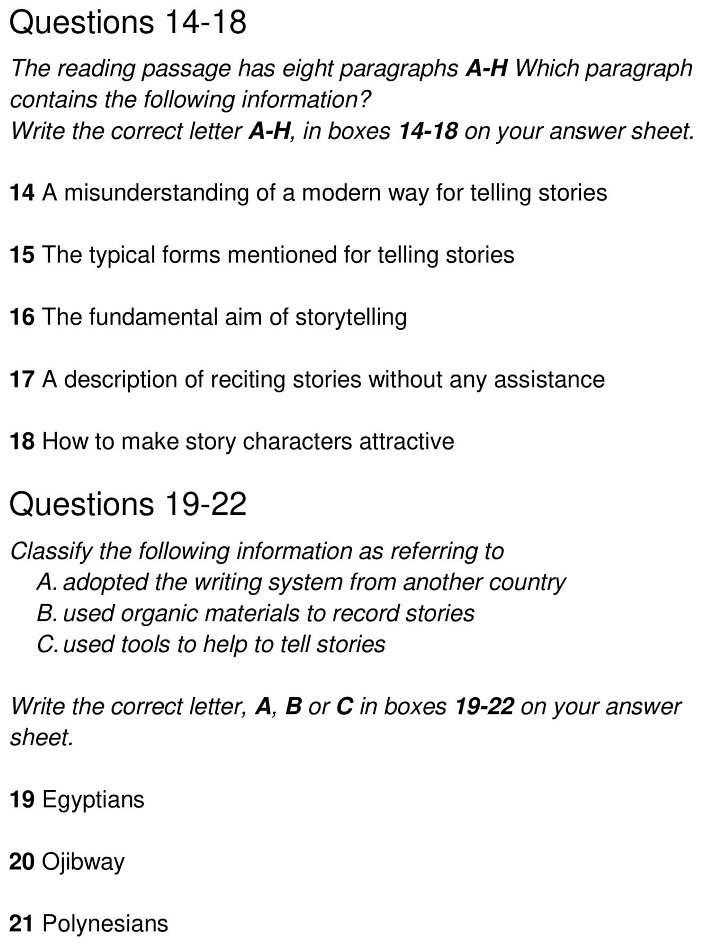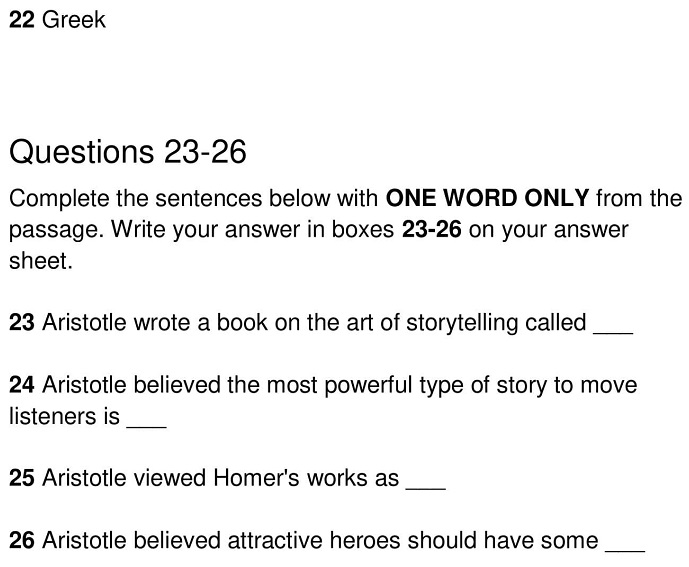 Answers
Unlock Answer
Signup/Login and get access to the answers
The answers to questions 14-26 are given below along with their explanations.
| Question Number | Answer | Keywords | Locations of Keywords |
| --- | --- | --- | --- |
| 14 | E | This is an illusion | Para E, line 3 |
| 15 | G | Two theatrical types of storytelling | Para G, line 6 |
| 16 | A | The listeners must be kept listening | Para A, line 4 |
| 17 | B | recite, memory, lines, verse, prose, verbatim | Para B, lines 4-5 |
| 18 | H | mighty, magnificent | Para H, line 2 |
| 19 | B | papyrus archives of ancient Egypt  | Para D, line 2 |
| 20 | B | birch-bark scrolls, Ojibway Indians  | Para D, line 3 |
| 21 | C | Polynesian, memory stick  | Para C, line 2 |
| 22 | A | Greeks, borrowed, alphabet, neighbors, Phoenicians | Para C, last 2 lines |
| 23 | the poetics | left, incomplete, notes, art of telling stories, The Poetics | Para F, lines 3-4 |
| 24 | tragedy | Tragedy, potent, enlist, purge, emotions, watching | Para G, lines 8-9 |
| 25 | landmarks | already considered literary landmarks | Para G, line 13 |
| 26 | flaws/weaknesses | hero, shows, human side, flaw, weakness  | Para H,  line 5 |
Check More IELTS Reading Answers
Also check :