The King of Fruits – IELTS Reading Answers
Justin,
Updated On
The Reading Module of the IELTS can be the top-scoring category, with diligent practice. To achieve the best results in this section, you must understand how to approach and answer the different Question types in the Reading Module. By solving and reviewing Sample Reading Questions from past IELTS papers, you can ensure that your Reading skills are up to the mark.
The Academic passage 'The King of Fruits' is a reading passage that appeared in an IELTS Test. 
It contains some of the IELTS reading question types. If you are interested in familiarising yourself with all the question types, don't hesitate to take an IELTS reading practice test.
The King of Fruits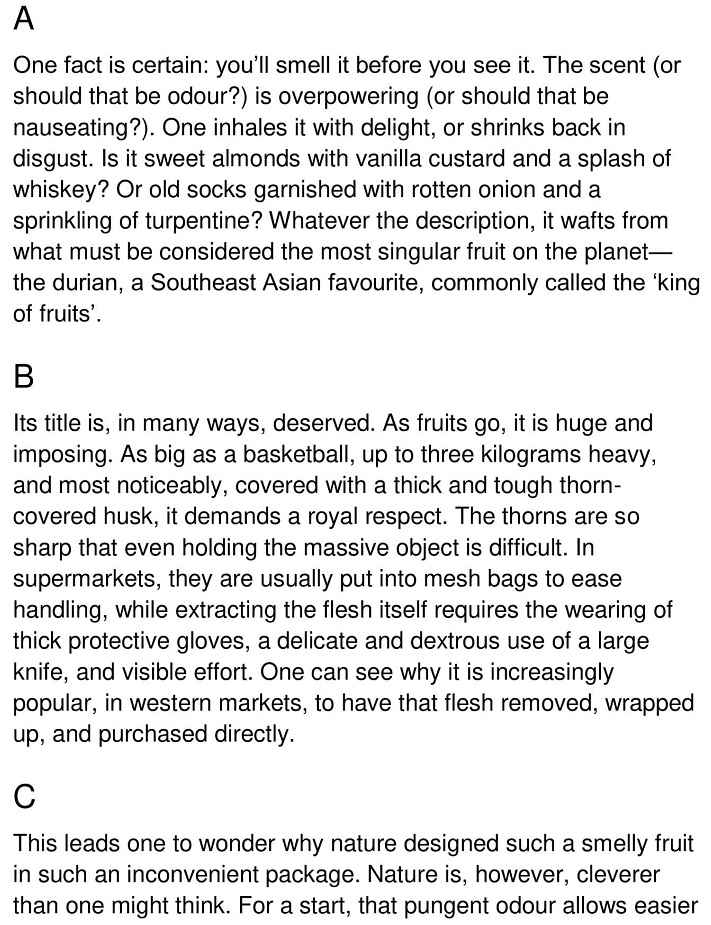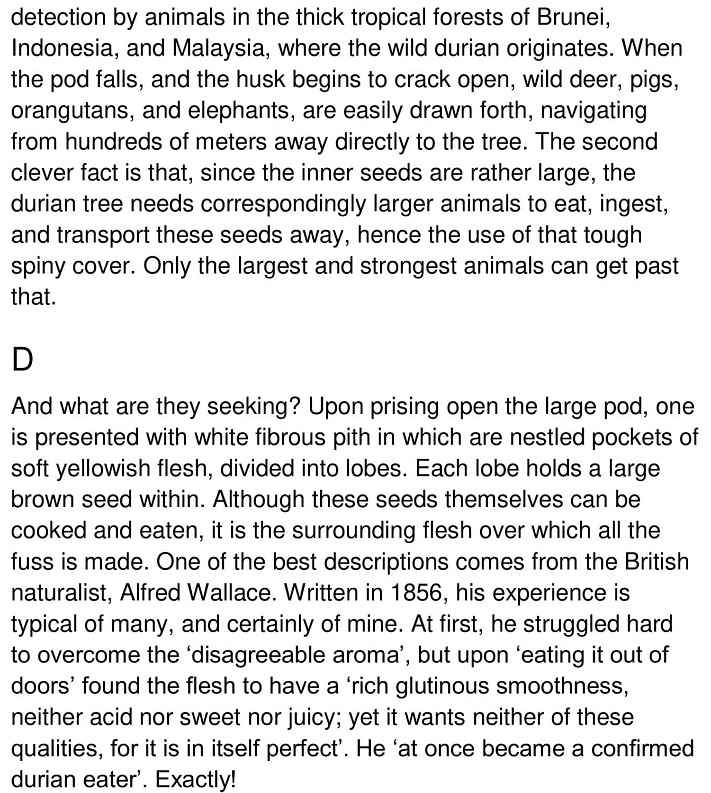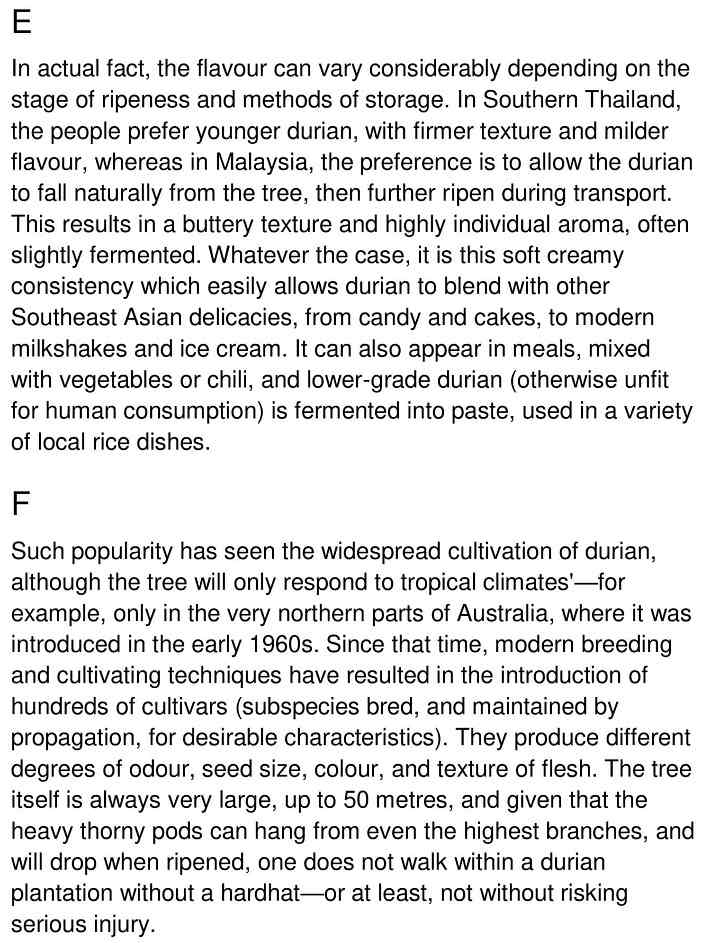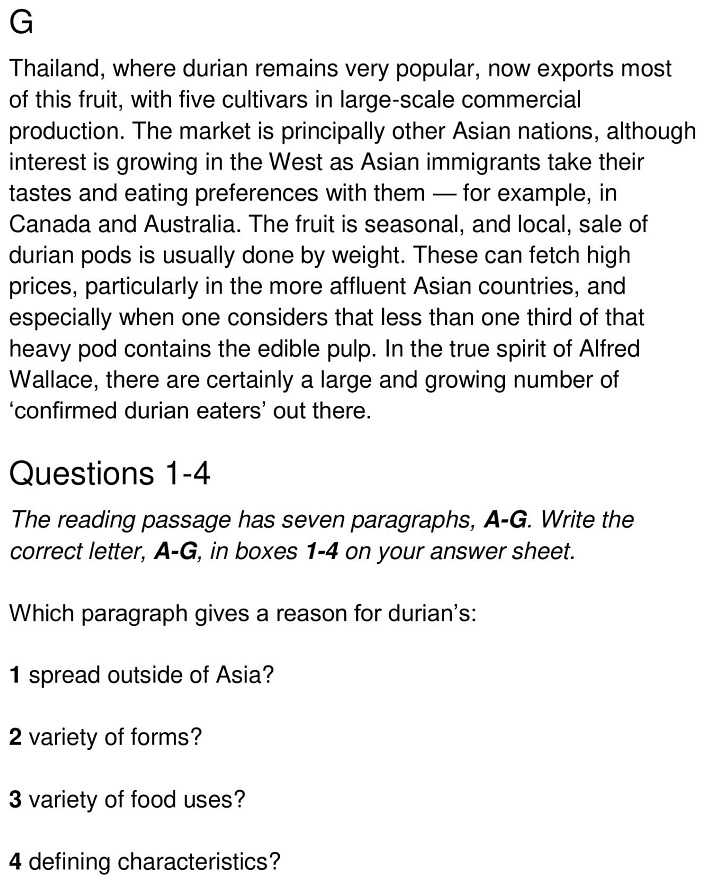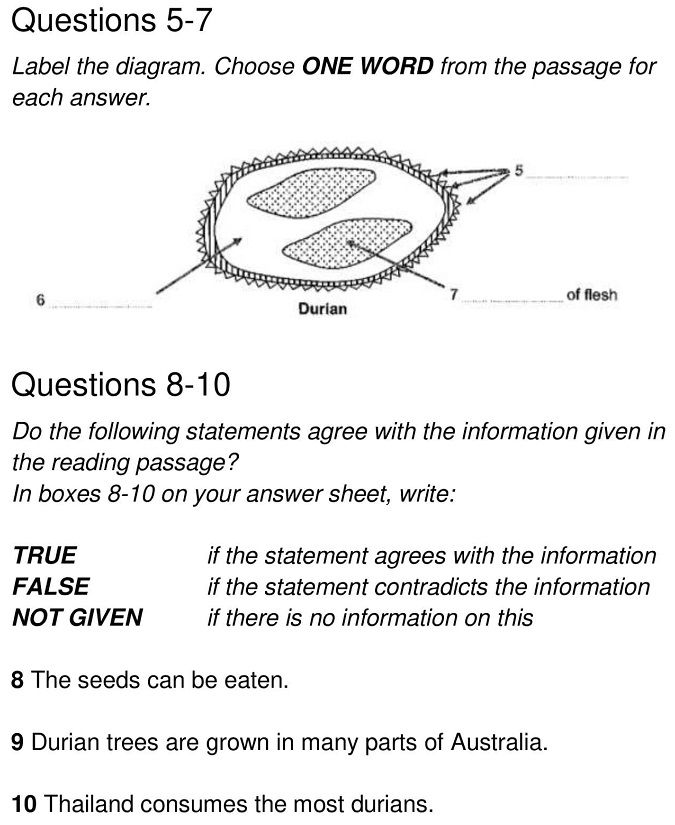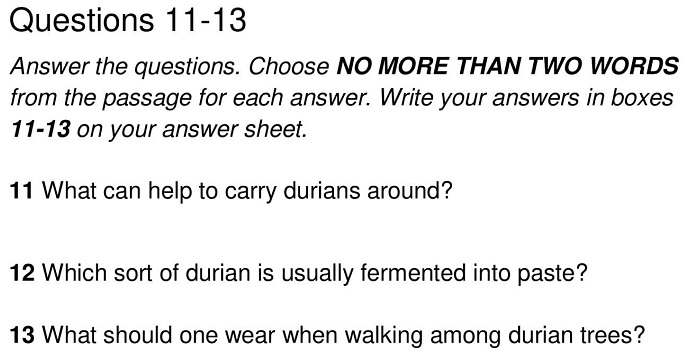 Answers
The answers to questions 1-13 are given below along with their explanations.
| Question Numbered | Answer | Keywords | Locations of Keywords |
| --- | --- | --- | --- |
| 1 | G | interest, growing, West, Asian immigrants, Canada and Australia | Para G, lines 3-4 |
| 2 | F | modern breeding, techniques, resulted, introduction, hundreds of cultivars | Para F, lines 3-4 |
| 3 | E | soft creamy consistency, allows durian, blend, other Southeast Asian delicacies | Para E, lines 5-6 |
| 4 | C | pungent odour, easier detection by animals | Para C, lines 2-3 |
| 5 | thorns | The thorns, so sharp | Para B, line 3 |
| 6 | pith | white fibrous pith | Para D, first 2 lines |
| 7 | pocket | in which are nestled pockets of soft yellowish flesh | Para D, line 2 |
| 8 | TRUE | seeds, can be cooked, eaten | Para D, line 3 |
| 9 | FALSE | only, very northern parts, Australia | Para F, line 2 |
| 10 | NOT GIVEN | | |
| 11 | Mesh bag(s) | usually put, mesh bags, ease handling | Para B, line 4 |
| 12 | Lower-grade durian | lower-grade durian, fermented, paste, used, local rice dishes | Para E, last 2 lines |
| 13 | hardhat | does not walk, durian plantation without, hardhat | Para F, line 8 |
Check More IELTS Reading Answers
Also check :