IELTS Academic Reading 'The Search for Colour' Answers
Janice Thompson,
Updated On
The Academic passage 'The Search for Colour' is a reading passage that appeared in an IELTS Test.
Since questions get repeated in the IELTS exam, these passages are ideal for practice. If you want more practice, try taking an IELTS reading practice test.
The Search for Colour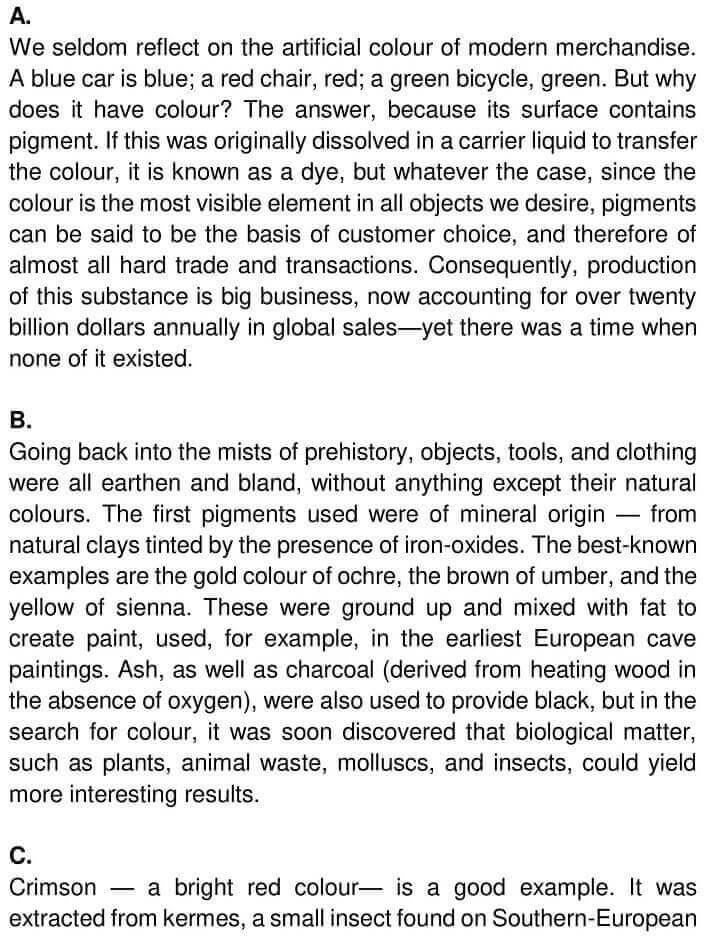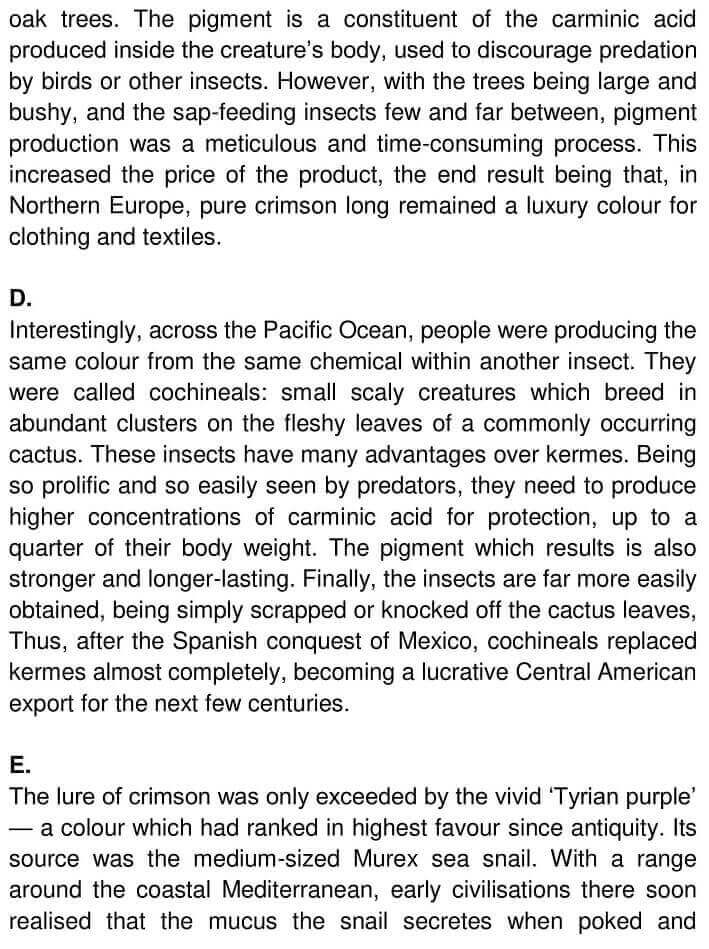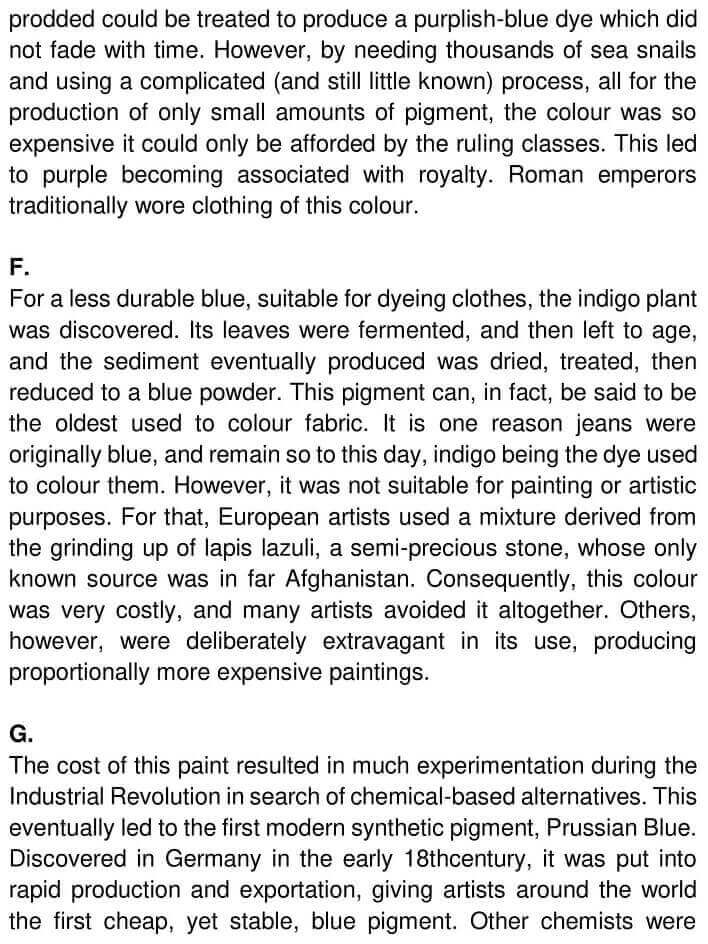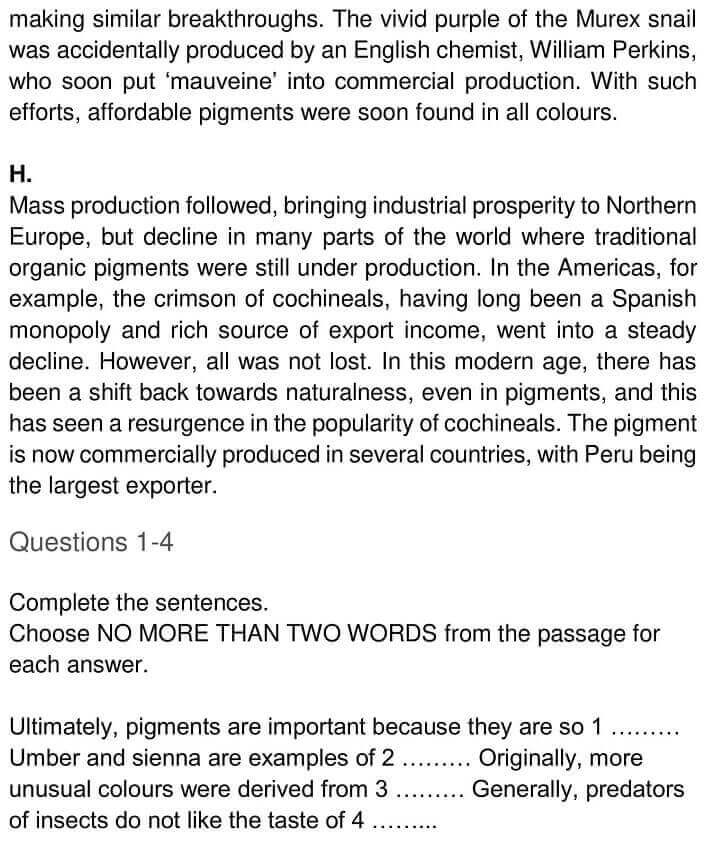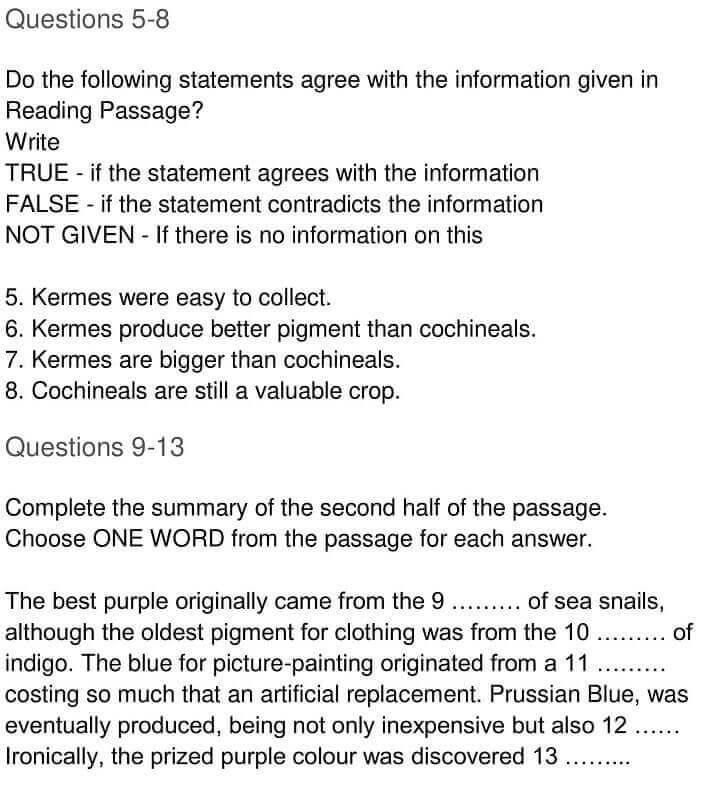 Answers
The answers with explanations are given below
| Question Number | Answers | Keywords | Location of Keywords |
| --- | --- | --- | --- |
| 1. | visible | Colour is the most visible element in all objects | Paragraph A, Line 6 |
| 2. | Natural clays | natural clays tinted by the presence of iron-oxides. brown of umber, and the yellow of sienna. | Paragraph B, Lines 3-6 |
| 3. | Biological matter | biological matter, could yield more interesting results. | Paragraph B, Last 2 lines |
| 4. | Carminic acid | carminic acid discourage predation by birds or other insects | Paragraph C, Lines 4-5 |
| 5. | False | pigment production was a meticulous and time-consuming process. | Paragraph C, Lines 7-8 |
| 6. | False | These insects have many advantages over kermes, higher concentrations of carminic acid  | Paragraph D, Lines 5-8 |
| 7. | Not Given | Not Given | Not Given |
| 8. | True | cochineals replaced kermes almost completely, becoming a lucrative Central American export  | Paragraph D, Last 2 lines |
| 9. | mucus | mucus the snail secretes, produce a purplish-blue dye  | Paragraph E, Lines 5-6 |
| 10. | leaves | Indigo plant was discovered. Its leaves were fermented, and then left to age, and the sediment eventually produced was dried, treated, then reduced to a blue powder. | Paragraph F, First4 lines |
| 11. | stone | European artists used a mixture derived from, semi-precious stone, | Paragraph F, Lines 8-9 |
| 12. | stable | first cheap, yet stable | Paragraph G, Lines 4-6 |
| 13. | accidentally | The vivid purple of the Murex snail was accidentally produced by an English chemist | Paragraph G, Lines 7-8 |
Check More IELTS Reading Answers
Also check :