Why Zoos Are Good – IELTS Reading Answers
Justin,
Updated On
The Academic passage 'Why Zoos Are Good' is a reading passage that appeared in an IELTS Test.
Since questions get repeated in the IELTS exam, these passages are ideal for practice. If you want more practice, try taking an IELTS reading practice test.
Why Zoos Are Good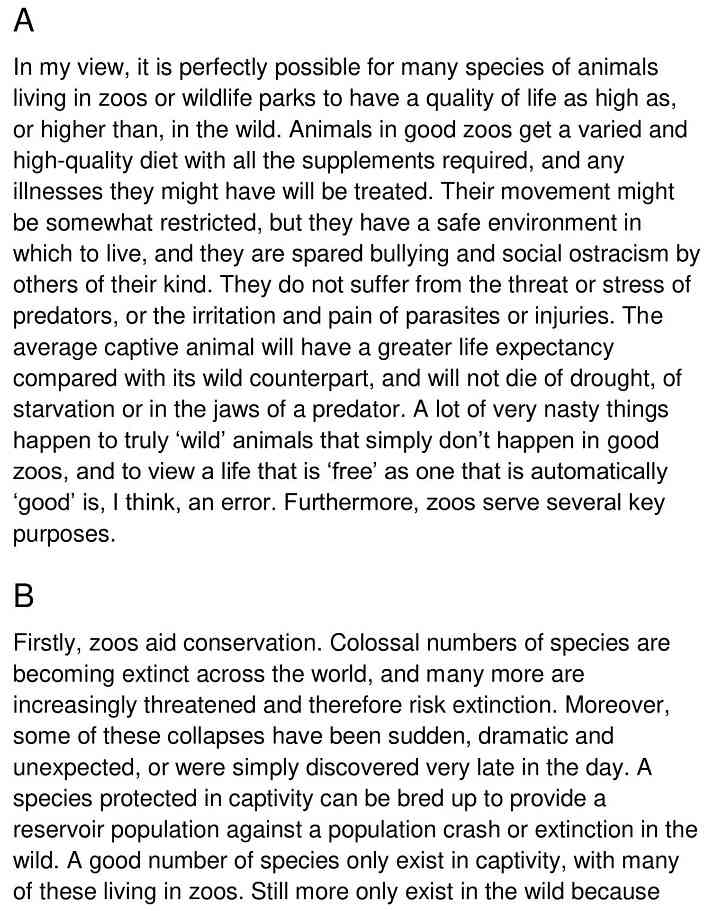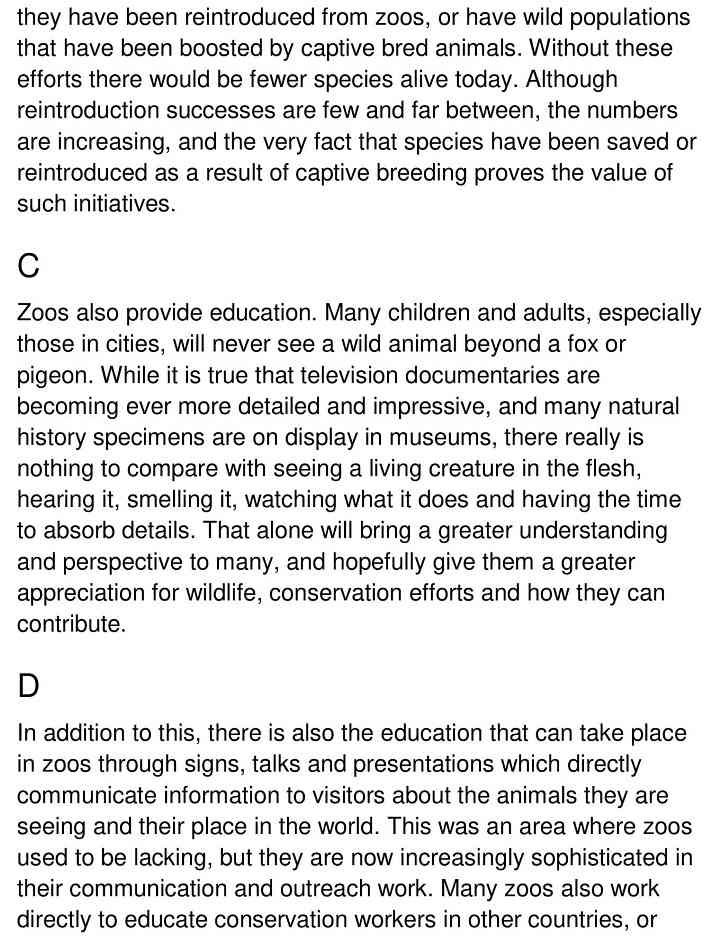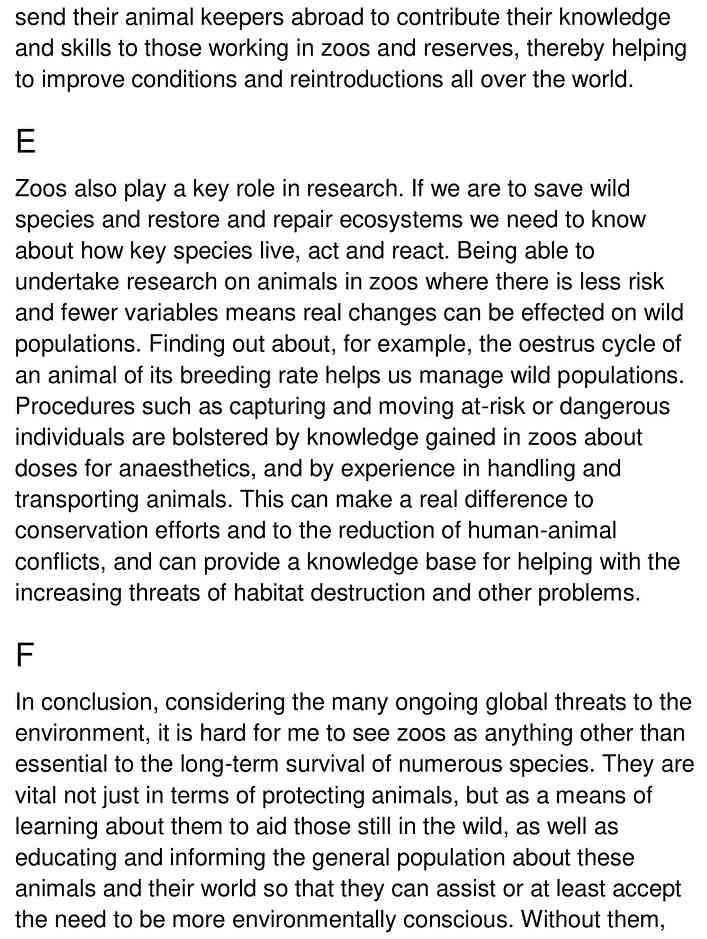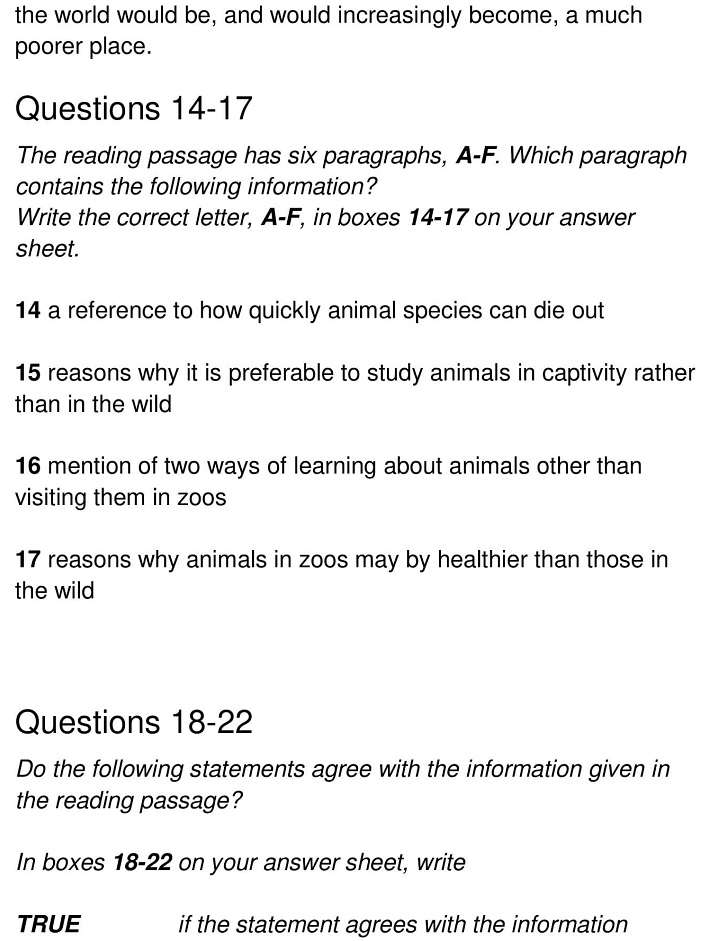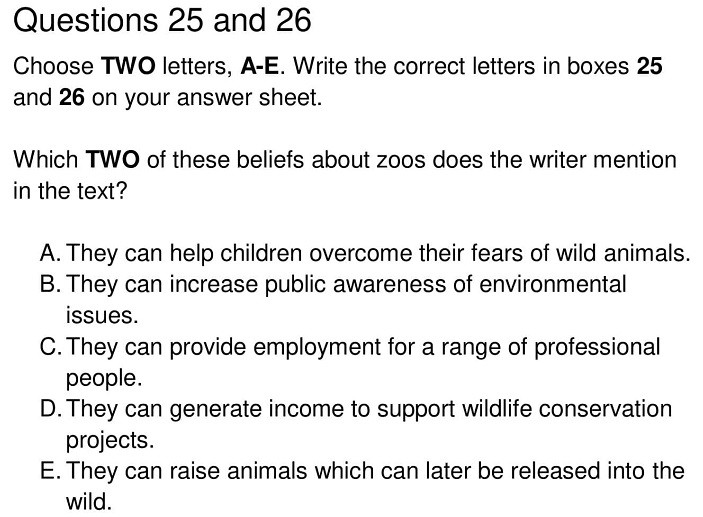 Answers
The answers to questions 14-26 are given below along with their explanations.
| Question Number | Answer | Keywords | Locations of Keywords |
| --- | --- | --- | --- |
| 14 | B | collapses, sudden, dramatic, unexpected | Para B, line 3 |
| 15 | E | undertake research, zoos, less risk, fewer variables, real changes, wild populations | Para E, lines 3-4 |
| 16 | C | documentaries, detailed, impressive, natural history specimens, museums | Para C, lines 2-4 |
| 17 | A | Animals, good zoos, varied, high-quality diet, illnesses, will be treated | Para A, lines 2-4 |
| 18 | TRUE | perfectly possible, animals, zoos, wildlife parks, quality of life, higher, wild | Para A, first 2 lines |
| 19 | TRUE | A good number of species only exist in captivity | Para B, lines 5-6 |
| 20 | NOT GIVEN | | |
| 21 | FALSE | This was an area, zoos, lacking | Para D, line  3 |
| 22 | NOT GIVEN | | |
| 23 | B | send their animal keepers abroad | Para D, lines 5-6 |
| 24 | D | educate conservation workers, other countries | Para D, line 5 |
| 25 | B | informing, population, accept the need, environmentally conscious | Para F, lines 4-6 |
| 26 | E | They are vital not just in terms of protecting animals | Para F, line 3 |
Check More IELTS Reading Answers
Also check :