Try It And See – IELTS Reading Answers
Justin,
Updated On
The Academic passage 'Try It And See' is a reading passage that appeared in an IELTS Test.
It contains some of the IELTS reading question types. If you are interested in familiarising yourself with all the question types, don't hesitate to take an IELTS reading practice test.
Try It And See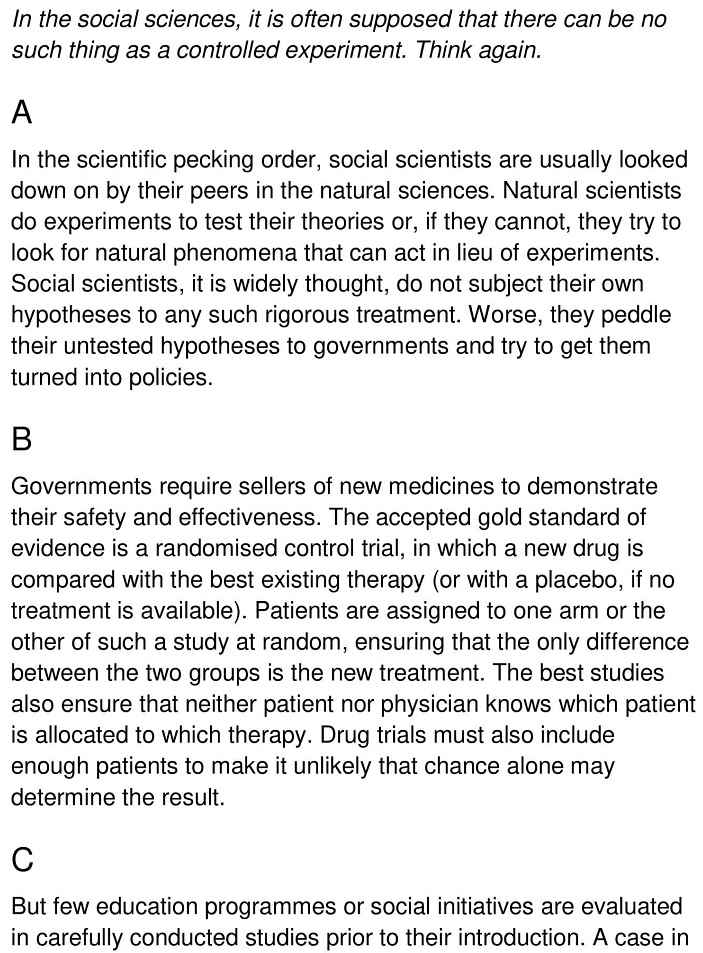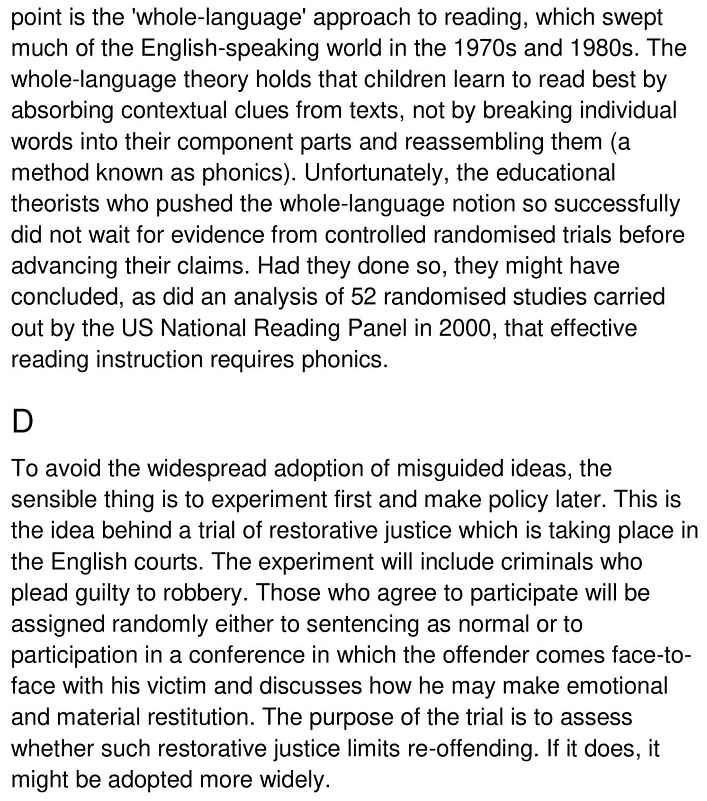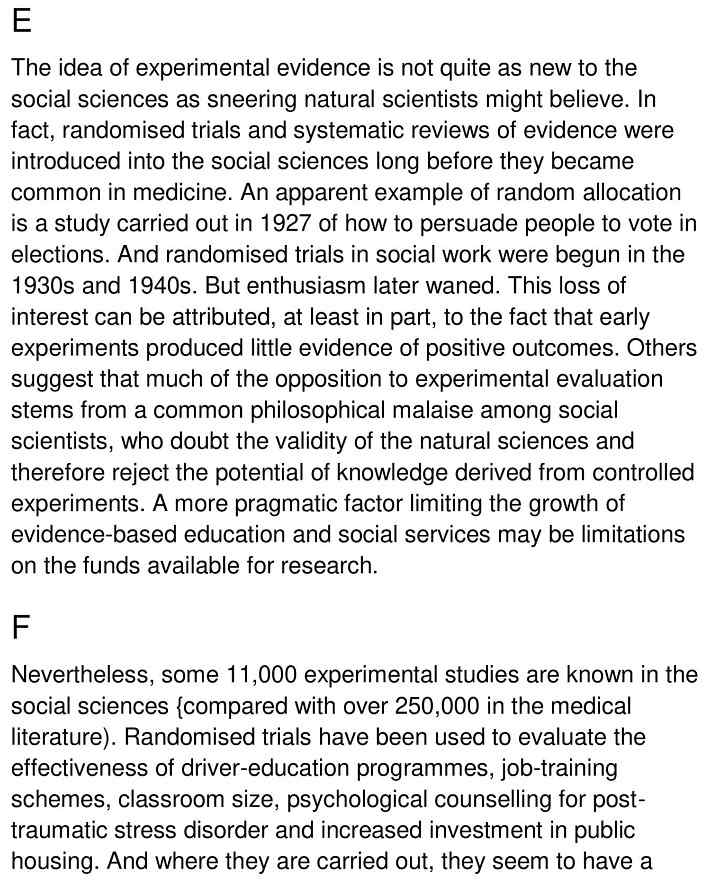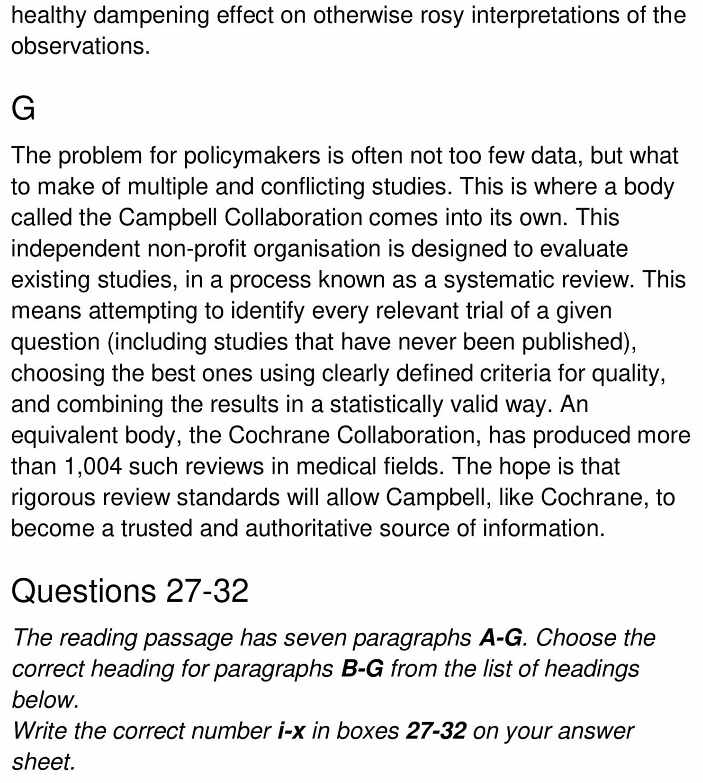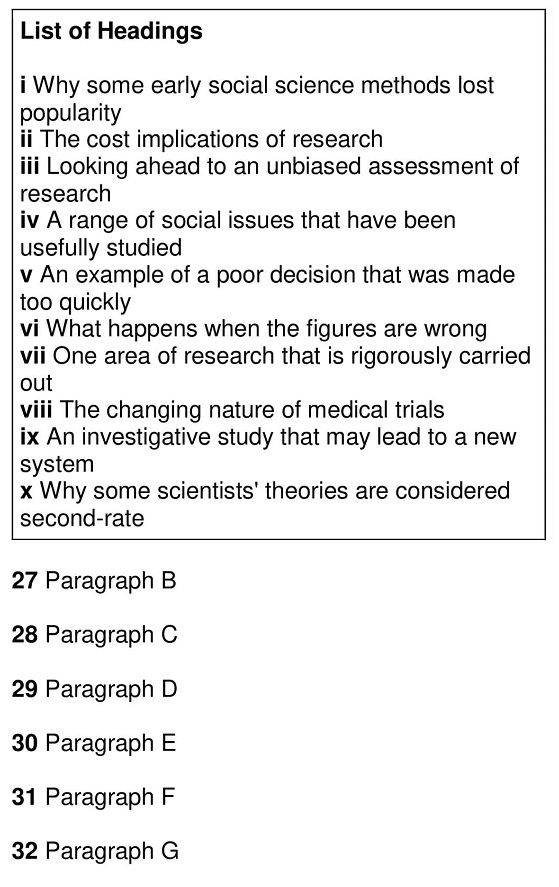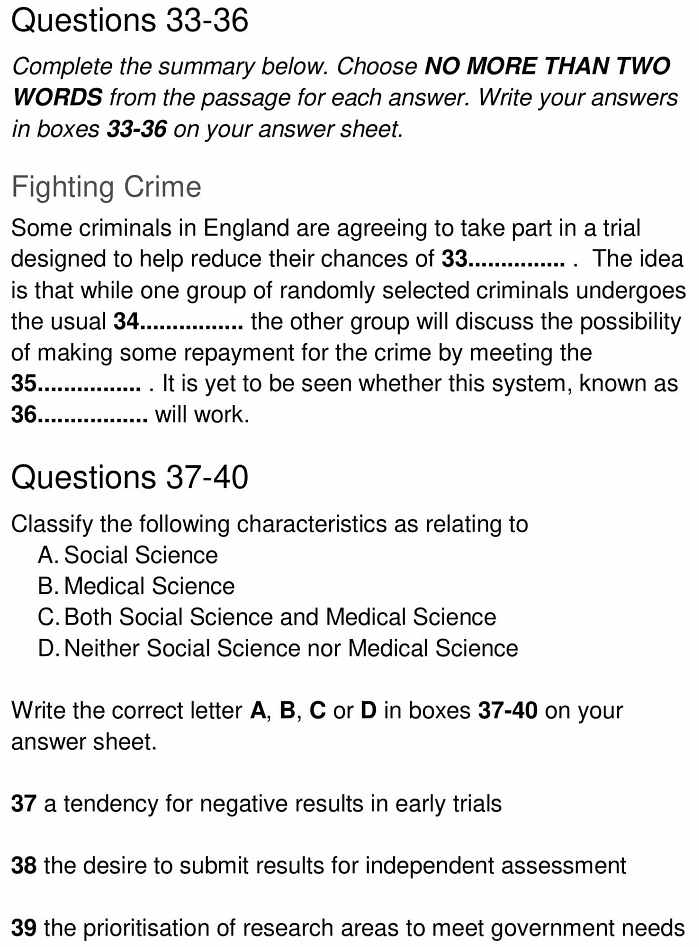 Answers
The answers to questions 27-40 are given below along with their explanations.
| Question Number | Answer | Keywords | Locations of Keywords |
| --- | --- | --- | --- |
| 27 | vii | Governments require sellers, new medicines, demonstrate, safety, effectiveness. | Para B, line 1 |
| 28 | v | did not wait, evidence, controlled randomised trials  | Para C, line 7 |
| 29 | ix | This, idea, trial, restorative justice, English courts | Para D, lines 2-3 |
| 30 | i | loss of interest, early experiments, little evidence, positive outcomes, opposition, evaluation, common philosophical malaise, social scientists | Para E, lines 6-9 |
| 31 | iv | effectiveness, driver-education, job-training, classroom size, counselling, post-traumatic stress disorder, increased investment, public housing | Para F, lines 3-5 |
| 32 | iii | identify, trial, question, choosing, best ones, clearly defined criteria, combining, results, statistically valid  | Para G, lines 4-6 |
| 33 | re-offending | trial, assess, restorative justice limits re-offending | Para D, last 2 lines |
| 34 | sentencing | assigned, sentencing, participation, conference, offender, face-to-face, victim | Para D, lines 4-5 |
| 35 | victim | conference, offender, face-to-face, victim  | Para D, line 5 |
| 36 | Restorative justice | whether, restorative justice limits re-offending | Para D, last 2 lines |
| 37 | A | early experiments, little evidence, positive outcomes | Para E, line 7 |
| 38 | C | independent non-profit, evaluate existing studies | Para G, line 3 |
| 39 | D | – | N/A |
| 40 | B | Governments require, new medicines, demonstrate, safety, effectiveness. | Para B, line 1 |
Check More IELTS Reading Answers
Also check :