Biofuels IELTS Reading Answers
Janice Thompson,
Updated On


Limited-Time Offer : Access a FREE 10-Day IELTS Study Plan!
The Academic passage 'Biofuels' is a reading passage that appeared in an IELTS Test. So, the passage given will help you enhance your reading and understanding capabilities.
Try to find the answers to get an idea of the difficulty level of the passages in the actual reading test. If you want more passages to solve, try taking one of our IELTS reading practice tests.
Biofuels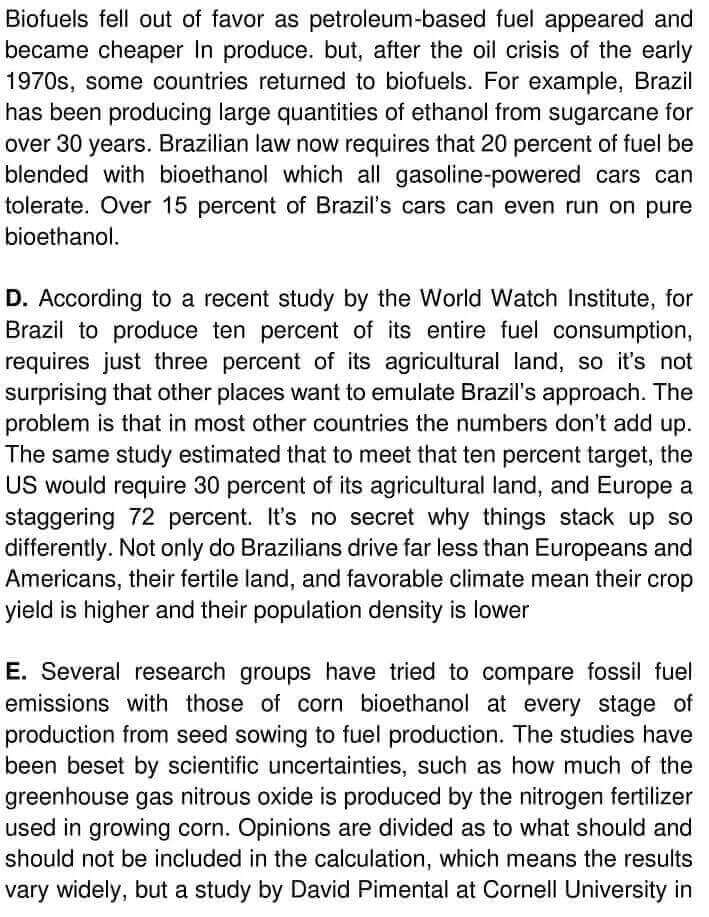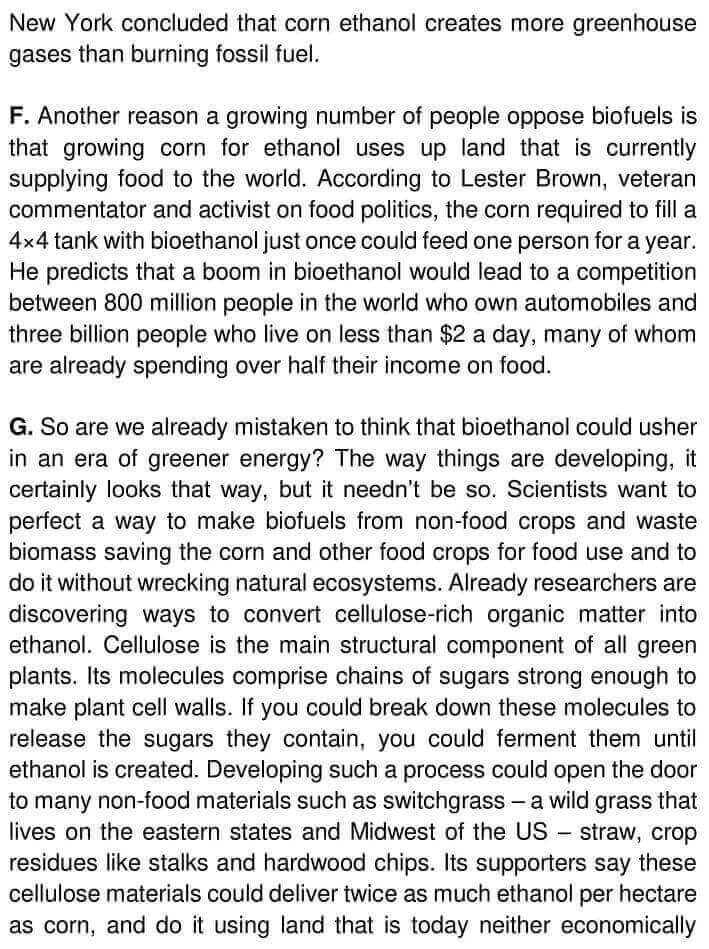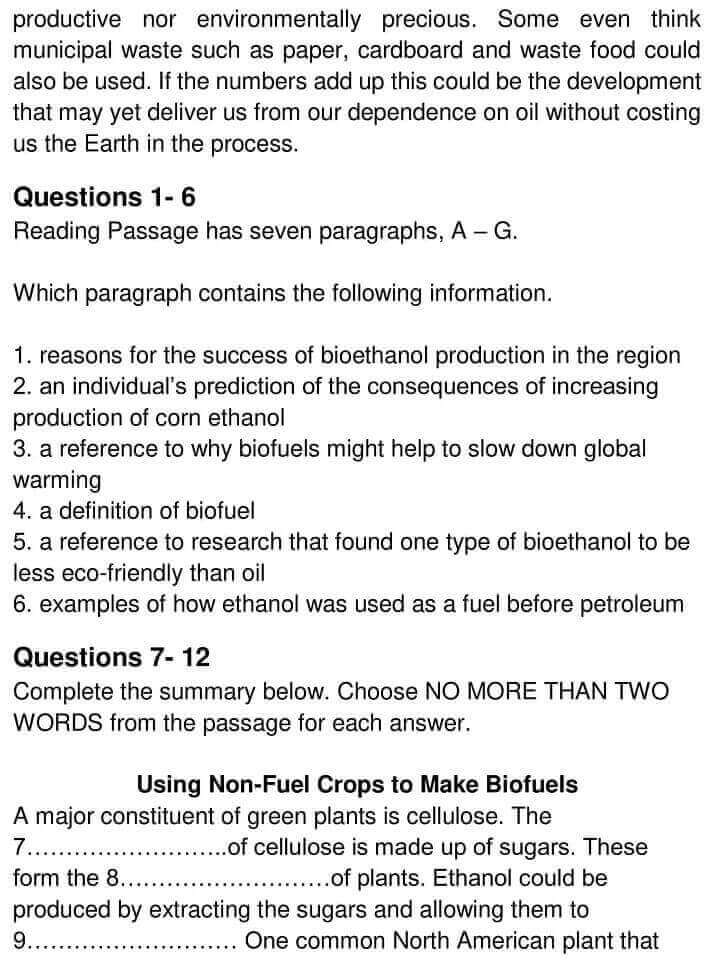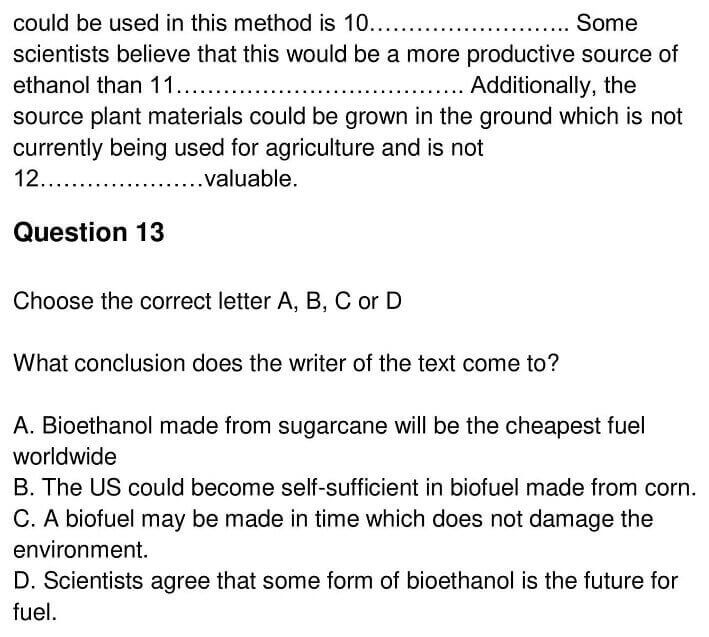 Answers
Unlock Answer
Signup/Login and get access to the answers
Question number 
Answer 
Keywords 
Location of keywords

1

D

Not only do Brazilians drive far less than Europeans and Americans, their fertile land, and favorable climate mean their crop yield is higher

Paragraph D;

Last line 

2

F

He predicts that a boom in bioethanol would lead to a competition between 800 million people in the world who own automobiles and three billion people who live on less than $2 a day, many of whom are already spending over half their income on food.

Paragraph F;

Last line

3

B

Supporters claim they will cut our net greenhouse gas inputs dramatically because the crops soak up carbon dioxide from the atmosphere as they grow.

Paragraph B;

Line 1

4

A

Biofuel is an umbrella term used to describe all fuels derived from organic matter.

Paragraph A;

Line 3

5

E

a study by David Pimentel at Cornell University in New York concluded that corn ethanol creates more greenhouse gases than burning fossil fuel.

Paragraph E;

Lat line

6

C

The controversy may be brand new, but the biofuels themselves are an old idea. The Model T Ford, first produced in 1908, was designed to run on ethanol, and Rudolf Diesel who invented the diesel engine in 1892, ran his demonstration model on peanut oil.

Paragraph C;

Lines 1 – 2

7

molecules

Its molecules comprise chains of sugars

Paragraph G;

Line 6

8

Cell walls/structural component

Its molecules comprise chains of sugars strong enough to make plant cell walls.

Paragraph G;

Line 6

9

ferment

If you could break down these molecules to release the sugars they contain, you could ferment them until ethanol is created

Paragraph G;

Line 7

10

switchgrass

Developing such a process could open the door to many non-food materials such as switchgrass – a wild grass that lives on the eastern states and Midwest of the US – straw, crop residues like stalks and hardwood chips.

Paragraph G;

Line 8

11

corn

Its supporters say these cellulose materials could deliver twice as much ethanol per hectare as corn,

Paragraph G;

Line 9

12

environmentally

do it using land that is today neither economically productive nor environmentally precious.

Paragraph G;

Line 9

13

C

If the numbers add up this could be the development that may yet deliver us from our dependence on oil without costing us the Earth in the process.

Paragraph G;

Last line
Check More IELTS Reading Answers
Also check :