IELTS Academic Reading 'The Future of fish' Answers
Janice Thompson,
Updated On
The Academic passage 'The Future of fish' is a reading passage that appeared in an IELTS Test.
Since questions get repeated in the IELTS exam, these passages for ideal for practice. If you want more practice, try taking an IELTS reading practice test. 
The Future of fish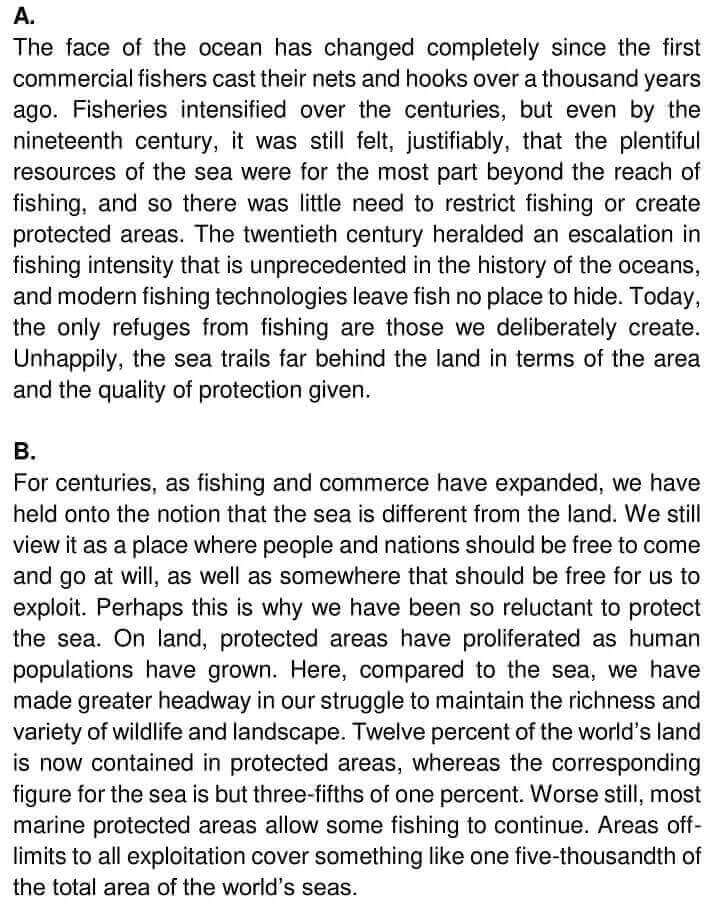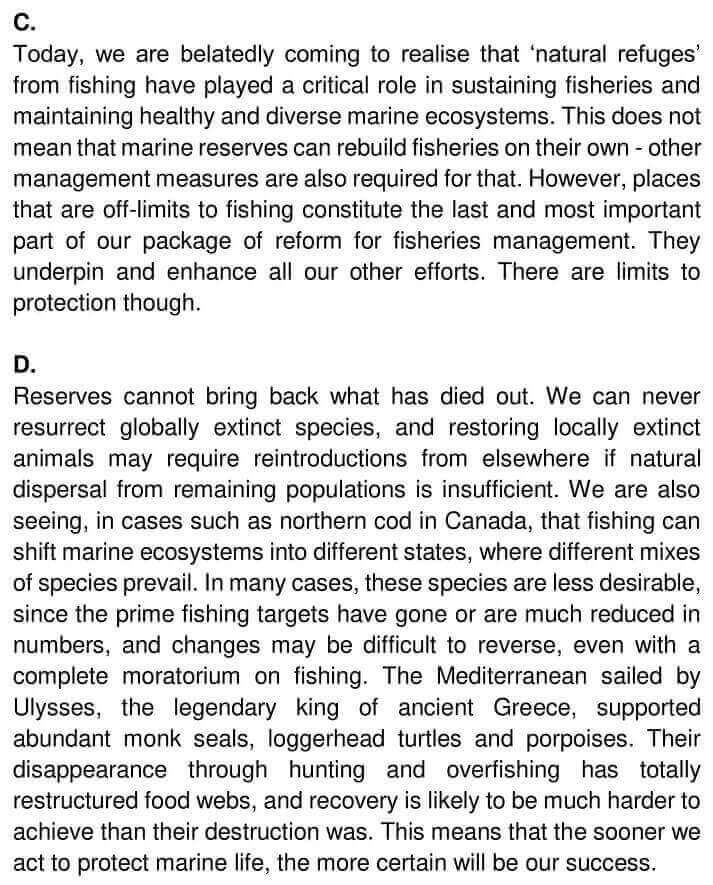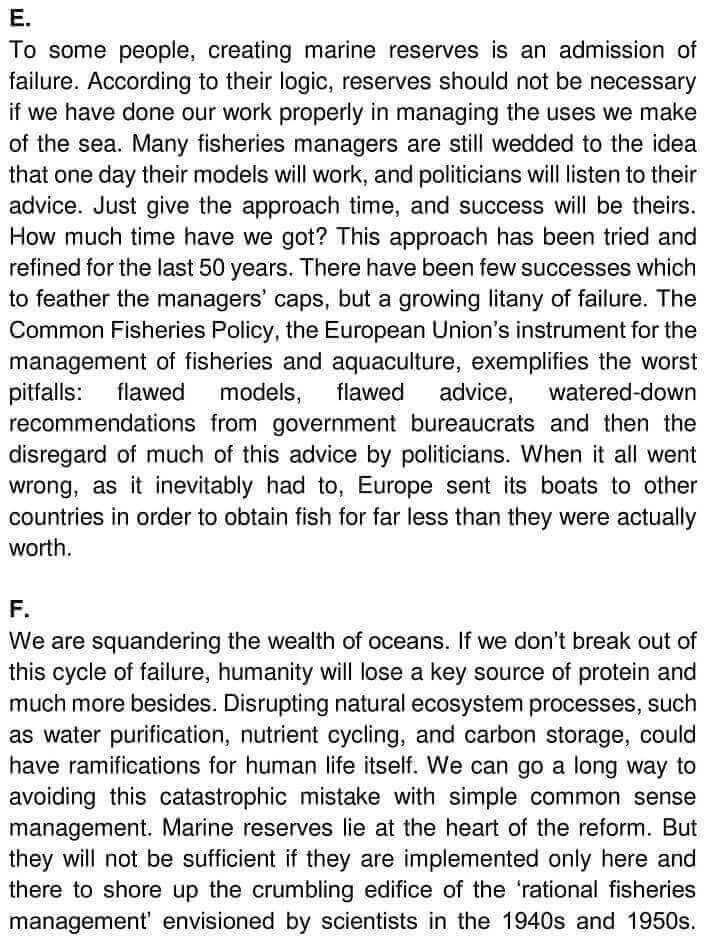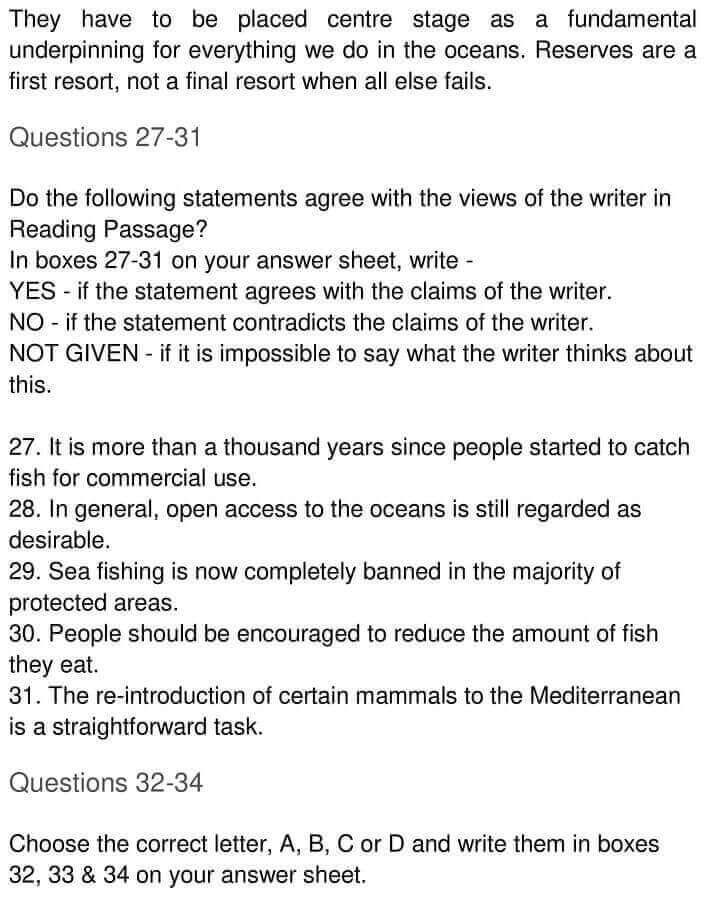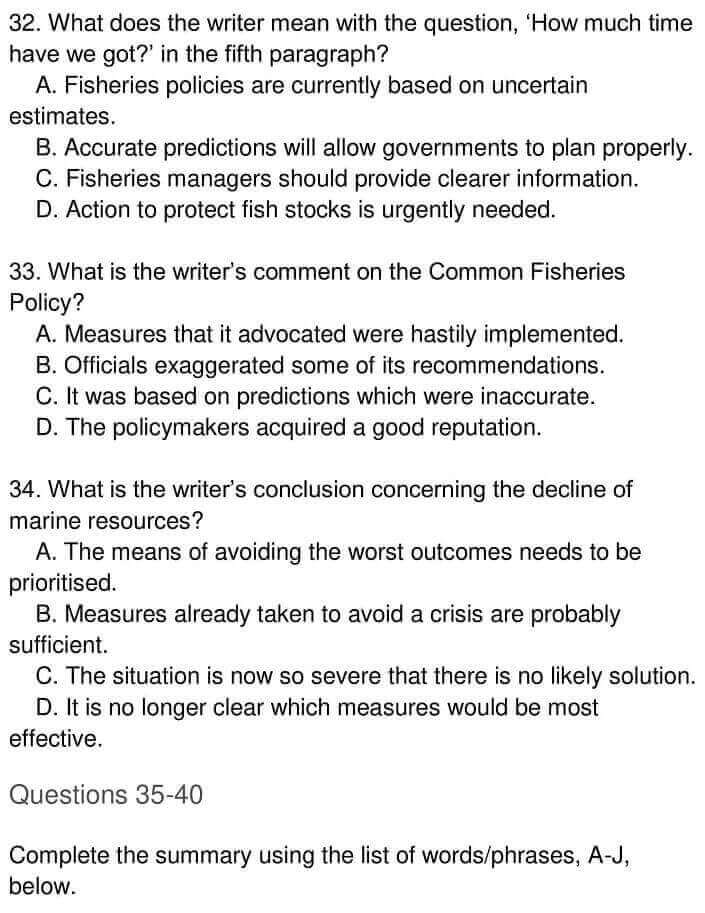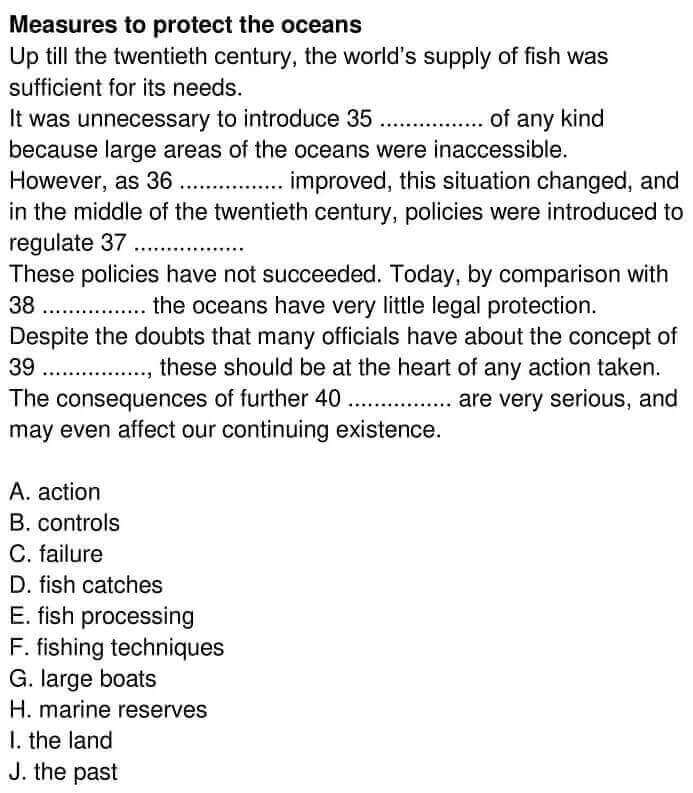 Answers
The answers with explanations are given below
Question Number
Answers
Keywords
Location of Keywords

27

Yes

The face of the ocean has changed completely since the first commercial fishers cast their nets and hooks over a thousand years ago.

Paragraph A, First 3 lines

28

Yes

We still view it as a place where people and nations should be free to come and go at will, as well as somewhere that should be free for us to exploit.

Paragraph B, Lines 2-3

29

No

most marine protected areas allow some fishing to continue

Paragraph B, Lines 12-13

30

Not Given

Not Given

Not Given

31

No

Recovery is likely to be much harder to achieve 

Paragraph D, Last 3 lines

32

D

To some people, creating marine reserves is an admission of failure.

This approach has been tried and refined for the last 50 years

Paragraph E, Line 1

&

Paragraph E, Lines 7-8

33

C

The Common Fisheries Policy, exemplifies the worst pitfalls: flawed models, flawed advice, When it all went wrong,

Paragraph E, Lines 8-15

34

A

We can go a long way to avoiding this catastrophic mistake with simple common sense management. They have to be placed centre stage as a fundamental underpinning for everything we do in the oceans.

Paragraph F, Lines 5 -7 & Lines 12 – 13 

35

B

Little need to restrict fishing or create protected areas.

Paragraph A, Lines 6-7

36

F

an escalation in fishing intensity, and modern fishing technologies

Paragraph A, Lines 7-9

37

D

'natural refuges' from fishing have played a critical role in sustaining fisheries 

Paragraph C, First 3 lines

38

I

Twelve percent of the world's land, contained in protected areas, whereas for the sea is but three-fifths of one percent

Paragraph B, Lines 9-11

39

H

Marine reserves lie at the heart of the reform.

Paragraph F, Lines 7-8

40

C

If we don't break out of this cycle of failure,humanity will lose a key source of protein and much more besides.

Paragraph F, First 3 lines
Check More IELTS Reading Answers
Also check :