Olive Oil Production IELTS Reading Answers
Janice Thompson,
Updated On
The Academic passage 'Olive Oil Production' is a reading passage that appeared in an IELTS Test.
Since questions get repeated in the IELTS exam, these passages for ideal for practice. If you want more practice, try taking an IELTS reading practice test. 
Olive Oil Production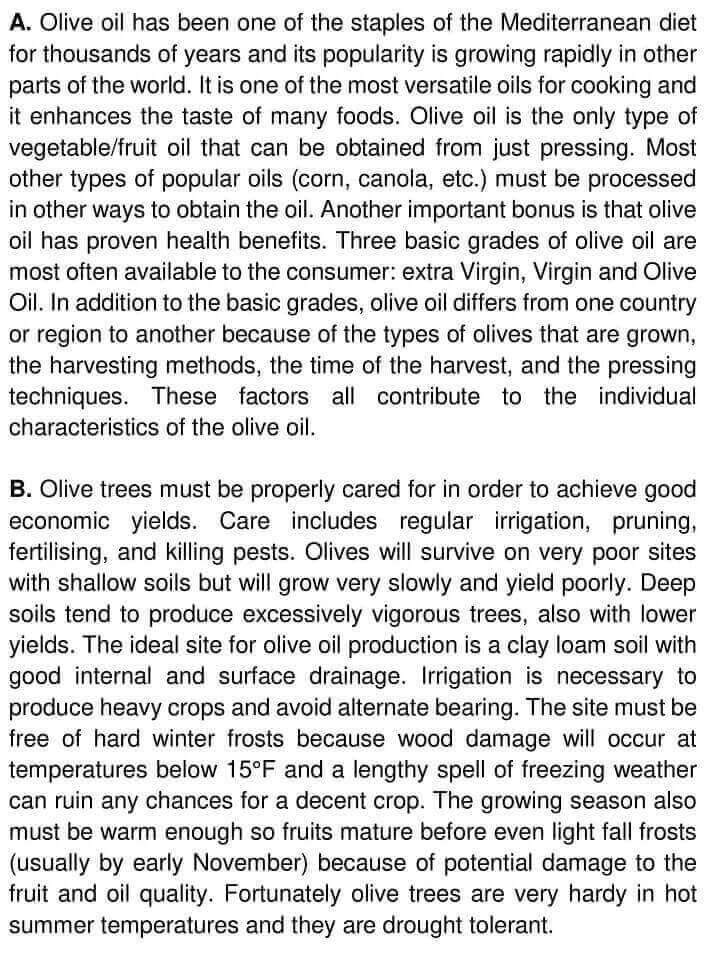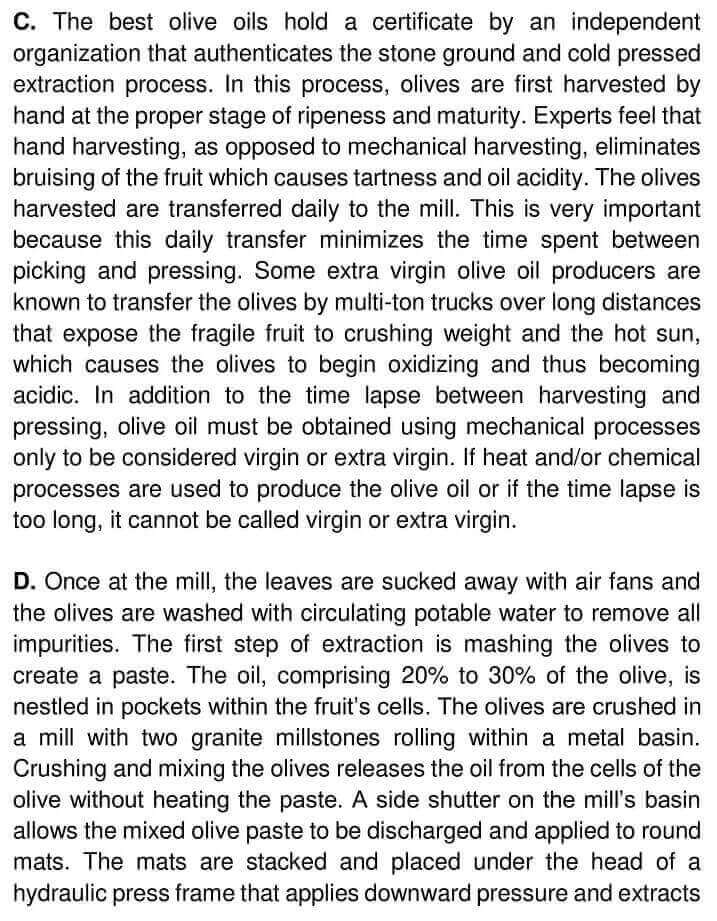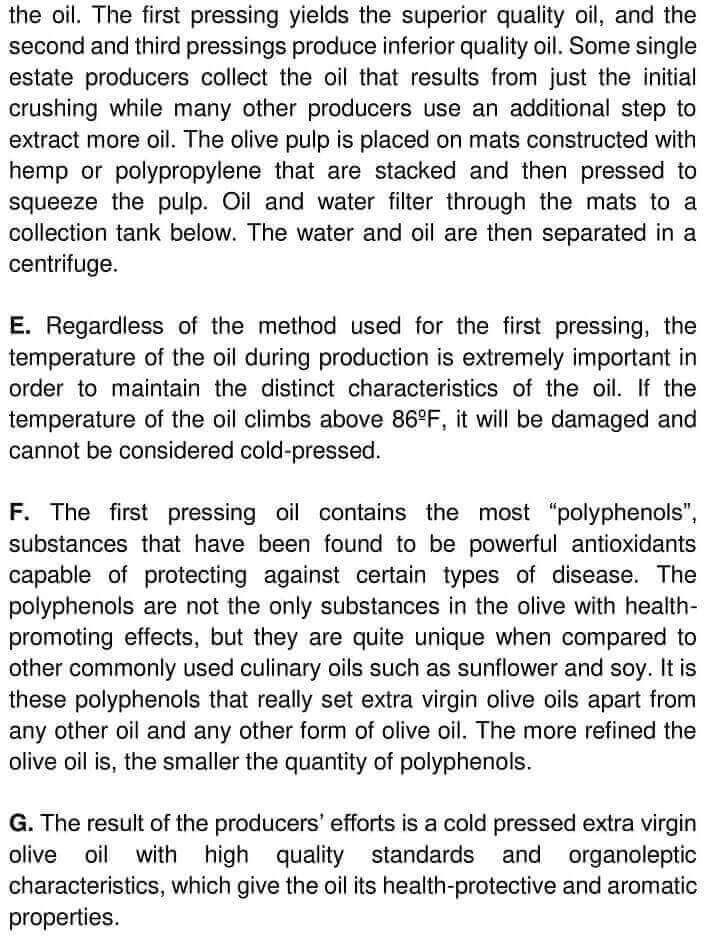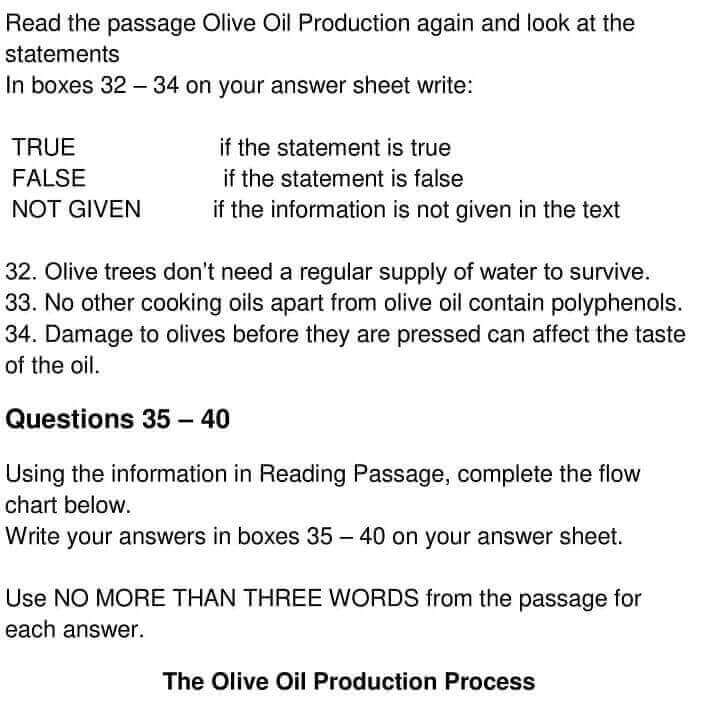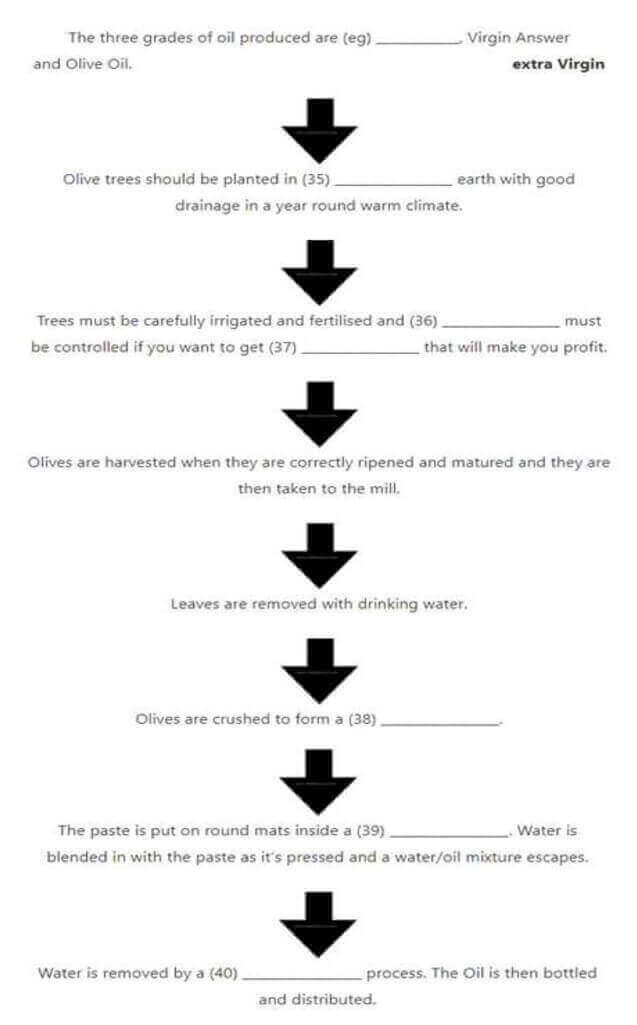 Answers
Unlock Answer
Signup/Login and get access to the answers
Question number 
Answer 
Keywords 
Location of keywords

28

D

olive oil differs from one country or region to another because of the types of olives that are grown, the harvesting methods, the time of the harvest, and the pressing techniques. These factors all contribute to the individual characteristics of the olive oil.

Paragraph A;

Lines 7 -end

29

D

Care

includes regular irrigation, pruning, fertilising, and killing pests.

Paragraph B;

Line 1

30

A

The site must be free of hard winter frosts because wood damage will occur at temperatures below 15°F and a lengthy spell of freezing weather can ruin any chances for a decent crop.

Paragraph B;

Line 6

31

D

expose the fragile fruit to crushing weight and the hot sun, In addition to the time-lapse between harvesting and pressing, olive oil must be obtained using mechanical processes only to be considered virgin or extra virgin

Paragraph C;

Line 7

32

TRUE

Fortunately olive trees are very hardy in hot summer temperatures and they are drought tolerant.

Paragraph B;

Last line

33

TRUE

It is these polyphenols that really set extra virgin olive oils apart from any other oil and any other form of olive oil.

Paragraph F;

Line 3

34

NOT GIVEN 

–

–

35

Clay loam soil

The ideal site for olive oil production is a clay loam soil with good internal and surface drainage

Paragraph B;

Line 4

36

pests

Care

includes regular irrigation, pruning, fertilising, and killing pests

Paragraph B;

Line 2

37

Good economic yields

Olive trees must be properly cared for in order to achieve good economic yields.

Paragraph B;

Line 1

38

paste

The first step of extraction is mashing the olives to create a paste.

Paragraph D;

Line 2

39

Hydraulic press

The mats are stacked and placed under the head of a hydraulic press frame that applies downward pressure and extracts the oil.

Paragraph D;

Line 7

40

centrifuge

The water and oil are then separated in a centrifuge.

Paragraph D;

Last line
Check More IELTS Reading Answers
Also check :