IELTS Academic Reading 'Ocean Acidification' Answers
Courtney Miller,
Updated On
The Academic passage 'Ocean Acidification' is a reading passage that appeared in an IELTS Test.
Since questions get repeated in the IELTS exam, these passages are ideal for practice. If you want more practice, try taking an IELTS reading practice test.
Ocean Acidification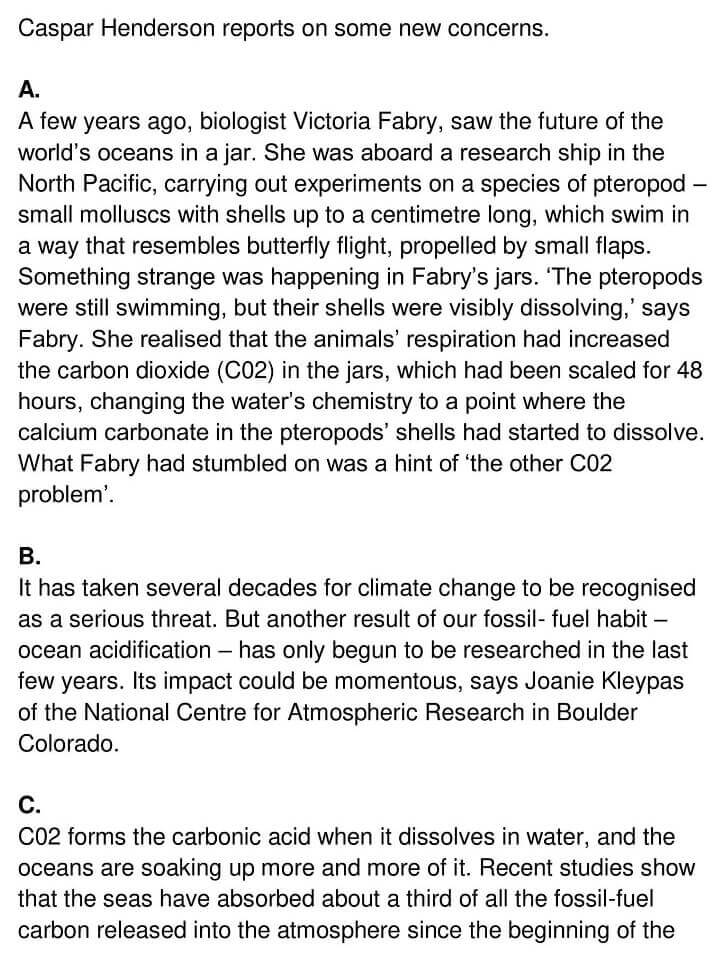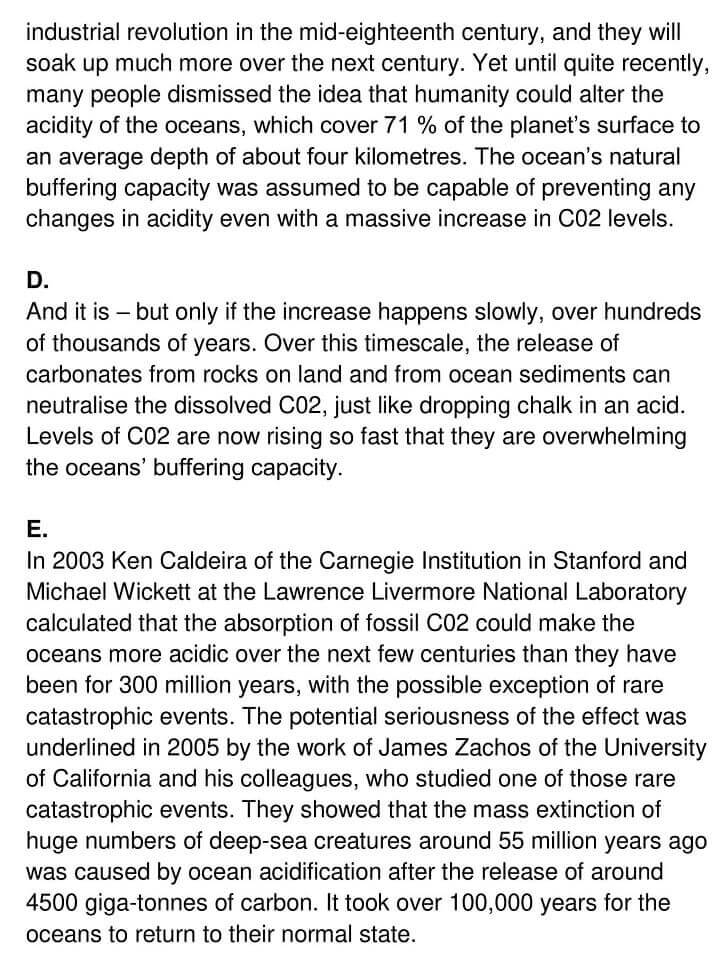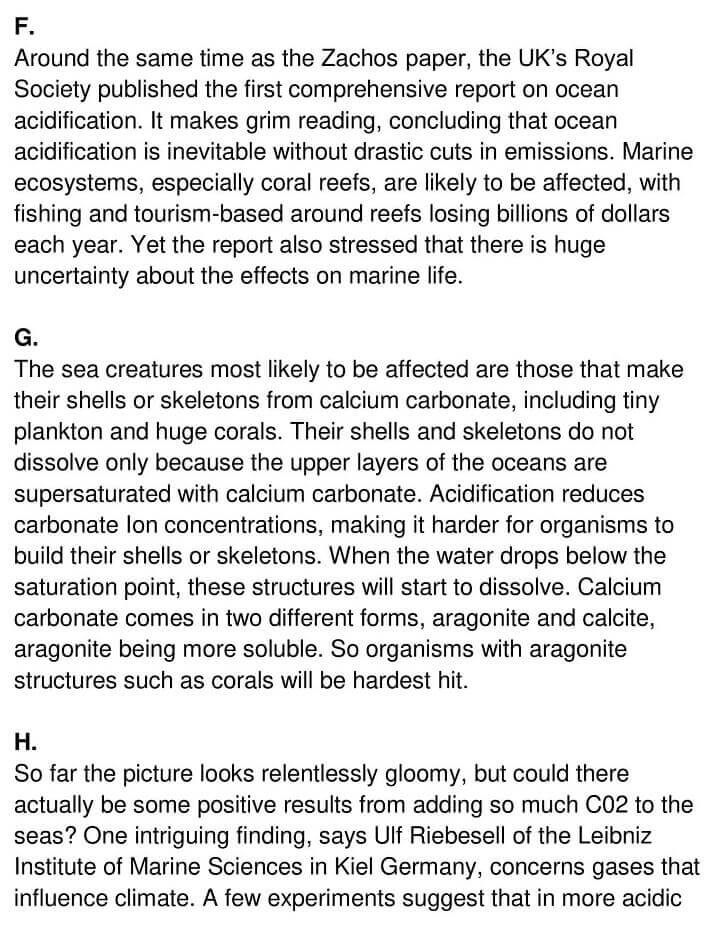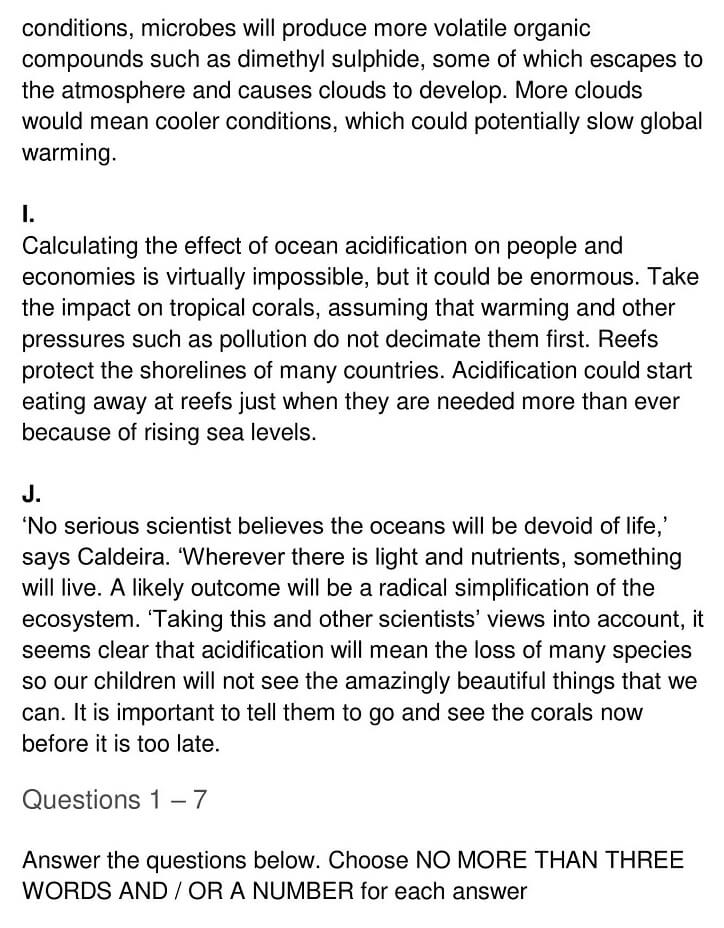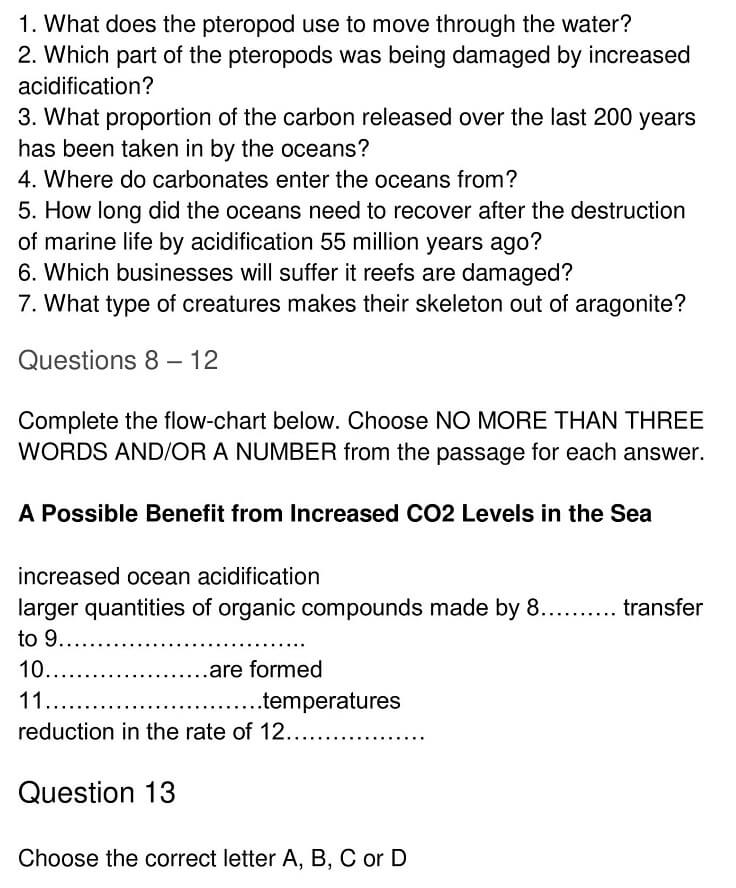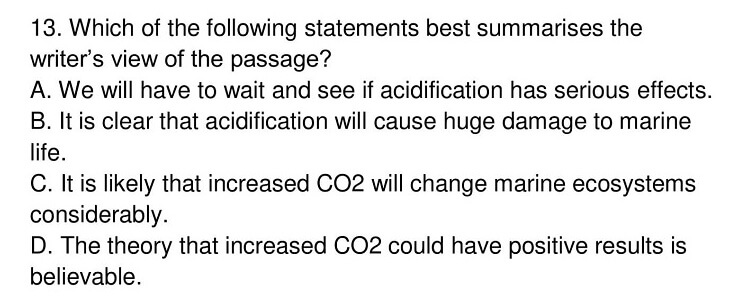 Answers
The answers with explanations are given below
| Question Number | Answers | Keywords | Location of Keywords |
| --- | --- | --- | --- |
| 1. | (small) flaps | Swim in a way, resembles butterfly flight, propelled by | Paragraph A, Line 5 |
| 2. | (their/the) Shells | Still swimming, were visibly dissolving | Paragraph A, Line 7 |
| 3. | (about )1/3 / A Third | Seas have absorbed about a third of all the fossil-fuel carbon  | Paragraph C, Lines 3-4 |
| 4. | Rocks (on land) | Release of carbonates from rocks on land | Paragraph D, Lines 2-3 |
| 5. | (over) 100,000 | It took over 100,000 years, oceans to return to their normal state. | Paragraph E, Last 2 lines |
| 6. | Fishing and Tourism (in any order) | Coral reefs, are likely to be affected, fishing and tourism-based, losing billions of dollars  | Paragraph F, Lines 4-6 |
| 7. | coral(s) | organisms with aragonite structures, will be hardest hit. | Paragraph G, Last 2 lines |
| 8. | microbes | Produce more volatile organic compounds | Paragraph H, Lines 6-7 |
| 9. | (the) atmosphere | Some of which escapes, causes clouds to develop | Paragraph H, Lines 7-8 |
| 10. | Clouds | Atmosphere, causes clouds to develop | Paragraph H, Line 8 |
| 11. | Cooler | More clouds, cooler conditions | Paragraph H, Lines 8-9 |
| 12. | Global warming | Cooler conditions, potentially slow global warming | Paragraph H, Last 2 lines |
| 13. | C | CO2, marine ecosystems considerably. | – |
Check More IELTS Reading Answers
Also check :