Eco-Tourism Reading Answers
Courtney Miller,
Updated On
The Academic passage 'Eco-Tourism' is a reading passage that appeared in an IELTS Test. Read the passage below and answer questions 1-13. Beyond the questions, you will find the answers along with the location of the answers in the passage and the keywords that help you find out the answers.
Eco-Tourism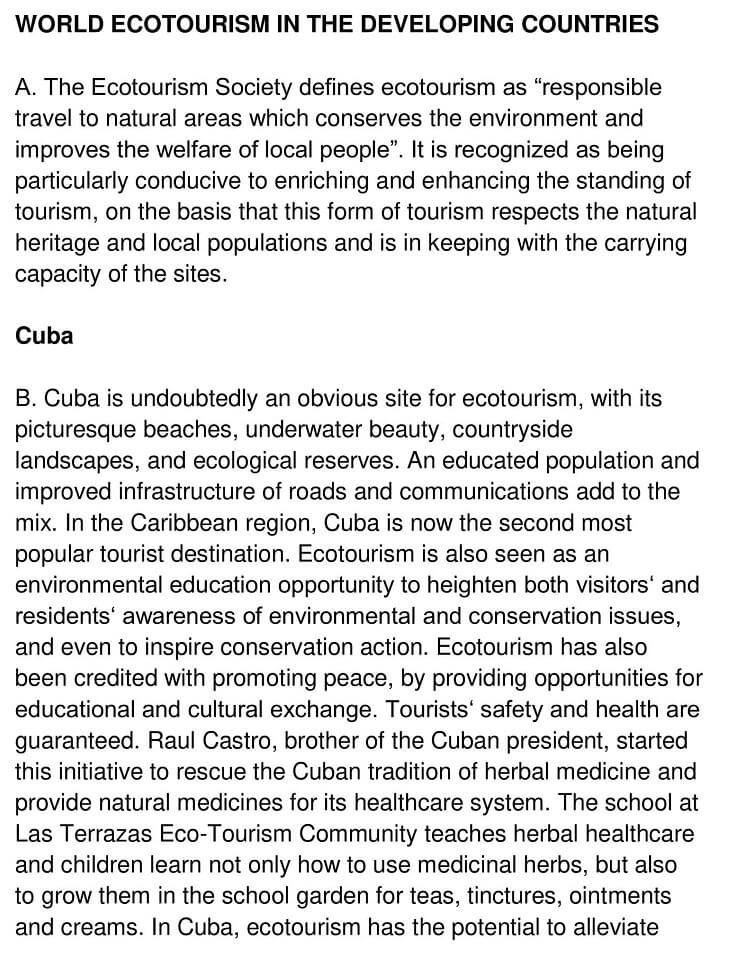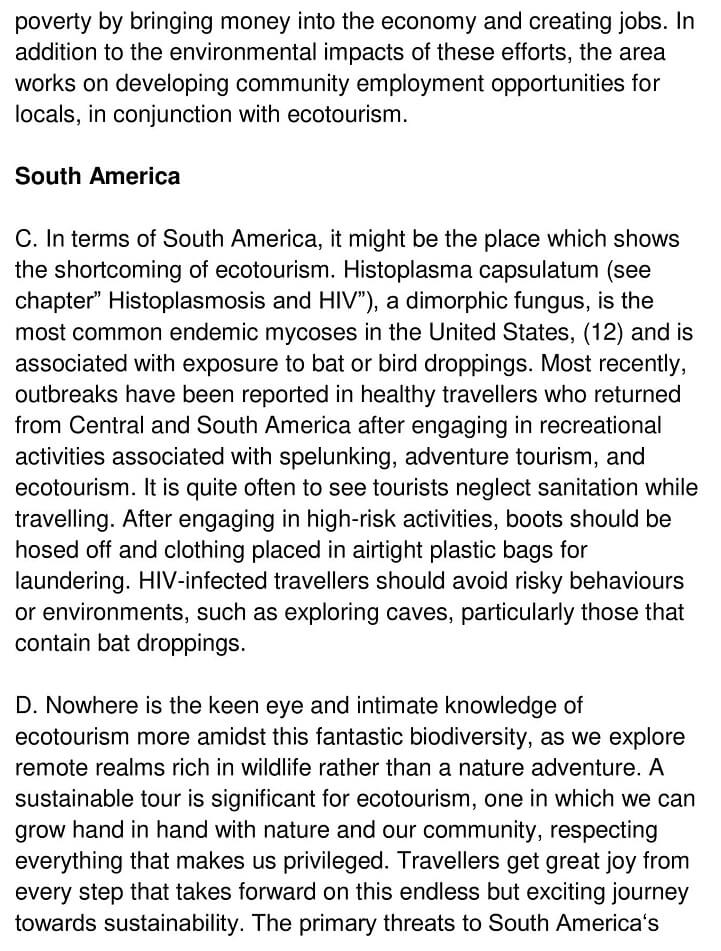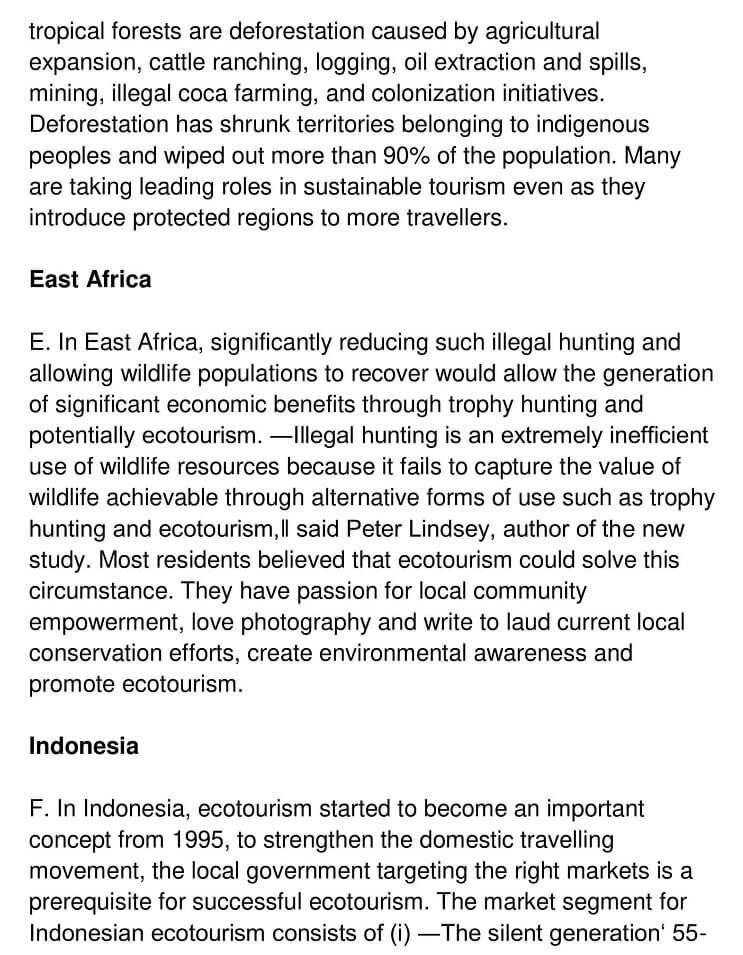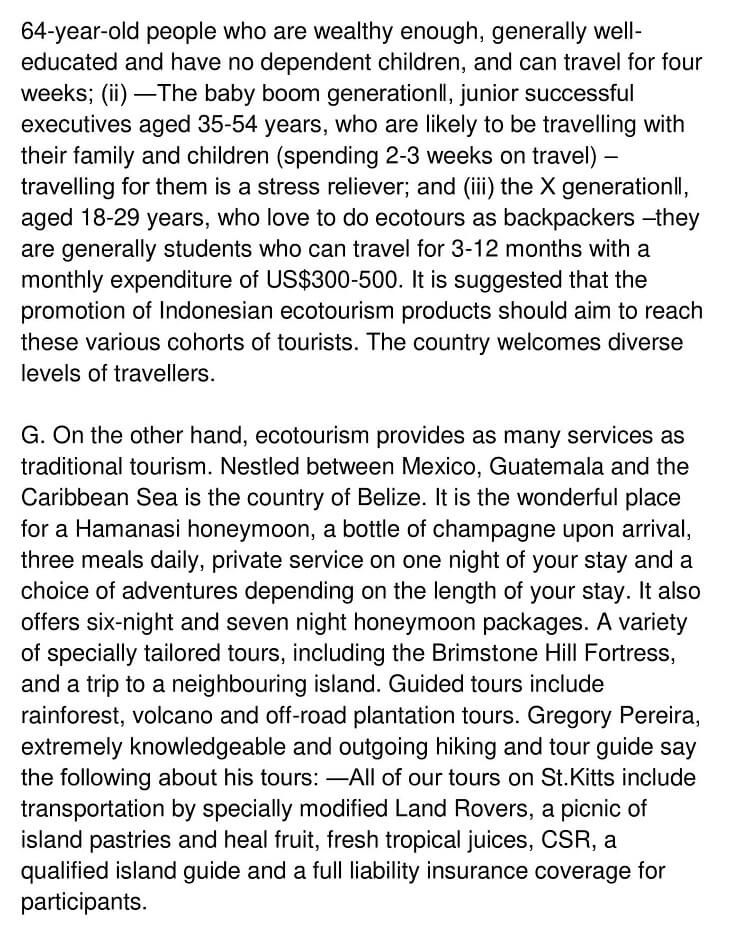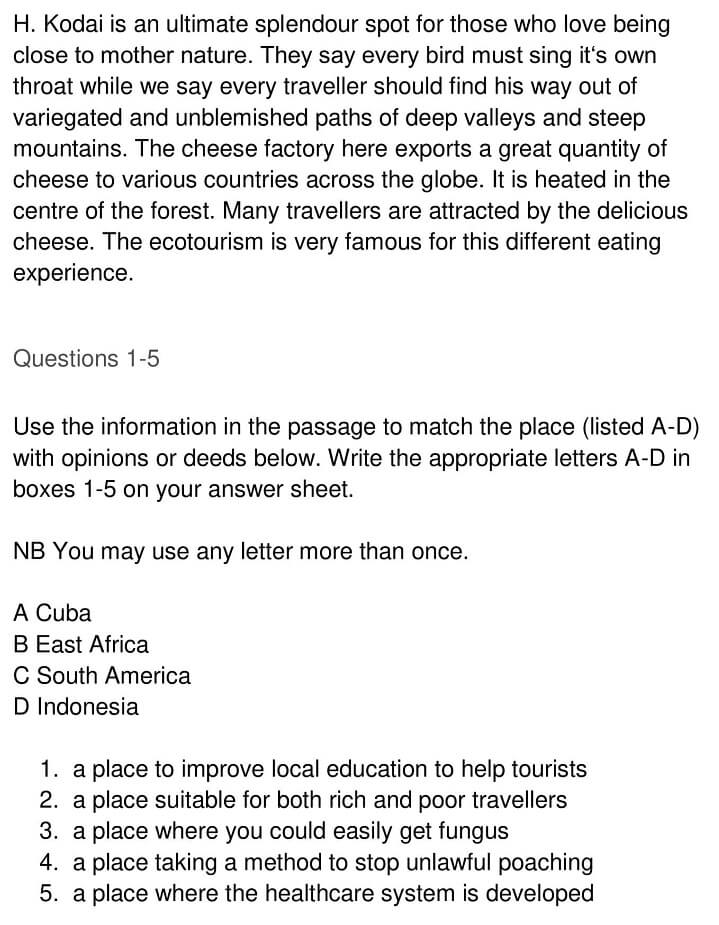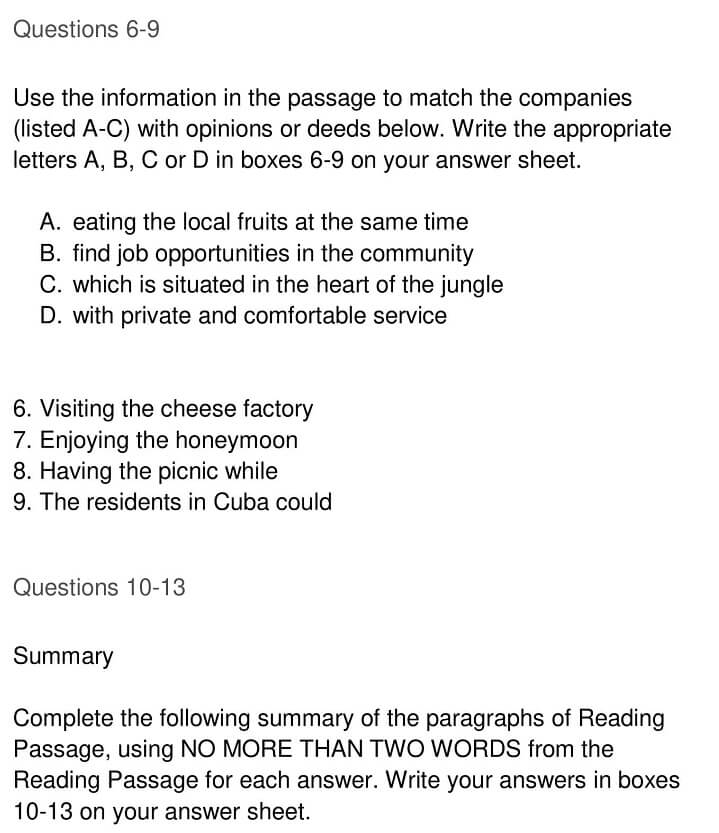 Answers
Unlock Answers
Question Number
Answer
Explanation
1.
A
Paragraph B states that, in 'Cuba', which is the second most popular tourist destination, ecotourism is seen as an 'environmental education opportunity' (local education) to 'heighten both visitors' and residents' awareness of environmental and conservation issues' (help tourists as well as local),and even to inspire conservation action. Ecotourism has also been credited with promoting peace, by 'providing opportunities for educational and cultural exchange'. Hence, the answer is A (Cuba).
2.
D
Paragraph F mentions that the market segment for Indonesian ecotourism consists of three groups. The first group is the silent generation that consists of 55-64 year old people who are 'wealthy enough' (rich travellers) and well-educated. While the second group consists of the 'baby boom generationll', people of 35-54 years, who travel with their family and children to relieve stress, the third group is the 'X generationll', aged 18-29 years, who are generally students who travel with a monthly expenditure of US$300-500 (poor travellers). So, both rich and poor people can afford to travel to Indonesia. Hence, the answer is D (Indonesia).
3.
C
Paragraph C tells about South America's shortcoming related to tourism. 'Histoplasma capsulatum, a dimorphic fungus', is the 'most common' endemic mycoses in the United States. Most recently,

'outbreaks' have been reported in healthy travellers who returned from Central and South America after engaging in recreational

activities associated with spelunking, adventure tourism, and Ecotourism. This proves that in South America, one can easily get fungus at any place. Hence, the answer is C (South America).
4.
B
Paragraph E points out that in East Africa, 'steps are being taken' for reducing 'illegal hunting' (unlawful poaching). Allowing wildlife populations to recover would allow the generation of significant economic benefits through trophy hunting and potentially 'ecotourism' (method). Hence, the answer is B (East Africa).
5.
A
Paragraph B informs that, in Cuba, 'tourists' safety and health are guaranteed'. Raul Castro, brother of the Cuban president, had started an 'initiative to rescue the Cuban tradition of herbal medicine' and

'provide natural medicines for its healthcare system'. The school at

Las Terrazas Eco-Tourism Community 'teaches herbal healthcare' and children learn not only how to use medicinal herbs, but also to grow them in the school garden for teas, tinctures, ointments

and creams'. Various initiatives related to natural medicine taken by the people show that the healthcare system is developed. Hence, the answer is A (Cuba).

6.
C
Paragraph H mentions that 'the cheese factory in Kodai' exports a 'great quantity of cheese' to various countries across the globe. It (cheese) is 'heated in the centre of the forest' (heart of the jungle) and attracts a lot of tourists. Hence, the answer is C (which is situated in the heart of the jungle).
7.
D
Paragraph G reveals that Belize is the 'wonderful place for a Hamanasi honeymoon'. The honeymooners are offered 'a bottle of champagne upon arrival, three meals daily' (comfortable), 'private service' on one night of your stay and 'a choice of adventures depending on the length of your stay'. It also offers 'six-night and seven night honeymoon packages'. Hence, the answer is D (with private and comfortable service).
8.
A
Paragraph G mentions that Gregory Pereira, an extremely knowledgeable tour guide in Belize, says that all of the tours on St.Kitts include transportation by specially modified Land Rovers, a picnic of island pastries and heal fruit, fresh tropical juices, CSR, a

qualified island guide and a full liability insurance coverage for participants. Hence, the answer is A (eating the local fruits at the same time).

9.
B
Paragraph B points out that in Cuba, 'ecotourism' has the 'potential' to alleviate poverty by bringing money into the economy and 'creating jobs'. In addition to the environmental impacts, ecotourism 'works on developing community employment opportunities for locals'. Hence, the answer is B (find job opportunities in the community).
10.
Adventure
It is given in paragraph D that the keen eye and intimate knowledge of 'ecotourism' is more potent amidst this (South American) fantastic biodiversity, as we 'explore' remote realms rich in wildlife 'rather than a nature adventure'.Hence, the answer is 'adventure'.
11.
Sustainable
From paragraph D, we come to know that ecotourism is more about fantastic biodiversity rather than a nature adventure. A

'sustainable tour is significant for ecotourism', one in which we can

grow hand in hand with nature and our community, respecting everything that makes us privileged. Hence, the answer is 'sustainable'.

12.
Tropical Forest
Paragraph D informs that the 'primary threats' (of destruction) to 'South America's tropical forests' is deforestation. Deforestation has shrunk territories belonging to indigenous peoples and wiped out more than 90% of the population. Many

are taking leading roles in 'sustainable tourism' (ecotourism) even as they introduce 'protected regions' (the tropical forests) to more travellers. Hence, the answer is 'tropical forest'.

13.
Illegal Killing
Paragraph E brings out the fact that in East Africa, significantly 'reducing' (cutting) 'illegal hunting' and allowing wildlife populations to recover would allow the 'generation of significant economic benefits through' trophy hunting and potentially 'ecotourism'. llegal hunting is an extremely inefficient use of wildlife resources said Peter Lindsey, author of the new study. Most residents believed that 'ecotourism could solve this circumstance' (illegal killing of animals). Hence, the answer is 'illegal killing'.
Also check :