Task 1: Noise pollution in cities and rural areas (bar)
The charts illustrate the number of people who were affected by four types of noise pollution in day and night in cities and rural areas in 2007.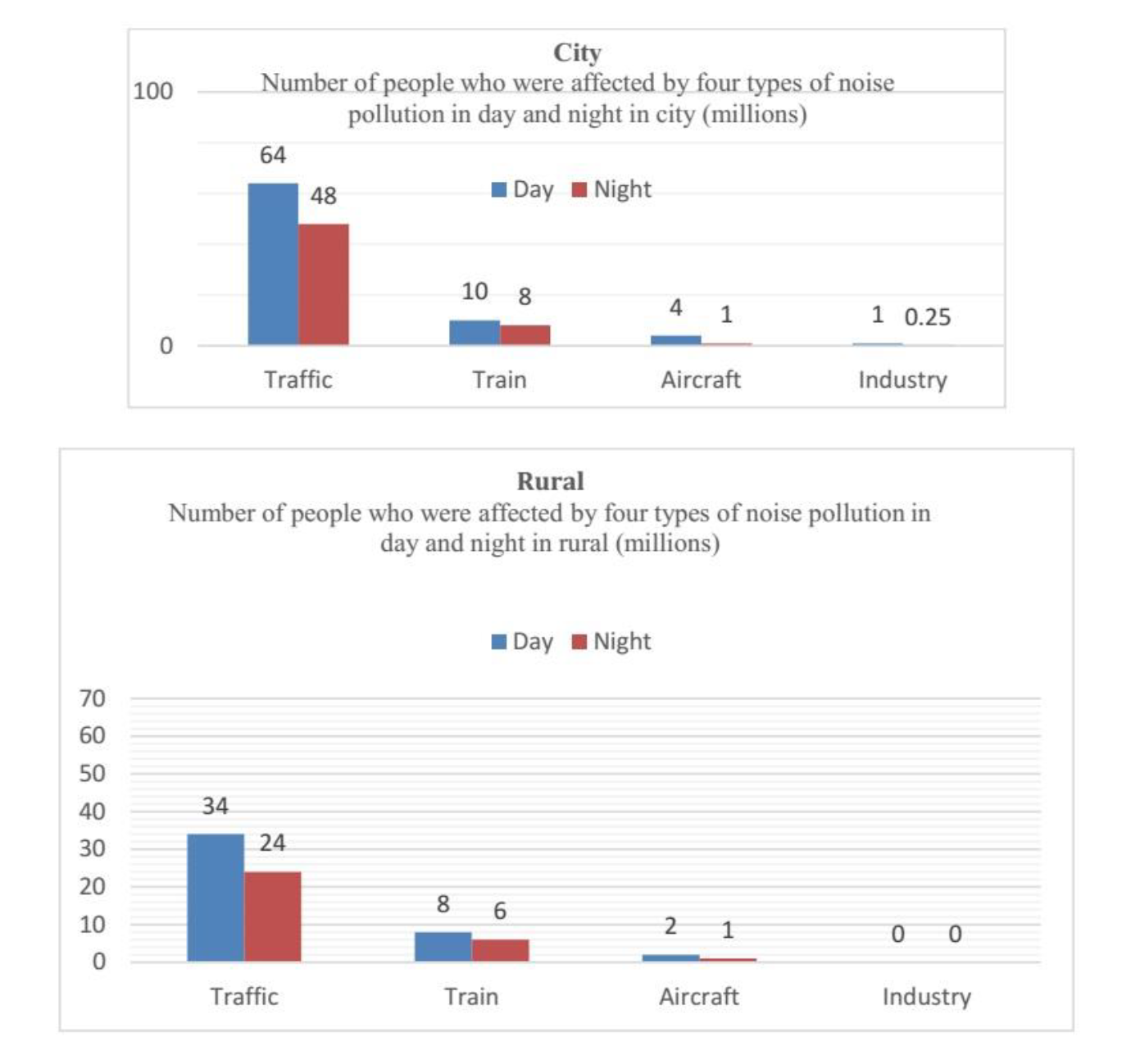 Report Plan:
Paraphrase: illustrate>compare; number of people>how many people; cities>urban areas; four types>four sources
Overall/summary paragraph: (1) people in cities affected more by noise (2) traffic the main source of noise pollution
Paragraph 3: compare traffic noise day and night in cities and rural areas. Then compare train noise. Give figures.
Paragraph 4: compare aircraft noise day and night in cities and rural areas. Then compare noise from industry. Give figures.
Report:
The bar charts compare how many people in urban and rural areas were affected by noise pollution from four sources during daytime and nightime in 2007.
Overall, it is clear that more people in cities experienced all types of noise pollution compared with rural areas. In both charts, traffic was the main source of noise pollution at all times.
Daytime noise from traffic affected 64 million people in cities and 34 million in rural areas. At night, traffic noise affected 48 million city residents, double the figure for rural areas. Noise pollution caused by trains affected slightly more people in cities compared with rural areas, at 10 million and 8 million respectively during the daytime, and 8 million and 6 million respectively at night.
The remaining two sources of noise pollution were less significant. In cities, daytime aircraft noise affected 4 million people and half that number in rural areas. The figure at night for cities and rural areas was 1 million. Those living in rural areas were not
affected by noise from industry. However, 1 million city residents experienced industrial noise pollution in the daytime, four times the number affected at night.
193 words
The following two tabs change content below.
Latest posts by IELTS Material (see all)
Main IELTS Pages:
This website is to develop your IELTS skills with tips, model answers, lessons, free books, and more. Each section (Listening, Speaking, Writing, Reading) has a complete collection of lessons to help you improve your IELTS skills.
Get all the latest updates/lessons via email:
Subscribe for free IELTS lessons/Books/Tips/Sample Answers/Advice from our IELTS experts. We help millions of IELTS learners maximize their IELTS scores!
Subscribe to IELTS Material to receive the latest lessons