IELTS Academic Writing Task 1 : Process Vocabulary – How to Describe a Process or Diagram?
Zuhana,
Updated On
In IELTS Writing Task 1, there are 2 types of processes which include Manufacturing Process (MP) and Natural Process (NP). Passive voice is preferred for MP while NP is active voice. Below are some useful tips,  sentence structures and vocabulary for this IELTS Writing Task 1. 
Follow the same initial steps for writing about a graph.
In the introduction you can use: The diagram/picture/chart shows/illustrates/describes/depicts the process of/how…
For example:
Topic: The diagram below shows how the Australian Bureau of Meteorology collects up-to-the-minute information on the weather in order to produce reliable forecasts.==> Essay: The figure illustrates the process used by the Australian Bureau of Meteorology to forecast the weather.
Find a starting point and write the process as a series of steps
Useful connecting words you can use are:
– Adverbs:
first/firstly/first of all, to star with, …or  The first step | is involved + Ving                                 
secondly, thirdly
then/next/after that/following that/following on from this, …
subsequently/in the subsequent stage/ subsequent to that, finally..

==> Example: To begin with, the food is processed. The next step is when it is packed. Finally, it is delivered.
– Prepositions: At the beginning of…/ At the end of…
Use the following conjunctions to make more complex sentences:
– when/once/as soon as/immediately/whereas….
Eg: Once obtained, raw materials and manufactured components are stored for later assembly
The manufacturing stages involve the storage, assembly, inspection, packing to the sales methods whereas the research stages include market & product research, design and advertisement.
– before + clause or gerund
Eg: Most consumer goods go through a series of stages before they emerge as finished products ready for sale.
– after + clause or gerund
Eg: After the production planning is complete the assembly, inspection, testing and packaging stages are done sequentially.
– where/from where/after which
Eg: Assembly first depends upon the production planning stage, where it is decided how and in what quantities the stored materials will be processed to create sufficient quantities of finished goods.

Useful Sentence Structures:
X=The chart/diagram….
1, X (shows/describes/illustrates) how + clause
E.g: The diagram below shows how salt is removed from sea water to make it drinkable
2, X (shows/describe/illustrates) + noun
E.g: The charts below show the result of public survey
3, X (provides/gives) information about……….
Practice: 
You should spend about 20 minutes on this task.
The diagram illustrates the process that is used to manufacture bricks for the building industry. 
Summarize the information by selecting and reporting the main features and make comparisons where relevant.
Write at least 150 words.
(Post your writing in the comment, your writing will be corrected in 24 hours)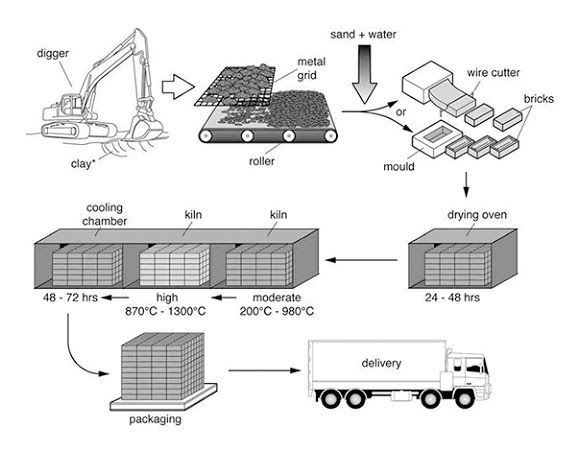 See also: