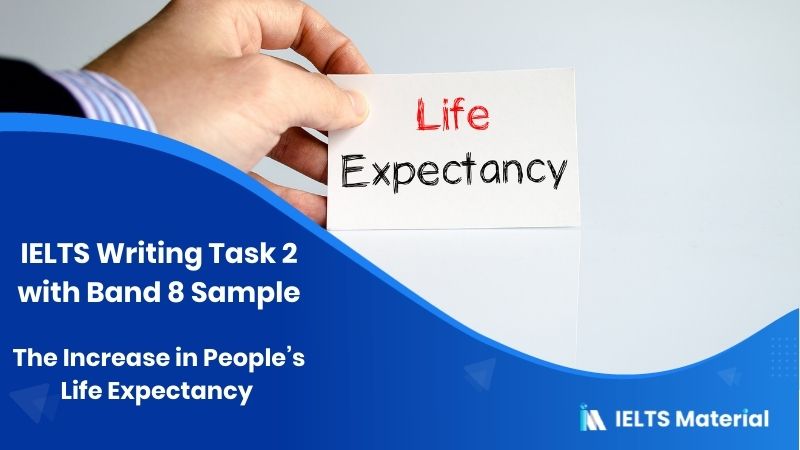 The Increase in People's Life Expectancy : IELTS Writing Task 2 with Band 8 Sample
IELTS Writing Task 2
The increase in people's life expectancy means that they have to work older to pay for their retirement. One alternative is that people start to work at a younger age. Is this alternative a positive or negative development?
Sample Answer
As people's life expectancy is becoming higher every day, older citizens have to devote more of their time to work. However, some decide to work at a younger age. From my own perspective, this trend is positive.
Entering the workforce at an earlier age can be a good choice for people's better financial circumstances when they become old. The younger a person is, the more energetic and persistent he or she is in their job. Without a shadow of a doubt, youths can perform most office-related tasks with their zeal and the best degree of their productivity. They are less absent-minded and would make fewer blunders and work while being capable of multi-tasking. Given this, promotion prospects are promising, and they are likely to climb up the career ladder within some years. As a consequence, their income could be colossal enough to well afford them for future retirement life.

Besides, unlike the old citizens who might choose to start work late or fail to make headway in their career progression, the proactive young individuals would have been wise if they opt for this alternative of working early. There is more time to sample different work environments, learn new skills and meet people from diverse backgrounds without having to concern themselves about the low salary or missed opportunities triggered by job-hopping. They can do this as long as they like since the youth age permits experience and gives them plenty of freedom to pursue their dreams. The salary then still accumulates in value, but the youths have job satisfaction and live their life to the fullest.
By way of conclusion, I would contend that the contemporary situation in which young people start making a living earlier than in the past is a positive development.
See also: