Mission To Mars IELTS Reading Answers
Janice Thompson,
Updated On


Limited-Time Offer : Access a FREE 10-Day IELTS Study Plan!
The Academic passage 'Mission To Mars' is a reading passage that appeared in an IELTS Test.
Since questions get repeated in the IELTS exam, these passages are ideal for practice. If you want more practice, try taking an IELTS reading practice test.
Mission To Mars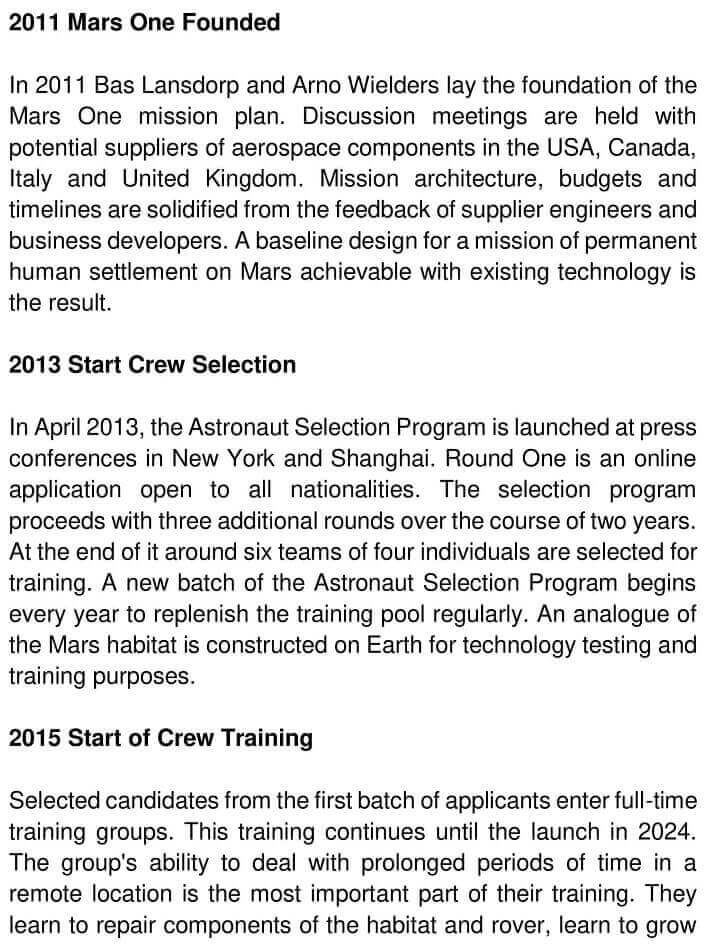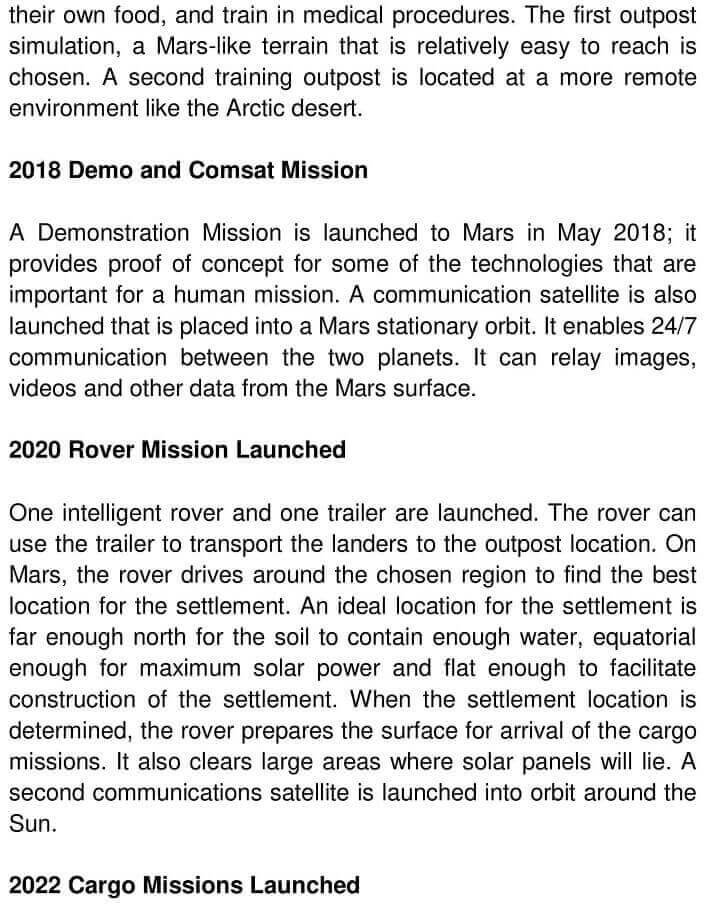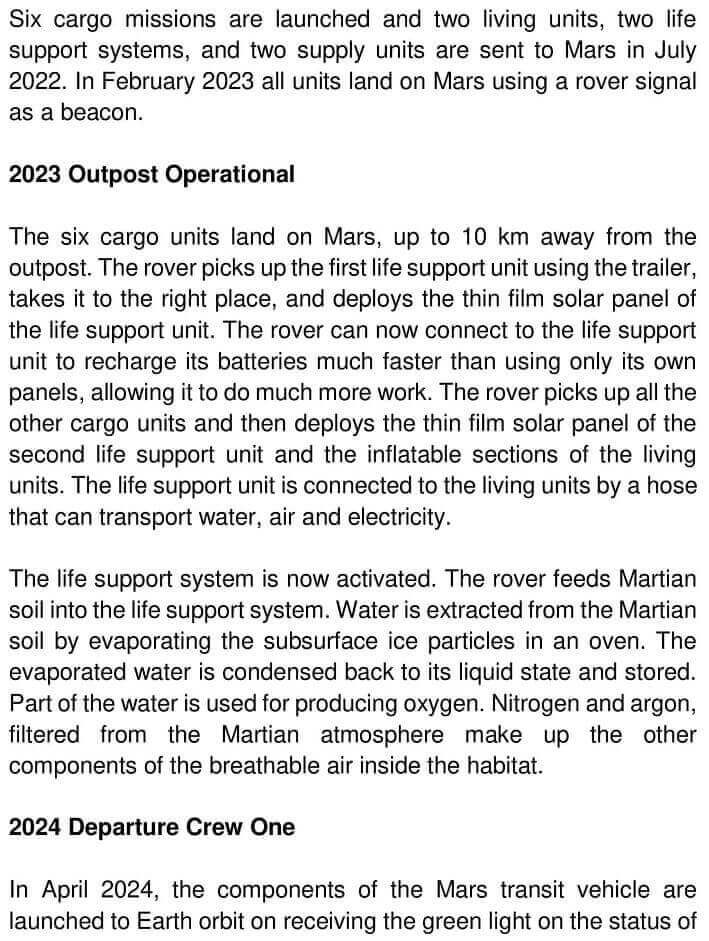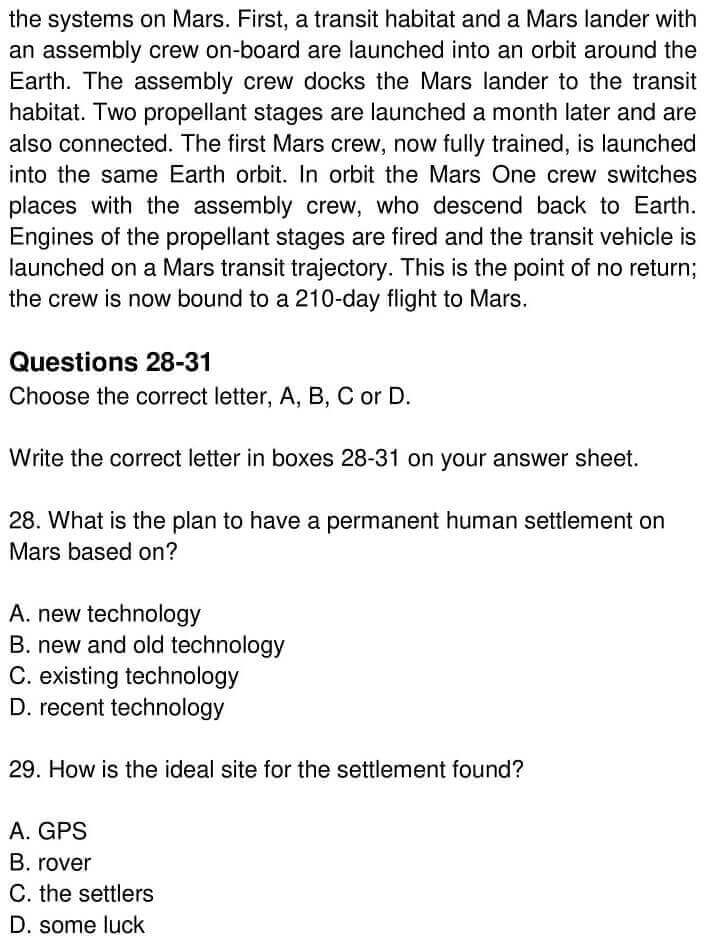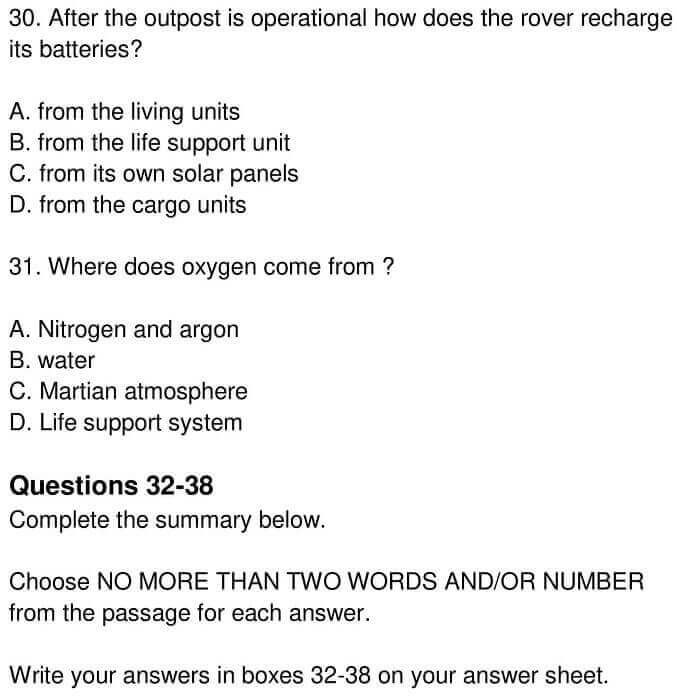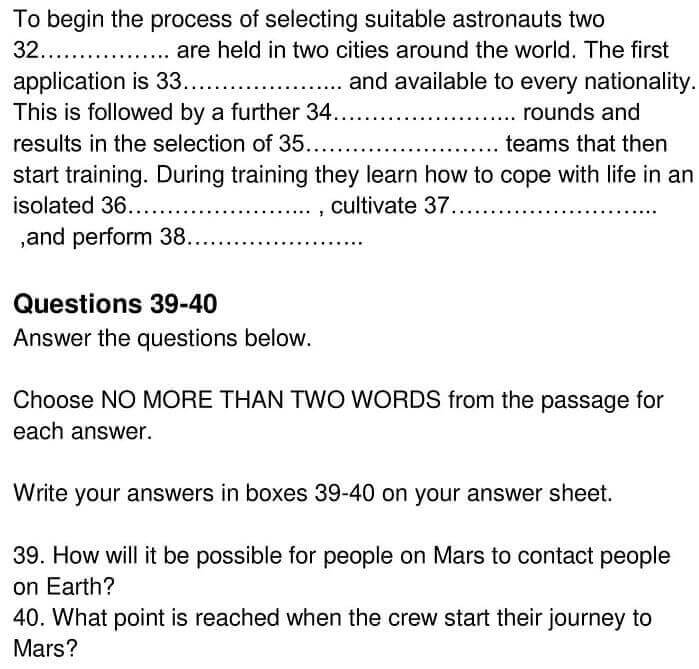 Answers
Question number 
Answer 
Keywords 
Location of keywords

28

C

A baseline design for a mission of permanent human settlement on Mars achievable with existing technology is the result.

2011 Mars One Founded; Last line 

29

B

When the settlement location is determined, the rover prepares the surface for arrival of the cargo missions.

2020 Rover Mission Launched; Line 4

30

B

The rover can now connect to the life support unit to recharge its batteries much faster than using only its own panels, allowing it to do much more work.

2023 Outpost Operational;

First para, Line 3

31

B

Part of the water is used for producing oxygen.

2023 Outpost Operational;

First para, Line 5

32

Press conferences

In April 2013, the Astronaut Selection Program is launched at press conferences in New York and Shanghai.

2013 Start Crew Selection; Line 1

33

online

Round One is an online application open to all nationalities.

2013 Start Crew Selection; Line 2

34

3/three

The selection program proceeds with three additional rounds over the course of two years.

2013 Start Crew Selection; Line 3

35

6/six

At the end of it around six teams of four individuals are selected for training.

2013 Start Crew Selection; Line 4

36

location

The group's ability to deal with prolonged periods of time in a remote location is the most important part of their training.

2015 Start of Crew Training; Line 3

37

food

They learn to repair components of the habitat and rover, learn to grow their own food,

2015 Start of Crew Training; Line 4

38

Medical procedures

They learn to repair components of the habitat and rover, learn to grow their own food, and train in medical procedures.

2015 Start of Crew Training; Line 4

39

Communication satellite

A communication satellite is also launched that is placed into a Mars stationary orbit. It enables 24/7 communication between the two planets.

2018 Demo and Comsat Mission; Lines 2 – 3

40

No return

This is the point of no return; the crew is now bound to a 210-day flight to Mars.

2024 Departure Crew One; Last line
Check More IELTS Reading Answers
Also check :