What Are Dreams? – IELTS Reading Answers
Whitney Houston,
Updated On
The Academic passage 'What Are Dreams?' is a reading passage that appeared in an IELTS Test.
Since questions get repeated in the IELTS exam, these passages are ideal for practice. If you want more practice, try taking an IELTS reading practice test.
What Are Dreams?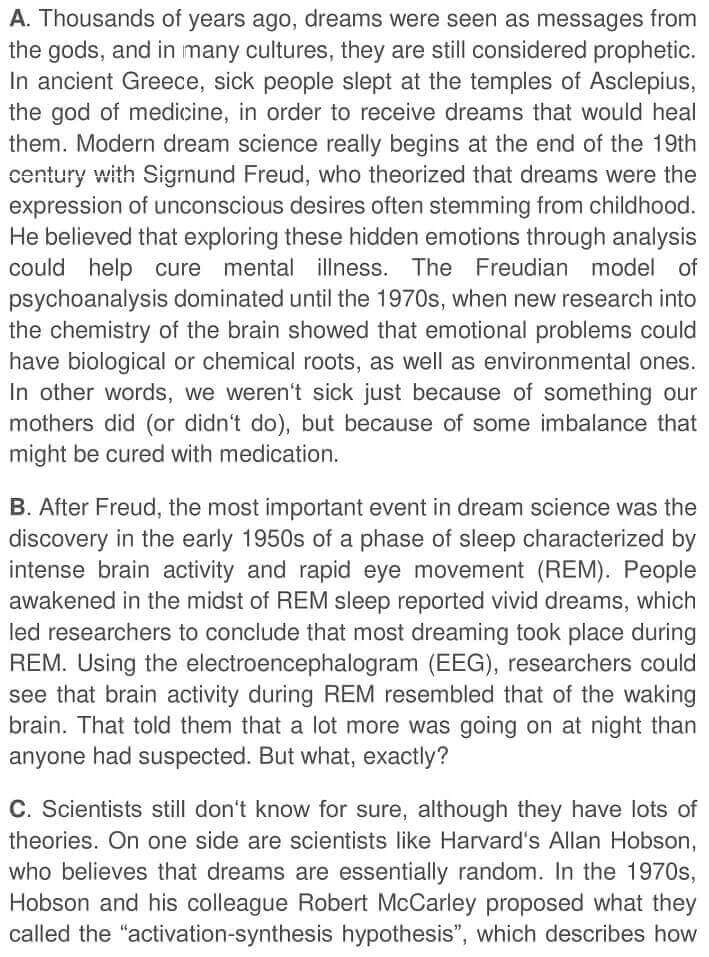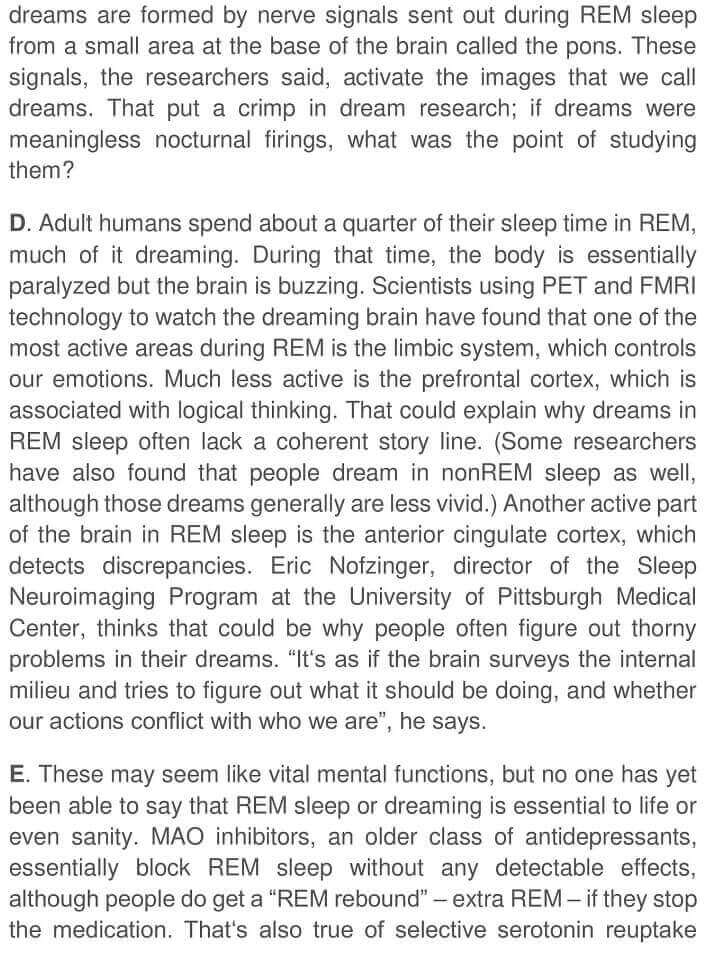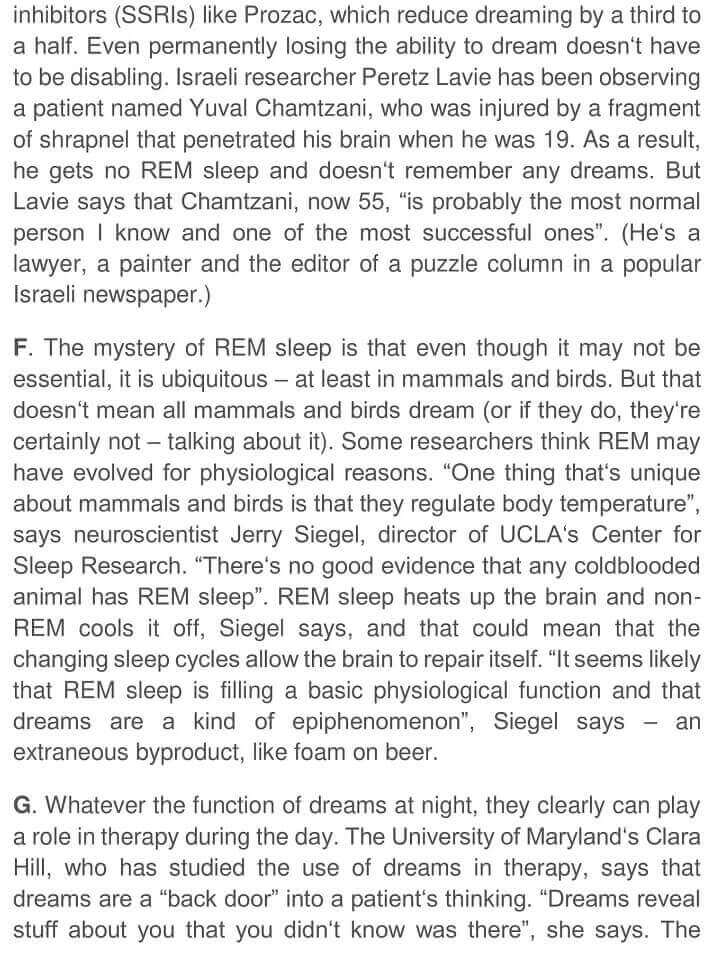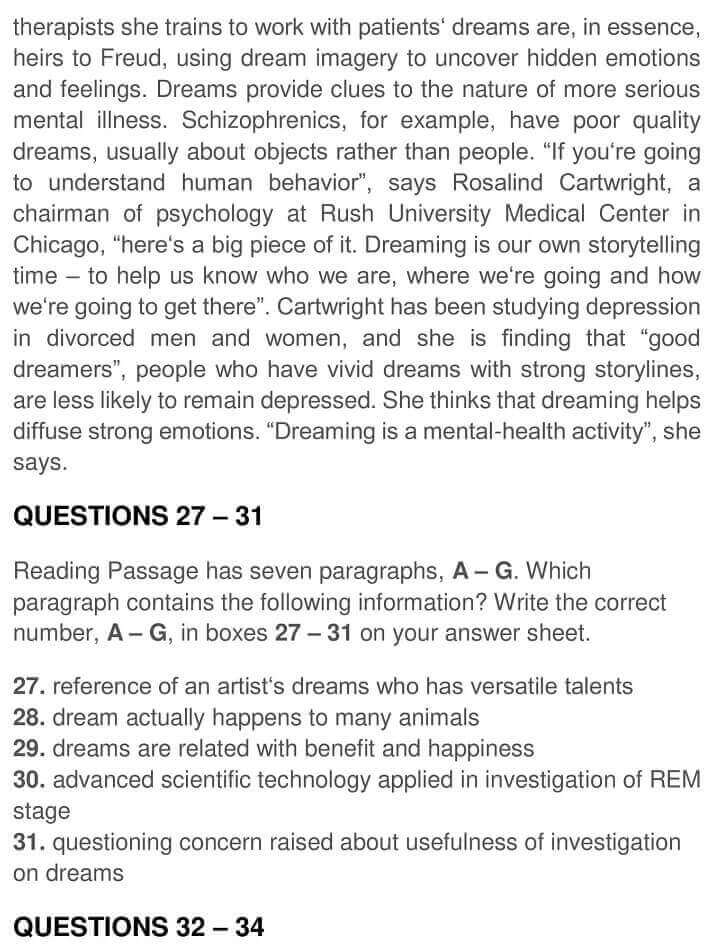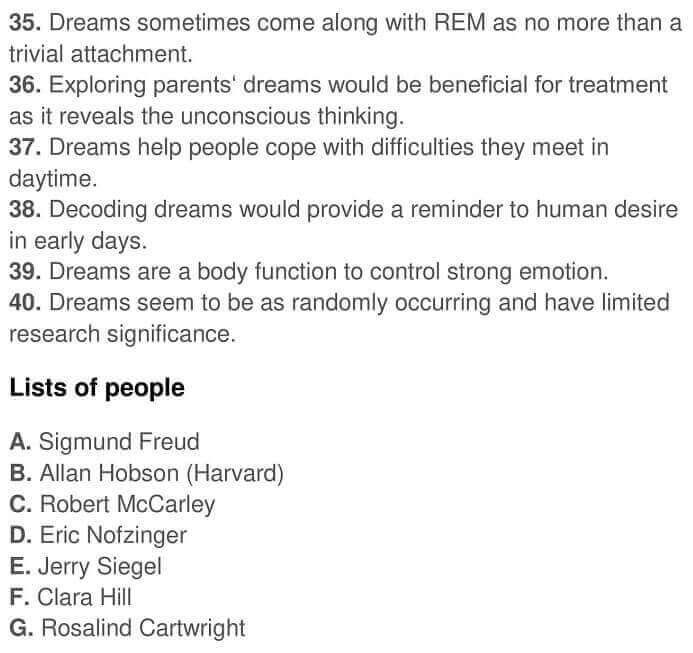 Answers
| Question no. | Answers | Keywords | Location of keywords |
| --- | --- | --- | --- |
| 27 | E | But Lavie says that Chamtzani, now 55, "is probably the most normal person I know and one of the most successful ones". (He's a lawyer, a painter and the editor of a puzzle column in a popular Israeli newspaper. | Paragraph E,last two lines |
| 28 | F | at least in mammals and birds. But that doesn't mean all mammals and birds dream (or if they do, they're certainly not – talking about it) | Paragraph F,lines 2 and 3 |
| 29 | G | Mental health,happiness | Paragraph G ,full |
| 30 | D | Scientists using PET and FMRI technology to watch the dreaming brain have found that one of the most active areas during REM is the limbic system, which controls our emotions. | Paragraph D,lines 3 |
| 31 | C | That put a crimp in dream research; if dreams were meaningless nocturnal firings, what was the point of studying them? | Paragraph C,last line |
| 32 | B | Thousands of years ago, dreams were seen as messages from the gods, and in many cultures, they are still considered prophetic. In ancient Greece, sick people slept at the temples of Asclepius, the god of medicine, in order to receive dreams that would heal them. Modern dream science really begins at the end of the 19th century with Sigmund Freud, who theorized that dreams were the expression of unconscious desires often stemming from childhood. | Paragraph A,lines 1 and 2 |
| 33 | D | Much less active is the prefrontal cortex, which is associated with logical thinking. That could explain why dreams in REM sleep often lack a coherent story line. | Paragraph D,line 6 |
| 34 | A | One thing that's unique about mammals and birds is that they regulate body temperature", says neuroscientist Jerry Siegel, director of UCLA's Center for Sleep Research. | Paragraph F,lines 5 and 6 |
| 35 | E | Siegel says, and that could mean that the changing sleep cycles allow the brain to repair itself. "It seems likely that REM sleep is filling a basic physiological function and that dreams are a kind of epiphenomenon", Siegel says – an extraneous byproduct, like foam on beer. | Paragraph F,lines 10 and 11 |
| 36 | D | "It's as if the brain surveys the internal milieu and tries to figure out what it should be doing, and whether our actions conflict with who we are", he says. | Paragraph D, last line |
| 37 | D | "It's as if the brain surveys the internal milieu and tries to figure out what it should be doing, and whether our actions conflict with who we are", he says. | Paragraph D, last line |
| 38 | A | dreams were the expression of unconscious desires often stemming from childhood. | Paragraph A, line 7 |
| 39 | G | She thinks that dreaming helps diffuse strong emotions. "Dreaming is a mental-health activity", she says. | Paragraph G, last line |
| 40 | B | "activation-synthesis hypothesis", which describes how dreams are formed by nerve signals sent out during REM sleep from a small area at the base of the brain called the pons. These signals, the researchers said, activate the images that we call dreams. That put a crimp in dream research; | Paragraph C,lines 6 to 10 |
Check More IELTS Reading Answers
Also check :