What Is a Port City? – IELTS Reading Answers
Janice Thompson,
Updated On


Limited-Time Offer : Access a FREE 10-Day IELTS Study Plan!
The Academic passage 'What Is a Port City?' is a reading passage that appeared in an IELTS Test.
Ideally, you should not spend more than 20 minutes on a passage. Let's see how easy this passage is for you and if you're able to make it in 20 minutes. If not, try more IELTS reading practice tests from IELTSMaterial.com
What Is a Port City?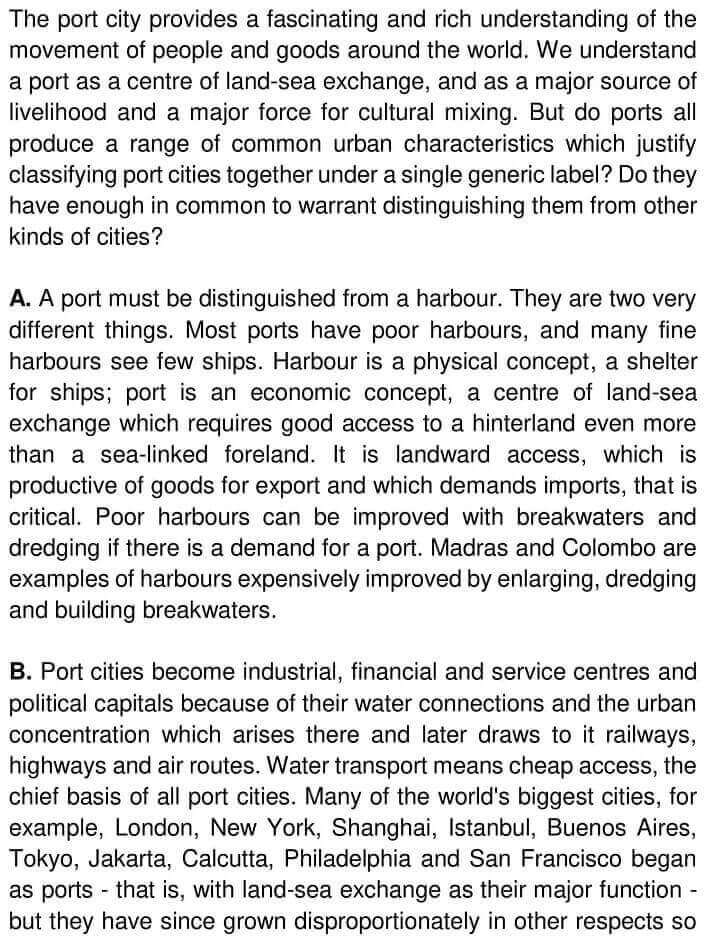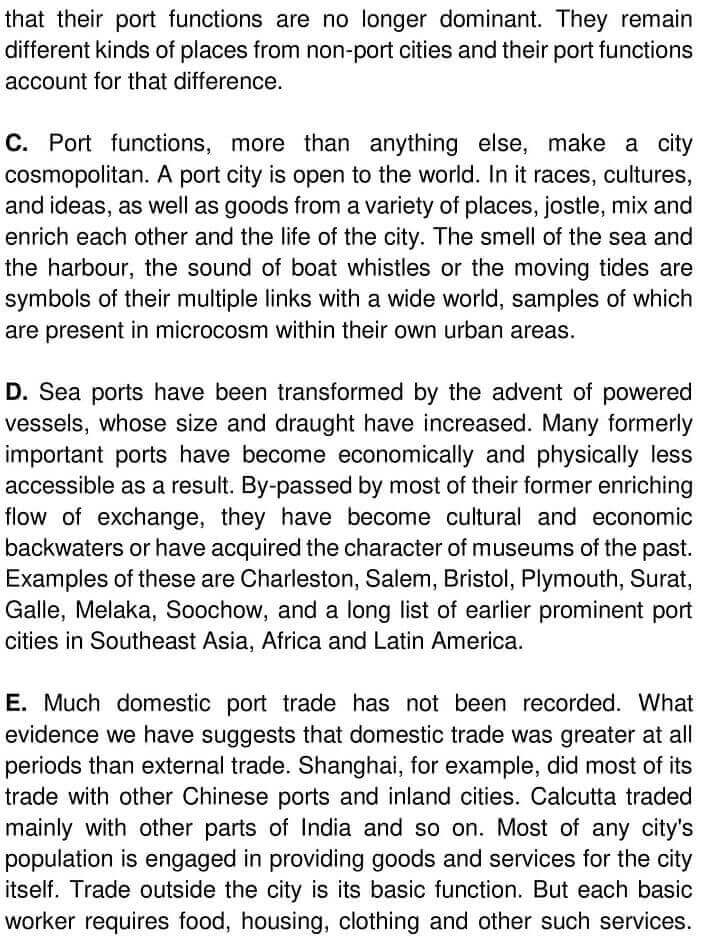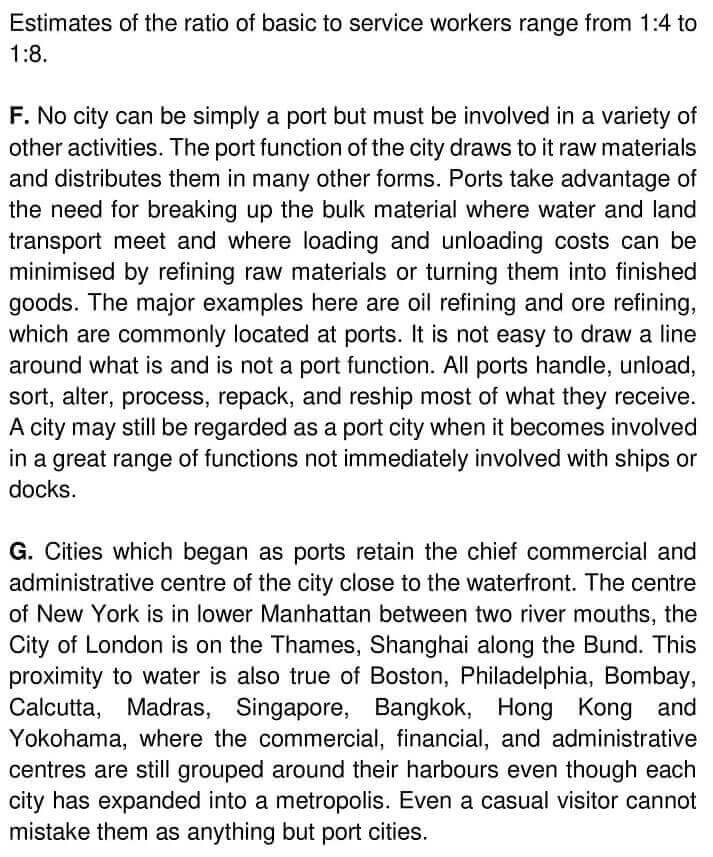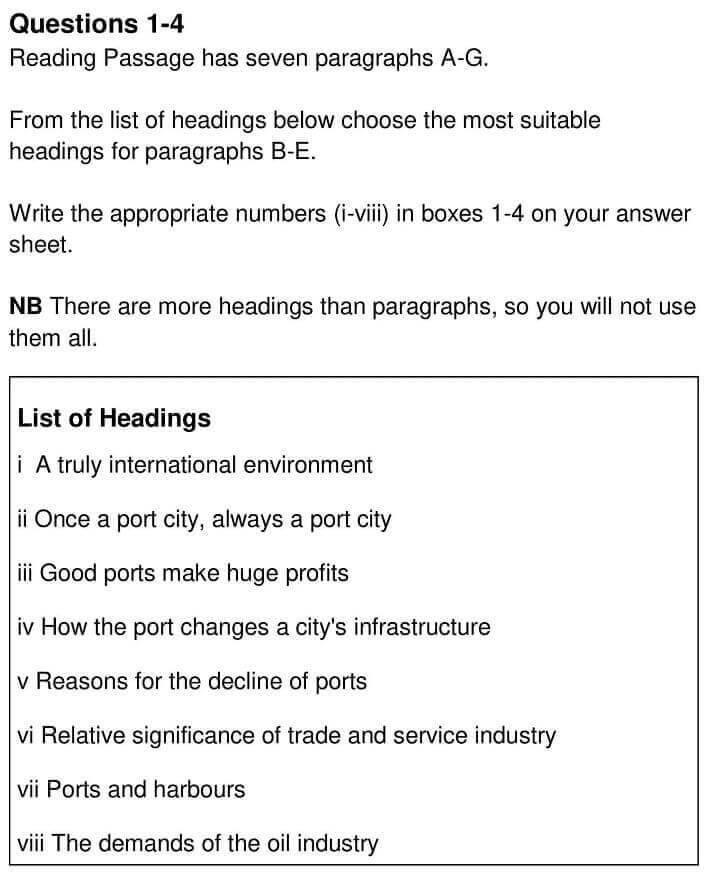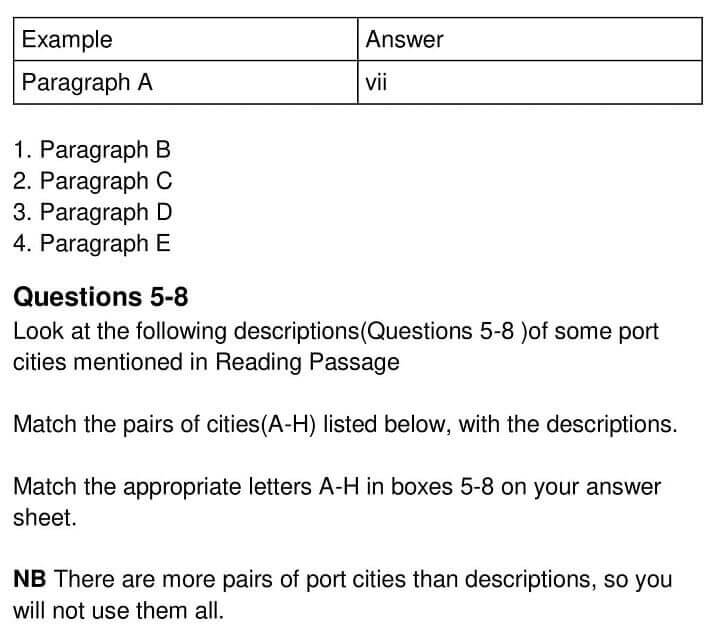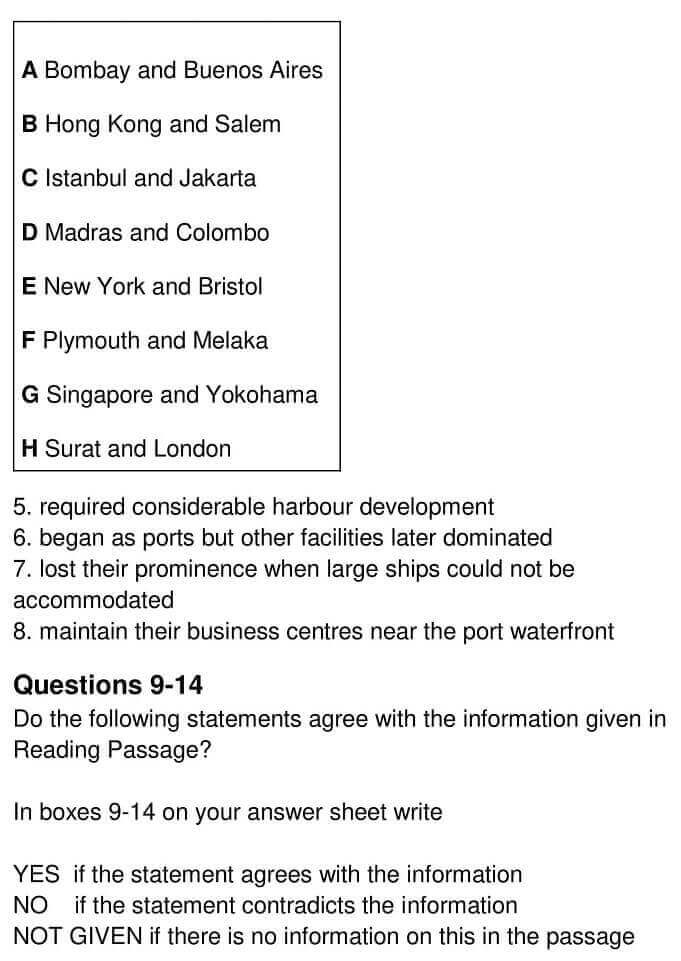 Answers
Question number 
Answer 
Keywords 
Location of keywords

1

ii

They remain different kinds of places from non-port cities and their port functions account for that difference.

Paragraph B;

Last line 

2

i

A port city is open to the world

Paragraph C;

Line 2 

3

v

Sea ports have been transformed by the advent of powered vessels, whose size and draught have increased. Many formerly important ports have become economically and physically less accessible as a result.

Paragraph D;

Lines 1 – 2 

4

vi

Most of any city's population is engaged in providing goods and services for the city itself.

Paragraph E;

Line 4 

5

D

Madras and Colombo are examples of harbours expensively improved by enlarging, dredging and building breakwaters.

Paragraph A;

Last line

6

C

Many of the world's biggest cities, for example, Istanbul, Jakarta, began as ports – that is, with land-sea exchange as their major function – but they have since grown disproportionately in other respects so that their port functions are no longer dominant

Paragraph B;

Line 3

7

F

Examples of these are Charleston, Salem, Bristol, Plymouth, Surat, Galle, Melaka, Soochow, and a long list of earlier prominent port cities in Southeast Asia, Africa and Latin America.

Paragraph D;

Last line 

8

G

Cities which began as ports retain the chief commercial and administrative centre of the city close to the waterfront.

&

This proximity to water is also true of Boston, Philadelphia, Bombay, Calcutta, Madras, Singapore, Bangkok, Hong Kong and Yokohama,

Paragraph G;

Line 1 

&

Line 3 

9

NO

They remain different kinds of places from non-port cities and their port functions account for that difference.

Paragraph B;

Last line

10

YES

domestic trade was greater at all periods than external trade

Paragraph E;

Line 1

11

NO

Most of any city's population is engaged in providing goods and services for the city itself.

Paragraph E;

Line 4

12

YES

The port function of the city draws to it raw materials and distributes them in many other forms.

Paragraph F;

Line 2

13

NOT GIVEN 

–

–

14

YES

This proximity to water is also true of Boston, Philadelphia, Bombay, Calcutta, Madras, Singapore, Bangkok, Hong Kong and Yokohama,

Paragraph G;

Line 3
Check More IELTS Reading Answers
Also check :