A Bar At The Folies IELTS Reading Answers
Janice Thompson,
Updated On


Limited-Time Offer : Access a FREE 10-Day IELTS Study Plan!
The Academic passage 'A Bar At The Folies' is a reading passage that appeared in an IELTS Test. There are various question types, each of which are asked in the IELTS Reading exam. Since questions get repeated in the IELTS exam, these passages are ideal for practice.
If you want more practice, try taking an IELTS reading practice test. 
A Bar At The Folies
(Un bar aux Folies)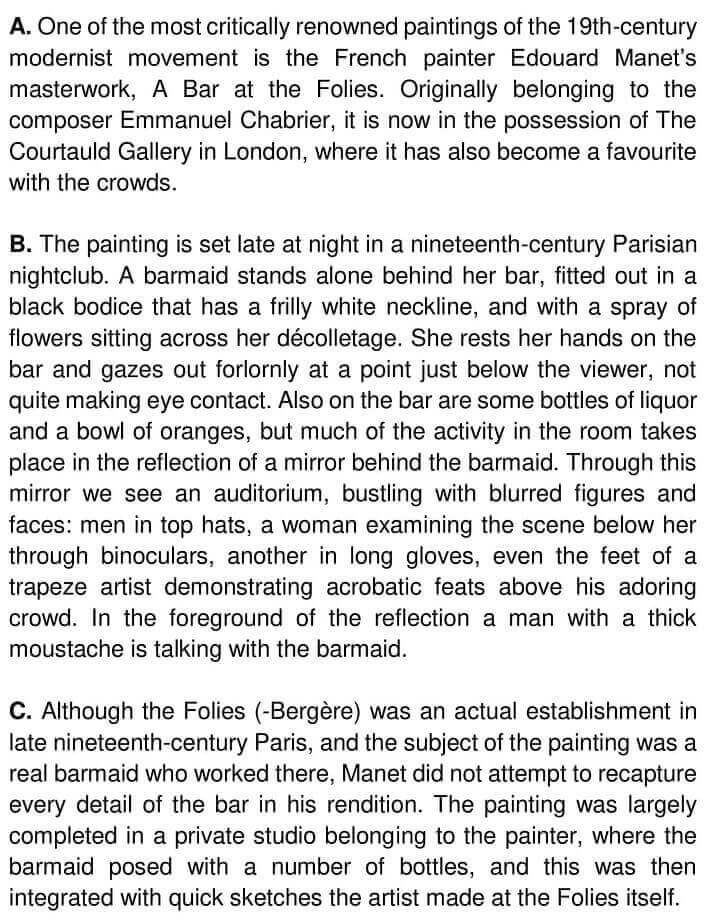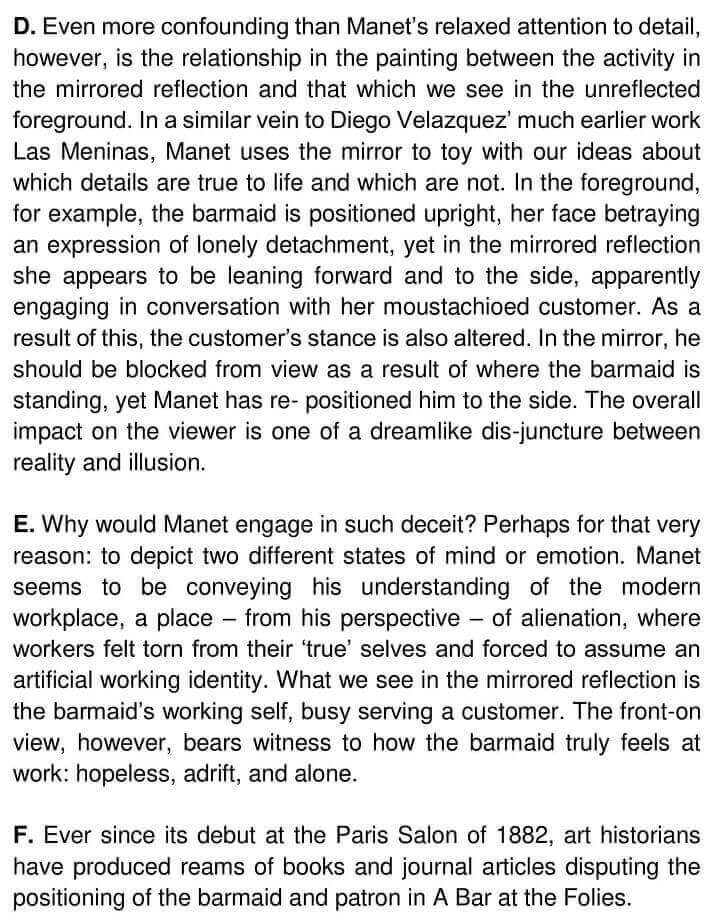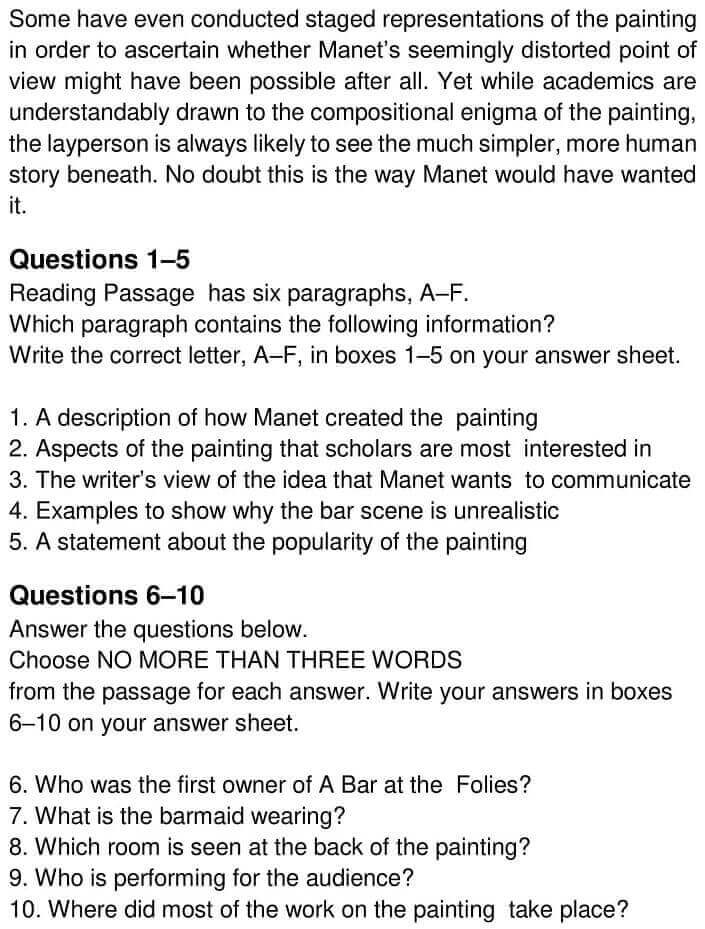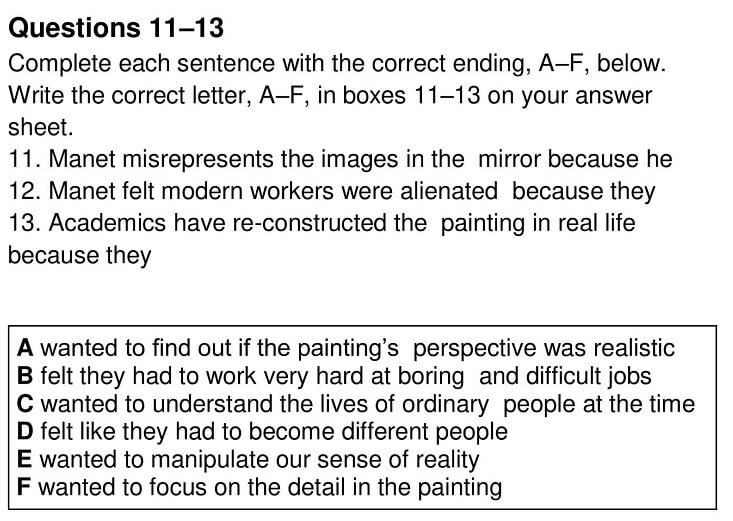 Answers
Unlock Answer
Signup/Login and get access to the answers
Question number 
Answer 
Keywords 
Location of keywords

1

D

In a similar vein to Diego Velazquez' much earlier work Las Meninas, Manet uses the mirror to toy with our ideas about which details are true to life and

which are not.

Paragraph D;

Line 2

2

F

Yet while academics are understandably drawn to the compositional enigma of the painting,

Paragraph F;

Line 3

3

E

Perhaps for that very reason: to depict two different states of mind or emotion.

Paragraph E;

Line 2

4

D

In the foreground, for example, the barmaid is positioned upright, her face betraying an expression of lonely detachment, yet in the mirrored reflection she appears to be

leaning forward and to the side, apparently engaging in conversation with her moustachioed customer.

Paragraph D;

Line 3

5

F

Ever since its debut at the Paris Salon of 1882, art historians have produced reams of books and journal articles disputing the positioning of the barmaid and patron in A Bar at the Folies.

Paragraph F;

Line 1

6

composer Emmanuel Chabrier

Originally belonging to the composer Emmanuel Chabrier,

Paragraph A;

Line 2

7

Black bodice

fitted out in a black bodice that has a frilly white neckline, and with a spray of flowers sitting across her décolletage

Paragraph B;

Line 2

8

auditorium

Through this mirror we see an auditorium,

Paragraph B;

Line 5

9

Trapeze artist

even the feet of a trapeze artist demonstrating acrobatic feats above his

adoring crowd

Paragraph B;

Line 5

10

Painter's private studio

The painting was largely completed in a private studio belonging to the painter,

Paragraph C;

Line 2

11

E

The overall impact on the viewer is one of a dreamlike dis-juncture between reality and illusion.

Paragraph D;

Last line

12

B

Manet seems to be conveying his understanding of

the modern workplace, a place – from his perspective – of alienation, where workers felt torn from their 'true' selves and forced to assume an artificial working identity. 

Paragraph E;

Line 3

13

A

Some have even conducted staged representations of the painting in order to ascertain whether Manet's seemingly distorted point of view might have been possible after all

Paragraph F;

Line 2
Check More IELTS Reading Answers
Also check :