Wild Foods Of Australia IELTS Reading Answers
Janice Thompson,
Updated On
The Academic passage 'Wild Foods Of Australia' is a reading passage that appeared in an IELTS Test.
Since questions get repeated in the IELTS exam, these passages are ideal for practice. If you want more practice, try taking an IELTS reading practice test.
Wild Foods Of Australia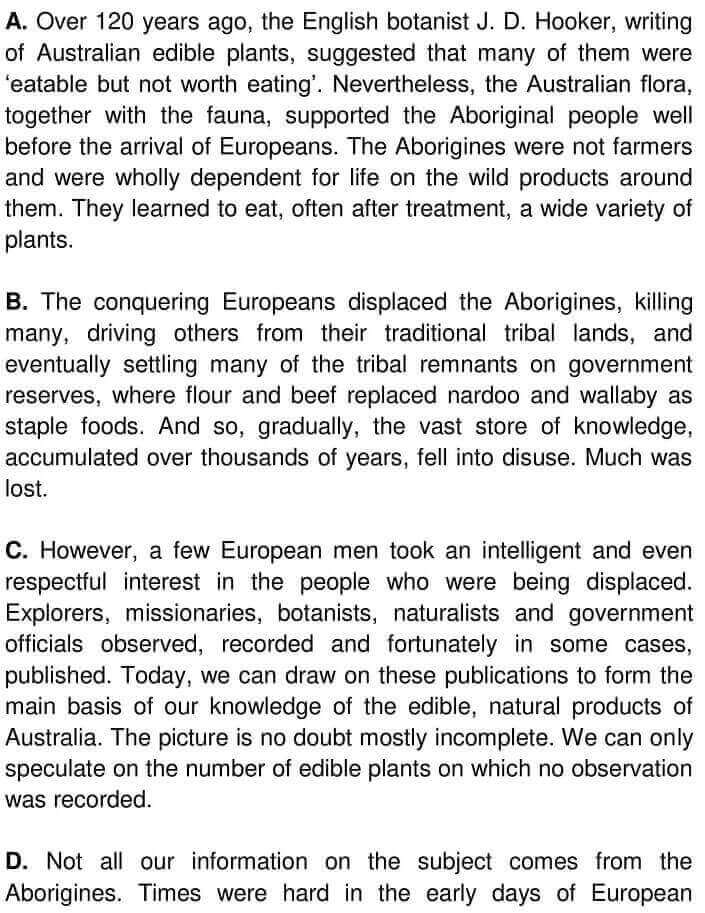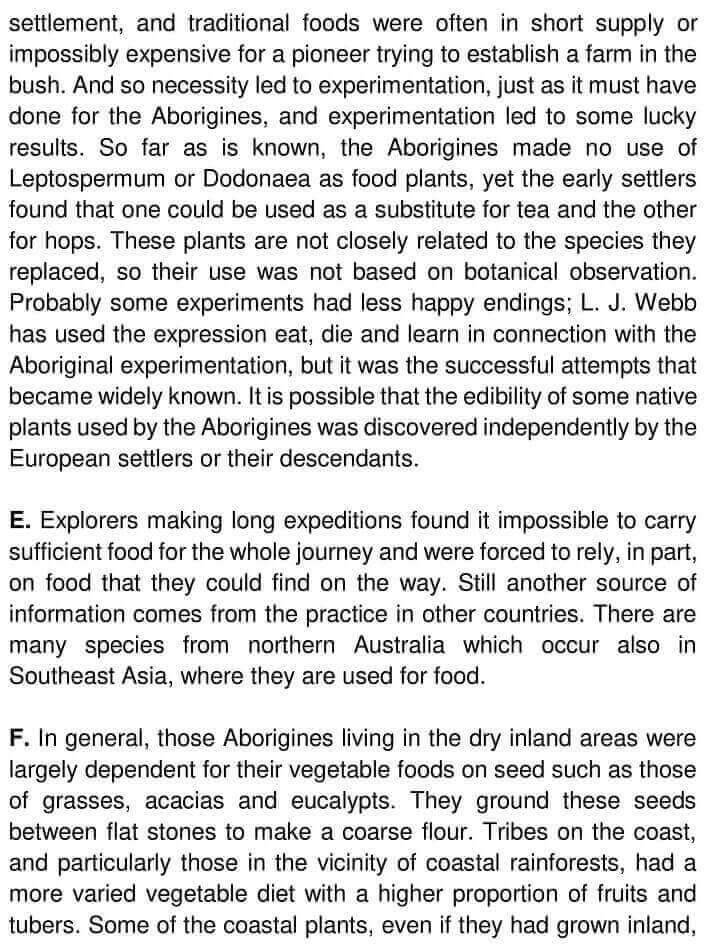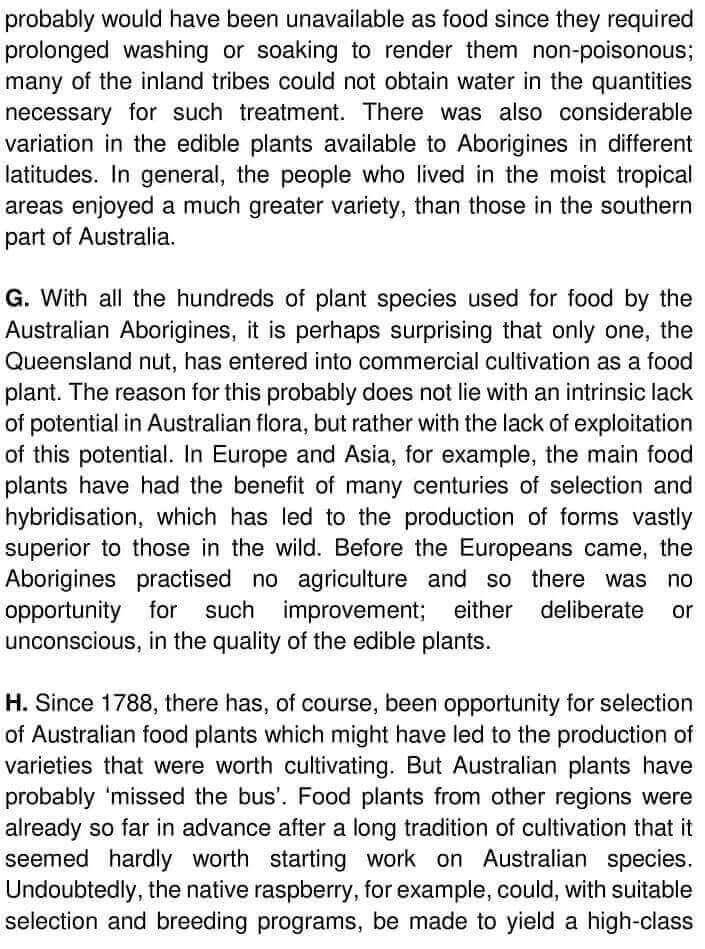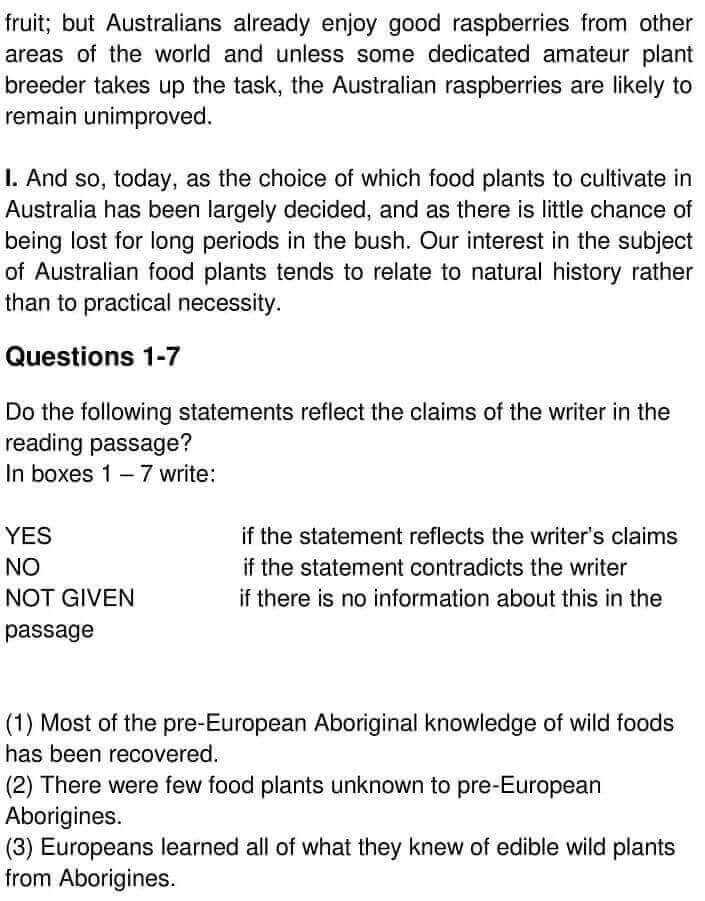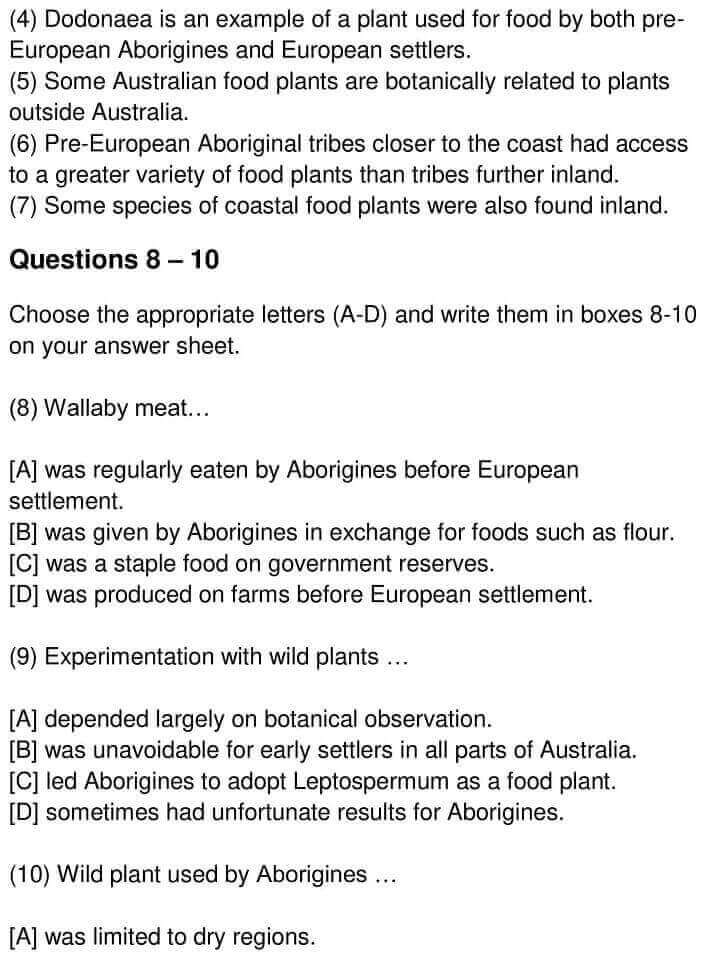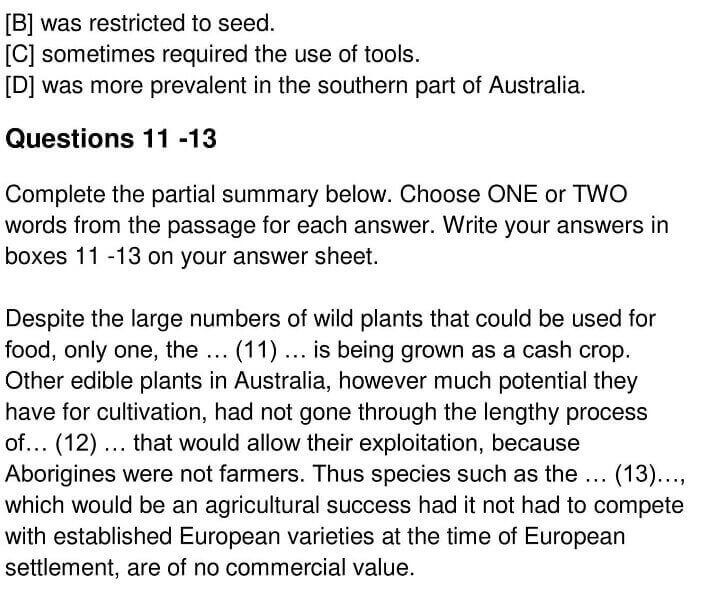 Answers
Question number 
Answer 
Keywords 
Location of keywords

1

NO

The picture is no doubt mostly incomplete. We can only speculate on the number of edible plants on which no observation was recorded.

Paragraph C;

Lines 4 – end

2

NOT GIVEN

–

–

3

NO

Not all our information on the subject comes from the Aborigines.

Paragraph D;

Line 1

4

NO

So far as is known, the Aborigines made no use of Leptospermum or Dodonaea as food plants, yet the early settlers found that one could be used as a substitute for tea and the other for hops.

Paragraph D;

Line 4

5

YES

There are many species from northern Australia which occur also in Southeast Asia, where they are used for food.

Paragraph E;

Last line 

6

YES

Tribes on the coast, and particularly those in the vicinity of coastal rainforests, had a more varied vegetable diet with a higher proportion of fruits and tubers. Some of the coastal plants, even if they had grown inland, probably would have been unavailable as food since they required prolonged washing or soaking to render them non-poisonous; many of the inland tribes could not obtain water in the quantities necessary for such treatment.

Paragraph F;

Lines 3 – 4 

7

NOT GIVEN 

–

–

8

A

The conquering Europeans displaced the Aborigines, killing many, driving others from their traditional tribal lands, and eventually settling many of the tribal remnants on government reserves, where flour and beef replaced nardoo and wallaby as staple foods.

Paragraph B;

Line 1 

9
D
Probably some experiments had less happy endings
Paragraph D;

Line 6

10
C
They ground these seeds between flat stones to make a coarse flour.
Paragraph F;

Line 2

11

Queensland Nut

With all the hundreds of plant species used for food by the Australian Aborigines, it is perhaps surprising that only one, the Queensland nut, has entered into commercial cultivation as a food plant.

Paragraph G;

Line 1

12

selection

In Europe and Asia, for example, the main food plants have had the benefit of many centuries of selection and hybridisation, which has led to the production of forms vastly superior to those in the wild.

Paragraph G;

Line 3

13

Native raspberry

Undoubtedly, the native raspberry, for example, could, with suitable selection and breeding programs, be made to yield a high-class fruit; but Australians already enjoy good raspberries from other areas of the world

Paragraph H;

Last line 
Check More IELTS Reading Answers
Also check :