The Rainmaker Design IELTS Reading Answers
Janice Thompson,
Updated On
The Academic passage 'The Rainmaker Design' is a reading passage that appeared in an IELTS Test. Each of these question types are asked in the IELTS Reading exam. Since questions get repeated in the IELTS exam, these passages are ideal for practice to enhance your reading and understanding capabilities.
If you want more practice, try taking an IELTS reading practice test.
The Rainmaker Design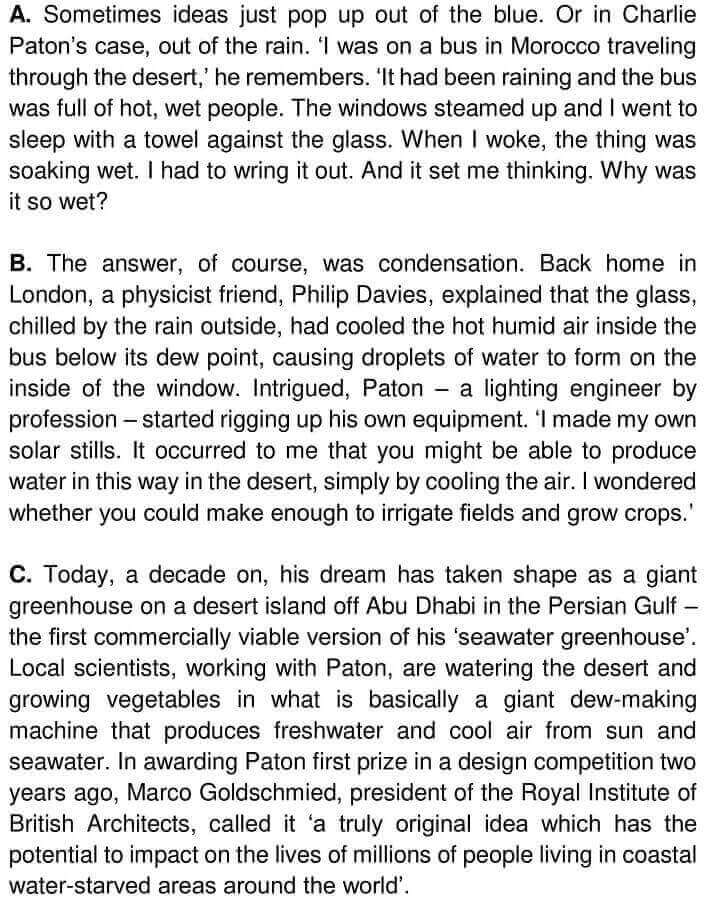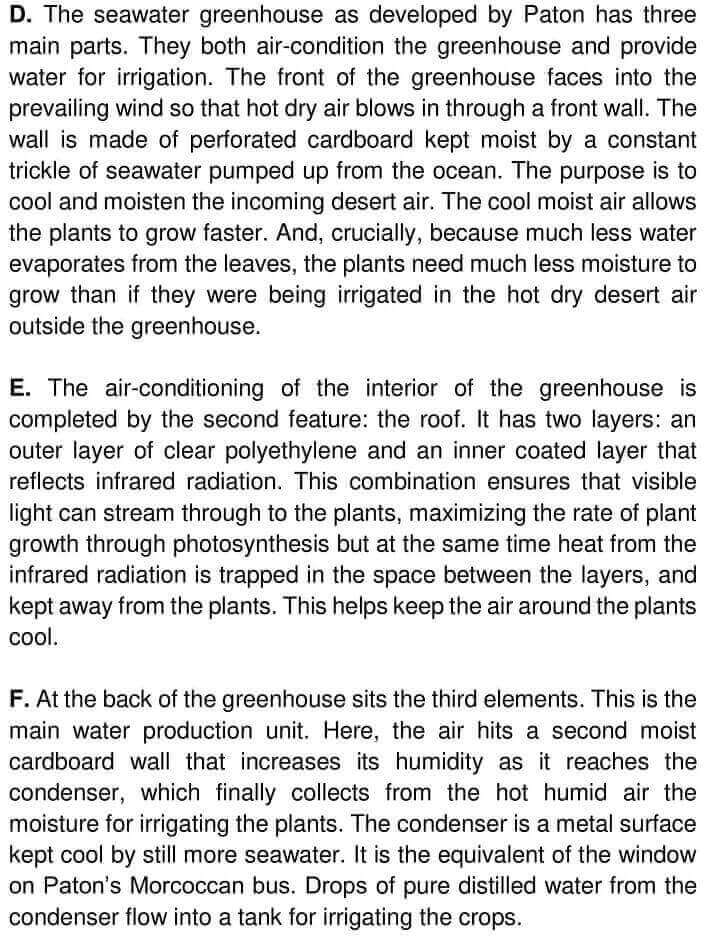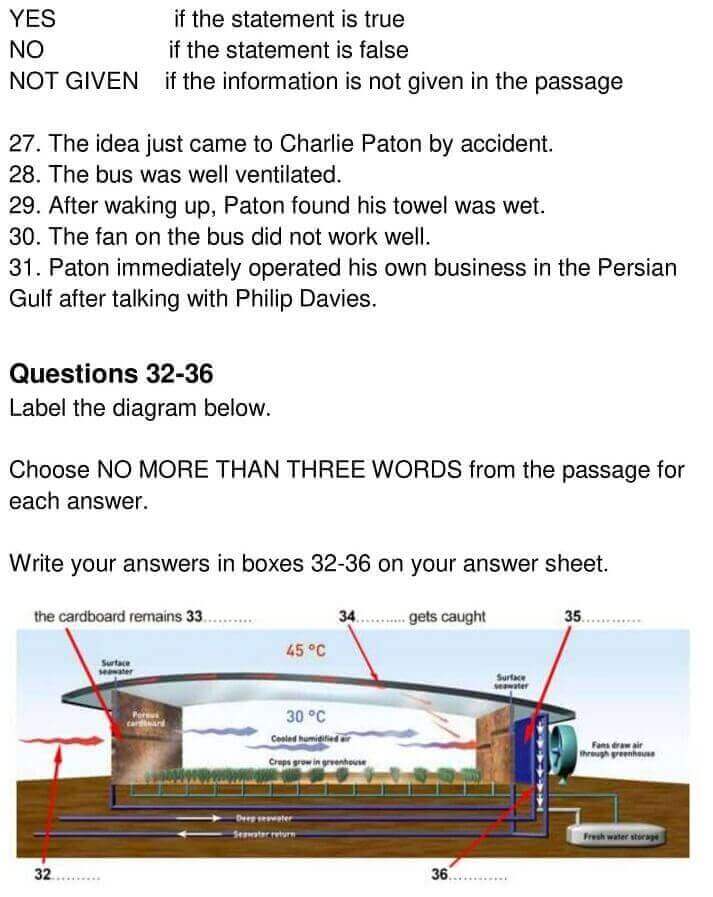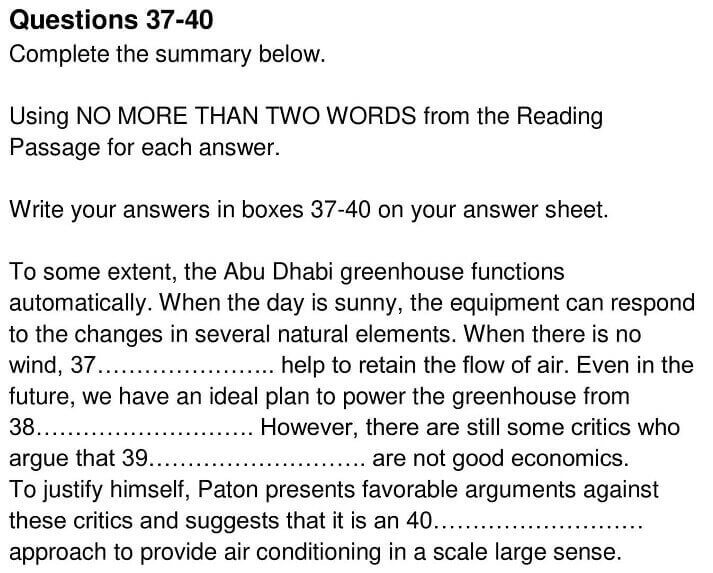 Answers
Question number 
Answer 
Keywords 
Location of keywords

27

YES

Sometimes ideas just pop up out of the blue. Or in Charlie Paton's case, out of the rain.

Paragraph A;

Lines 1 – 2

28

NO

'I was on a bus in Morocco traveling through the desert,' he remembers. 'It had been raining and the bus was full of hot, wet people. The windows steamed up and I went to sleep with a towel against the glass.

Paragraph A;

Lines 3 – 5

29

YES

When I woke, the thing was soaking wet.

Paragraph A;

Line 6

30

NOT GIVEN 

–

–

31

NO

Today, a decade on, his dream has taken shape as a giant greenhouse on a desert island off Abu Dhabi in the Persian Gulf – the first commercially viable version of his 'seawater greenhouse'.

Paragraph C;

Line 1

32

hot dry air

The front of the greenhouse faces into the prevailing wind so that hot dry air blows in through a front wall.

Paragraph D;

Line 3

33

moist

The wall is made of perforated cardboard kept moist by a constant trickle of seawater pumped up from the ocean.

Paragraph D;

Line 4

34

infrared radiation

This combination ensures that visible light can stream through to the plants, maximizing the rate of plant growth through photosynthesis but at the same time heat from the infrared radiation is trapped in the space between the layers, and kept away from the plants.

Paragraph E;

Line 2

35

pure distilled water

Drops of pure distilled water from the condenser flow into a tank for irrigating the crops.

Paragraph F;

Last line 

36

condenser

The condenser is a metal surface kept cool by still more seawater. It is the equivalent of the window on Paton's Morcoccan bus. Drops of pure distilled water from on the condenser and flow into a tank for irrigating the crops

Paragraph F;

Lines 4 – end

37

fans

On windless days, fans ensure a constant flow of air through the greenhouse.

Paragraph G;

Line 3

38

solar panels

"We can run the entire operation of one 13-amp plug, and in the future, we could make it entirely independent of the grid, powered from a few solar panels.

Paragraph G;

Last line 

39

construction costs

Critics point out that construction costs of around $4 a square foot are quite high.

Paragraph H;

Line 1

40

environmentally-friendly

Besides it really suggests an environmentally-friendly way of providing air conditioning on a scale large enough to cool large greenhouses where crops can be grown despite the high outside temperatures.

Paragraph H;

Last line 
Check More IELTS Reading Answers
Also check :