The bar chart below give information about five countries spending habits of shopping on consumer goods in 2012. Summarise the information by selecting and reporting the main features, and make comparisons where relevant.
Write at least 150 words.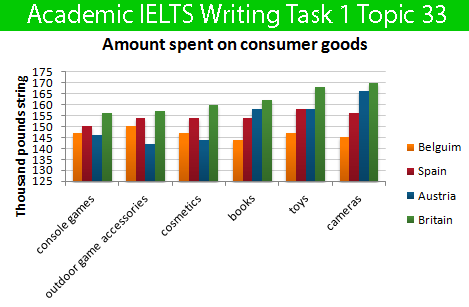 Model answer:
The chart compares the spending habits of shoppers in five European countries on six consumer products, namely console games, outdoor game accessories, cosmetics, books, toys and camera. Overall, more money was spent on the latter two than on any other product.
It can be observed that in Britain, the highest amount of money was spent on camera (more than 160 million pounds), while similar amounts were spent on console games and outdoor game accessories. The Austrian spent the second highest amount of money on the first three products while they stood last in the latter three. It is also revealed that Spanish spent more money on toys than on any other product (a bit less than £150 million), but they also paid a lot for camera. Finally, Belgian spent the least overall, having similar spending figures for all 6 products compared in the bar chart.
To sum up, the British were the biggest spenders in all six categories among the nations compared in the bar chart while the lowest spending levels were attributed to the residents of Belgium.
(178 words)
THIS TEST IS COLLECTED & IMPLEMENTED BY IELTSMATERIAL.COM
( Free IELTS Practice Tests – Reading, Listening, Writing, Speaking  Test|
IELTS Exam Preparation – Free IELTS material and resources.
Download IELTS Preparation Material & Tips)
The following two tabs change content below.
Improve your IELTS skills with tips, model answers, lessons, free books, and more ------------ "The more you share, the more you get."
Latest posts by IELTS Material (see all)
Main IELTS Pages:
This website is to develop your IELTS skills with tips, model answers, lessons, free books, and more. Each section (Listening, Speaking, Writing, Reading) has a complete collection of lessons to help you improve your IELTS skills.
Get all the latest updates/lessons via email:
Subscribe for free IELTS lessons/Books/Tips/Sample Answers/Advice from our IELTS experts. We help millions of IELTS learners maximize their IELTS scores!
Subscribe to IELTS Material to receive the latest lessons