IELTS Writing Task 1 – The graph below shows different sources of air pollutants in the UK Sample Answers
Courtney Miller,
Updated On
In this article, you will find the graph below shows different sources of air pollutants in the UK sample answers. There is also an outline plan to help you write your own answers for this question type.
IELTS Writing Task 1 requires you to produce a summary of at least 150 words regarding some visual information, typically provided in the form of a graph or chart. You must identify the key characteristics, describe them, and make comparisons in the provided data.
To learn more about the structure of IELTS Writing task 1, take a look at the guide below!

Given below is an example of an IELTS Writing task 1 line graph discussing the sources of air pollution in UK within a period. Let's understand how to frame the article from the ideas we have.
The graph below shows different sources of air pollutants in the UK from 1990 to 2005. Summarise the information by selecting and reporting the main features, and make comparisons where relevant.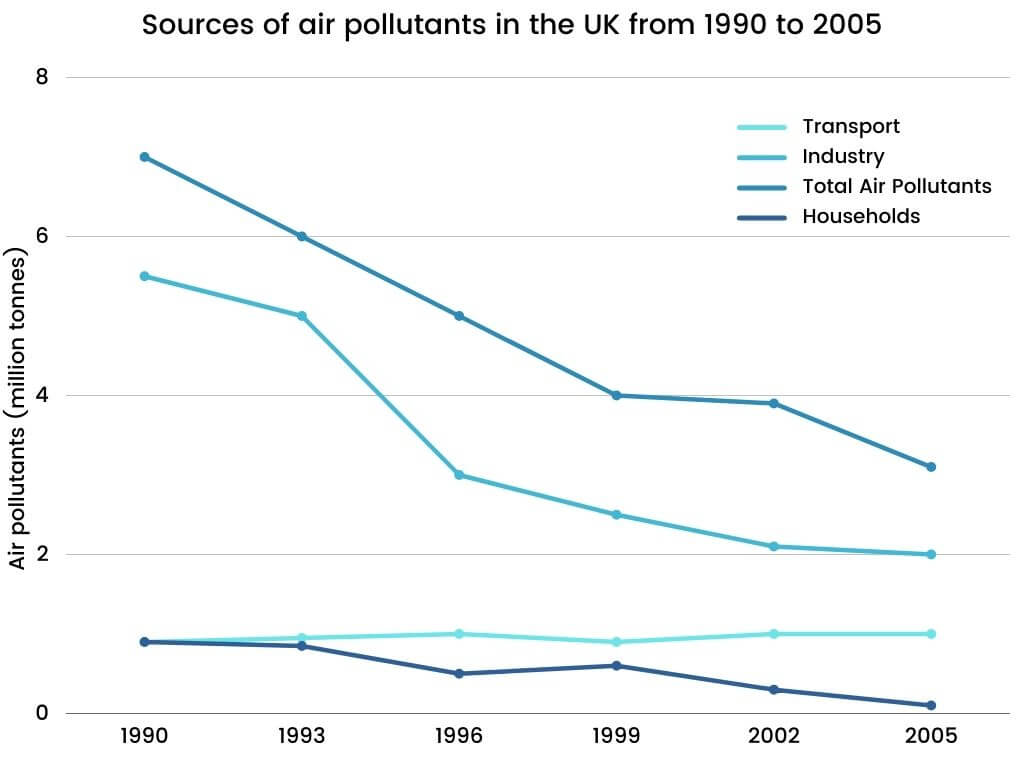 Report Plan
Paraphrase paragraph: shows>illustrates; different>3 sources; between 1990 and 2005.
Summary/overview paragraph: (1) Industry being the highest in emitting air pollutants (2) the most significant fall in total amount of pollutants
Paragraph 3: describe total trend -figures for 1990,1999 and 2005
Paragraph 4: compares figures from the 3 sources, giving figures for 1990,2005. 
Sample Report
The line graph indicates the number of emissions released into the air from various sources in the UK between 1990 and 2005.  
Overall, the number of air pollutants released by the industry was much higher than other sources. Further, there was a significant fall in the total amount of air pollutants from all the sources. 
In the year 1990, around 7 million tonnes of air contaminants were emitted from all the three different sources which significantly dropped to approximately 4 million tonnes in 1999 and then continued to fall to about 3 million tonnes by the end of the period. 
The total number of pollutants emitted into the air gradually reduced to about 5 million tonnes by 2005. Further, the industry with the highest amount of contaminants with 5.5 million tonnes in 1990 gradually declined to about 2 million tonnes in 2005. Despite the figures for transport and household emissions being equal at the beginning of the period, there was a slight increase in the number of air pollutants from transport to 1 million tonnes by 2005, while the household emission dropped to a negligible level at 0.1 million tonnes at the end of the period. 
Do you have a quick report in your mind for this question? Don't hesitate to post the same in our comment section. We will evaluate the report/letter and email you the band score & our trainer's comments.
See also: