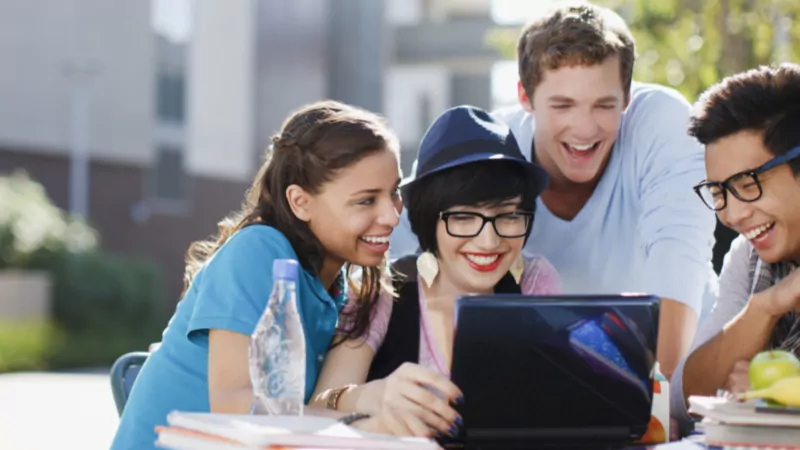 IELTS Writing Practice Test 39 (Task 1 & 2) & Sample Answers
IELTS Writing Task 1 Topic :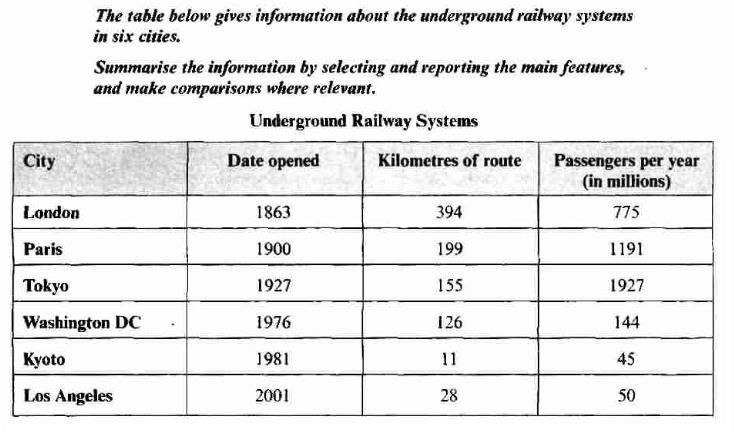 Sample Answers
The table illustrates the data on underground networks in six major cities in the world. Overall, the networks in London, Paris and Tokyo are older, have longer routes and serve a larger number of passengers every year, compared with those in Washington DC, Kyoto and Los Angeles.
IELTS Actual Tests Questions (January - April 2021) with Answers
Established in 1863, London Underground is the oldest and has the longest line length of route amongst the six with 394km, twice as much as the second-longest system in Paris, and serves 775 million passengers per year. The underground networks in Paris and Tokyo were opened in the first few decades of the 20th century and have 199 and 155 km of route respectively, which are far less than the network in London. However, these two systems have far more customers than that in London, with Tokyo underground being the busiest with 1927 million yearly.
The three less busy underground systems are those in Washington DC, Kyoto and Los Angeles, with the passengers per year figures of 144, 45 and 50 million respectively, which are just fractions of the figures for London, Paris and Tokyo. The newest system is in Los Angeles, which only began to operate at the turn of the new millennium, and has 28km of the route.  Both of those in Washington DC and Kyoto started to serve customers in the late 20th century, but while Washington has a relatively long underground route of 126km, the length of Kyoto underground is just 11km, the shortest amongst the six networks.
IELTS Writing Task 2 Topic :
In the past, building often reflected the culture of a society but today all modern buildings look alike and cities throughout the world are becoming more and more similar. Why is it the case? Is it a good thing or a bad thing?
IELTS Candidate's Essay :
Nowadays, many aspects of culture are becoming increasingly similar all over the world. 21st-century witnesses the exponential rise in the construction of modern buildings like shopping complex, skyscrapers, high-rises,  residential towers which have the same style and design. The buildings haven't reflected the culture of society like the past anymore. From my point of view, two important reasons are leading to this change.
First, the improving of mass production technology forces to forms and materials of buildings. The same kind of construction machines which are used around the world can only create a certain number of designed styles. Mass-produced materials are cheaper and easier finished than traditional or special ones. Resident needs also affect mass building technology to create a system which can build a tower as fast as possible.
Second, a group of capitalist power has affected the choice of people living in developing countries. Marketing and advertisement of construction group always orient awareness of people about modern, art, confidence of a building. As a result, people choose the best for their building like what they are marketed. Moreover, in the past, the capitalist had imposed Western civilization and standard on colonists who had built their country basing on the denial of traditional values and toward foreign.
It's definitely a bad idea to build all cities in this world similar because of instant convenience and losing the traditional culture. Diversity of nature and culture has created this world. Against the difference fight to being of the world and narrow human freedom. Governments must have some methods to preserve traditional cultural identity and improving the diversity of buildings and cities.
Comment & Feedback from IELTS Examiner :
Overall- Band 7
Overall this was a good essay but there are some things you can do to improve in the future.
The main things you can do is to answer the question by doing what it asks you to do. In this question, you have been asked to 'Why is it the case? Is it a good thing or a bad thing?' You have only focused on answering the first question.  You had a separate paragraph for the second question (4th paragraph), but you need to make it clear to the examiner why you think it is a bad idea to have all the same building design throughout the world.
Your cohesion is pretty good, but remember that you don't need to start every sentence with a linking word, one or two per paragraph is enough.
You should :
1. Read books/blogs/magazines about the common IELTS Task 2 topics, such as Health, Crime, Culture, Education and Technology. Note down any new words in a vocabulary notebook as I suggested above and then review this regularly. It will take you a little while, but soon your vocabulary will expand.
2. Find out what your common grammar mistakes are. Most people make the same grammar mistakes over and over again. When you know what these are, you can review the grammar rules, practise online and fix them.
If you can improve the things above, I am confident that you can increase your band score for IELTS.
Also check :