An Essential Guide to OET Score for UK in 2023
Glen Brown,
Updated On


Limited-Time Offer : Access a FREE 10-Day IELTS Study Plan!
The General Medical Council (GMC) in the UK started recognising the Occupational English Test (OET) as evidence of English language proficiency for doctors from other countries in February 2018. Therefore, if the UK is your dream country to settle in as a healthcare professional, you must be aware of the OET score for UK.
The OET is intended for medical professionals who practice in the 12 different fields of healthcare and medicine. Apart from the United Kingdom, health regulators in Australia, Canada, Ireland, Maldives, Malta, Namibia, New Zealand, Philippines, Qatar, Singapore, Spain, Ukraine, United Arab Emirates, and the United States of America accept OET as evidence of English language proficiency. 
In this article, we will cover the specifics of the OET score for the UK, as it is one of the reputable nations that accepts OETs with a C+ grade.
Importance of OET score in UK
The United Kingdom's General Medical Council, Nursing and Midwifery Council, and various Royal Colleges in the UK all readily accept the Occupational Eligibility Test as one of the most reliable methods of verifying the English language fluency of healthcare professionals. 
As a result, in the UK, a good OET score will open various doors of opportunity for you, such as
GMC registration

FY2 Standalone Training (If eligible)

Tier 2 Visa 

UKFPO Foundation Training (If eligible)

Training Applications for the NHS
But, before we jump into further details on the OET score eligibility for the UK, let us revise our knowledge of OET.
OET in short
Since effective communication is essential to a functioning healthcare system, applicants who pass the OET are regarded as qualified to work as professional medical personnel in English-speaking nations. OET covers the four essential language skills—listening, reading, writing, and speaking.
Listening

: This portion, which includes a variety of health-related spoken materials, is the same for all healthcare workers. The evaluation takes about 45 minutes.

Reading

: All healthcare workers must complete the same reading assignment. The capacity to read and comprehend various textual genres on health-related topics is assessed. This section lasts for 60 minutes.

Writing

: The writing section focuses on situations from the workplace and is industry specific. In this section, one has to write a letter according to the purpose and the profession. This portion has been allotted 45 minutes.

Speaking

: This profession-specific component will evaluate workplace circumstances in the form of two role plays. About 20 minutes are allotted for the speaking portion.
What You Should Know About OET Score For UK
Just like IELTS, different criteria are used to evaluate each of the four OET subtests. Then, a scale from 0 to 500 in 10-point increments—330, 340, 350, etc.—grades your performance in each.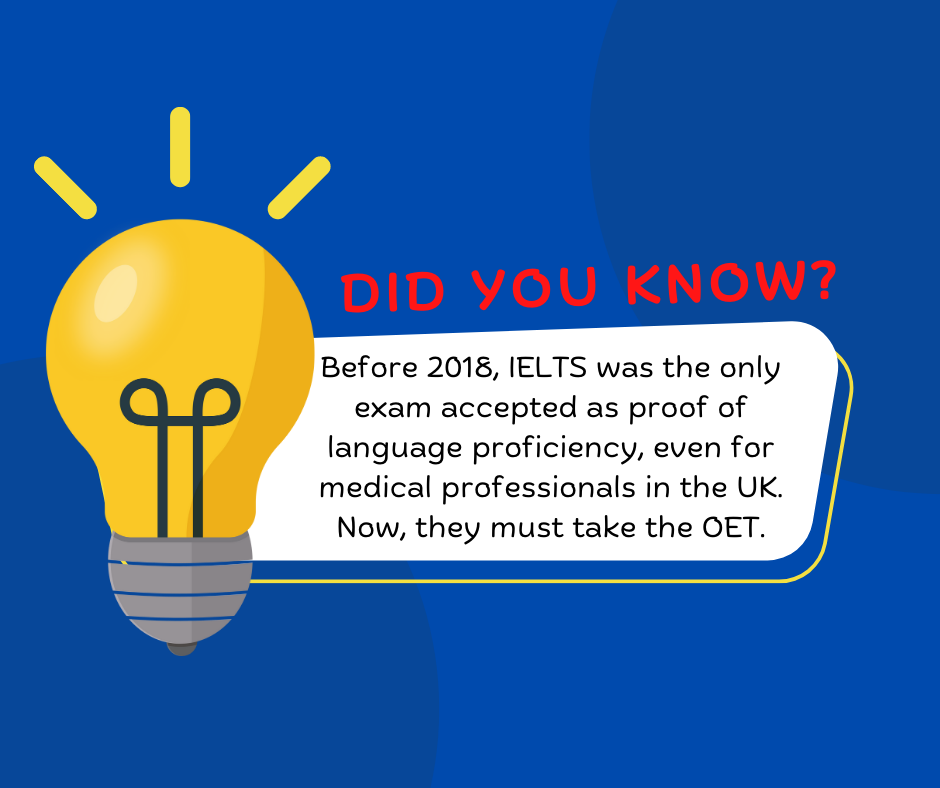 To be qualified, you must pass the exam with a score of 350 or higher on each module. This translates to an IELTS band score of 7 or higher. It will indicate that you are able to interact with patients and medical professionals efficiently. 
Good News for Nurses willing to move to the UK in 2023!
Quite recently, there has been a relaxation of OET score requirements for nurses to emigrate to the UK. 
The Occupational English Test (OET) Writing requirement for foreign nurses and midwives taking the test has changed recently. The UK's Nursing and Midwifery Council (NMC) stated that starting from January 2023, the Council will accept a Writing score of 300+ or above in addition to an OET Listening, Reading, and Speaking subtest grade of at least 350+. In other words, the NMC will accept a C+ grade in Writing – together with a minimum grade requirement of B for OET Listening, Reading, and Speaking.
The choice is in accordance with the NMC statement that they will start accepting an IELTS Writing score of 6.5 as opposed to 7.
You can also submit a combined score of subtests of 2 separate OET sittings if:
The tests are taken within six months of one another.

You take subtests in each of the four areas simultaneously.

Not a single score in any session falls below a C+, and

You pass the test in either of the two sittings with a minimum writing score of C+ and a minimum reading, listening, and speaking score of B.
Things that have changed in terms of OET and IELTS scores
Previously, you could retake the test and combine your results with two test certificates if you didn't pass the first time. If you receive less than 6.5 IELTS or a C+/300 or above on any component of the test, you are not permitted to combine your test results. There is no room for discretion in the writing portion of the test because this is already the required score.
However, this will alter in early 2023. Still, the applicant needs to score well enough on each subtest. However, they must get a minimum IELTS score of 0.5 or a grade OET below the necessary mark for each domain in order to combine their test results. They can combine their scores as long as they receive a 6 IELTS or C / 250 or higher (OET) writing score and a 6.5 IELTS or C+ / 300 or higher (OET) score in the other three modules.
Conclusion
The United Kingdom is one of the leading destinations for immigration – healthcare professionals from various backgrounds dream of one day living and working in the UK. To do so, they must have all the necessary requirements – from a qualification degree to the appropriate visa and a license to practice medicine in a foreign country. This can be a long, drawn-out and challenging process for many.
The recent relaxation of OET scores and similar language requirements for Nurses and midwives will come as a boon to many. To learn more about the OET Paper pattern and OET preparation and get the best tips and tricks to improve your OET score, follow our page!