Village of Stokeford in 1930 and 2010- Map
Nikita Batra,
Updated On


Limited-Time Offer : Access a FREE 10-Day IELTS Study Plan!
In IELTS Writing task 1 of the academic section, there will be a visual representation or a diagram on which you have to write a paragraph. One of these visual representations may be a map, where the same are will be given at two different time periods and you will have to compare them and find the changes.
Given is a question on maps and sample answer that will guide you to prepare such questions.
The maps below show the village of Stokeford in 1930 and 2010.
You should spend about 20 minutes on this task.
Summarise the information by selecting and reporting the main features, and make comparisons where relevant.
Write at least 150 words.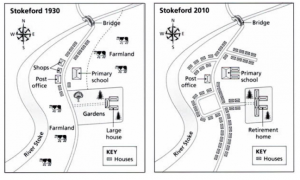 Report Plan
Paraphrase: Paraphrase the topic sentence.
Overview: Mention the main features of the given map and give an overview of the main differences between the two maps.
Paragraph 1: Make comparisons between the two maps.
Paragraph 2: Make comparisons between the two maps.
Sample Answer
The given maps show us the changes that have taken place in the village of Stokeford in 2010 compared to the locality in 1930.
There have been quite a few major changes in the outlook of the village over the years. It is also noticeable that there were more residential buildings in Stokeford in 2010 than in 1930.
A major part of the area of Stokeford was used for agriculture and farming in 1930. There were a few shops and a post office towards the northern end of the village, along with a bridge over River Stoke. There was also a primary school in the village and a large residential compound.
By 2010, the village had transformed into a residential area from an agricultural area. Most of the farming area and the market area were used to build houses. The primary school was also renovated into a larger building. The compound with a large house was transformed into a retirement house. However, the bridge and the post office were unchanged.