IELTS Academic Writing Task 1 Example 9 : Chorleywood is a village near London whose population has increased steadily – Map
Janice Thompson,
Updated On
You should write at least 150 words.
Chorleywood is a village near London whose population has increased steadily since the middle of the 19th century. The map below shows the development of the village.
Write a report for a university lecturer describing the development of the village.
You should spend about 20 minutes on this task.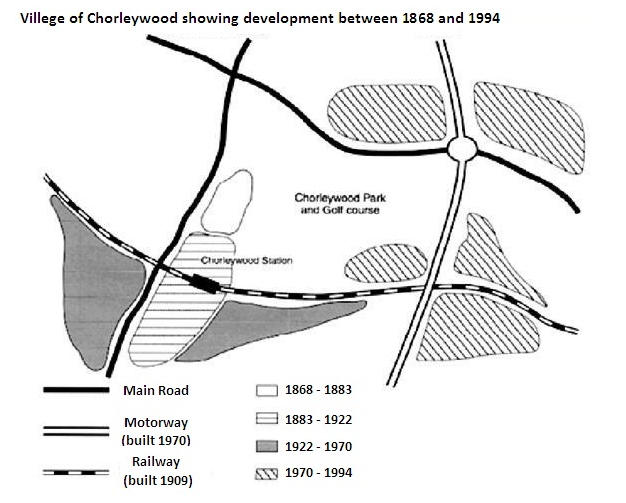 Sample Answer
The illustration shows how a village, named Chorleywood in London had developed from 1868 to 1994. Generally, a much rapid development has been seen in the rural area from 1970 to 1994 than previous decades. 
As the graph showcases, the improvements in the 19th century were limited when the surrounding area of the Chorleywood station saw development. The introduction of railways came in 1909 and it went around the station area to develop a ground for extensive construction and development between 1922 and 1970. During the end of this period, the establishment of motorways was done in the village. 
The village saw rapid development between the time period of 1970 and 1994. At this time, it had a wider roadway. It is also worth noticing how the construction and development in Chorleywood were guided by the facilities of transportation as the area of junction saw a large-scale, faster progress than others. Also, the motorways and road formed a (#) hash-like road system in the village. 
Get evaluated for FREE!
Got a quick report in your mind for this question. Don't hesitate to post the same in our comment section. We will evaluate the report/letter and email you the band score & our trainer's comments. And, this service is entirely free.
Also check: