IELTS Academic Writing Task 1 Example 10 : Changes that have taken place at West Park Secondary School – Diagram
Janice Thompson,
Updated On


Limited-Time Offer : Access a FREE 10-Day IELTS Study Plan!
Maps or diagrams are a description task that will come across in the IELTS. For this question type, you must describe in brief a presented map or diagram. To do so, begin by analyzing the question and identifying the main features of the diagram. Draft and introduction, followed by an overview of the main characteristics of the image. Then you may finally add the essential details.
You should spend about 20 minutes on this task.
The diagram shows the changes that have taken place at West Park Secondary School since its construction in 1950.
Summarise the information by selecting and reporting the main features and make comparisons where relevant.
Write at least 150 words.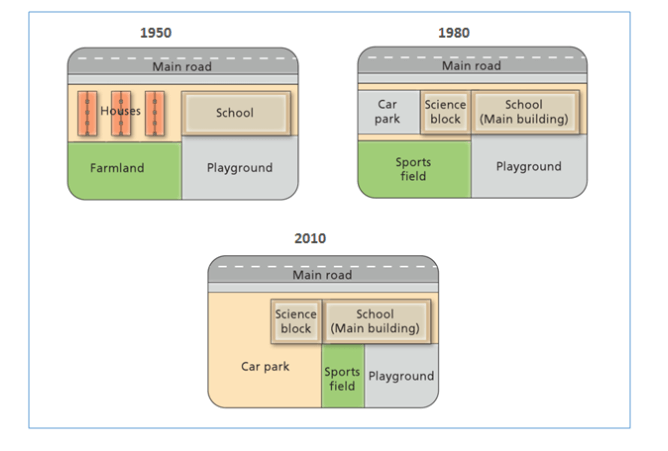 Sample Answer
The diagram shows how the West Park Secondary School has transformed over the period of 60 years since the time of its establishment in 1950. 
It is visible that the school underwent some of the substantial changes throughout this period with the building's expansion and the additions of car parking and sports field. 
As the diagram showcases, in 1950, the school had just one building, which was next to a few houses. Just behind the building, there was a playground. Also, towards the south-west side, there was farmland. After 30 years, the houses got demolished to construct car parking. On top of that, the building got expanded in two different parts – one is known as a science block and the other is used as the primary building. Another change that took place was the farmland conversion into a sports field. 
Looking at the map of 2010, the only significant change that occurred was the car park extension that took almost half of the entire school's area. This resulted in the shrunken size of the playground and sports field to make way for an enlarged car park. 
Get evaluated for FREE!
Got a quick report in your mind for this question. Don't hesitate to post the same in our comment section. We will evaluate the report/letter and email you the band score & our trainer's comments. And, this service is entirely free.
Also check: