IELTS Academic Writing Task 1 Example 5: Local industrial village in England called Stamdorf – Map
Ruben Smith,
Updated On
The maps show changes in the local industrial village in England called Stamdorf between 1985 and 2015.  
You should spend 20 minutes on this task.  
Write more than 150 words.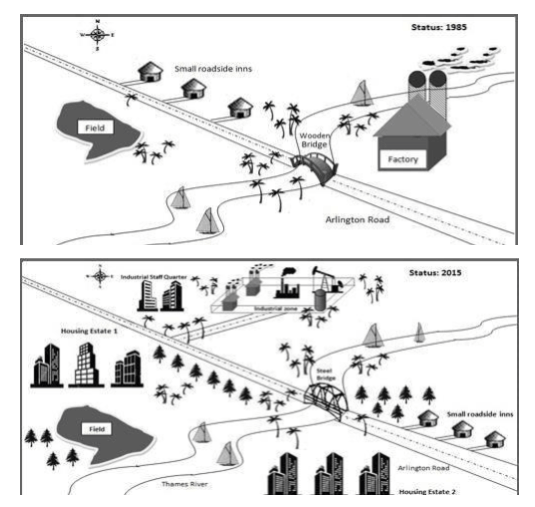 Sample Answer
These maps
distinctively
show us the
difference
in the local industrial village of Stamdorf in three decades.
Overall
, a huge transformation has taken place in the village. There were new buildings built in the village by 2015.  
There weren't many buildings in 1985 except for small roadside inns and a factory whereas in 2015, there were a large number of buildings like the housing estate 1 and 2, the industrial zone and the industrial staff quarter. The roadside inns on the left side of the Thames river were shifted to the right side of the river, in the south-east corner. There was a wooden bridge built across the Thames river connecting both sides of the Arlington Road which was later replaced by a steel bridge. The field was further moved to the south-west corner. The factory built-in 1985 was demolished and an industrial zone was built in the north side of the ride in 2015. Surprisingly, despite all the demolitions and changes, the plantations have increased in 2015 from 1985.   
Get evaluated for FREE!
Got a quick report in your mind for this question. Don't hesitate to post the same in our comment section. We will evaluate the report/letter and email you the band score & our trainer's comments. And, this service is entirely free.
Also check: