IELTS Academic Writing Task 1 Example 6 : Hawaiian island chain in the centre of the Pacific Ocean – Map
Janet,
Updated On


Limited-Time Offer : Access a FREE 10-Day IELTS Study Plan!
You should spend about 20 minutes on this task.  
Write at least 150 words.  
The diagram below gives information about the Hawaiian island chain in the centre of the Pacific Ocean.  
Write a report for a university lecturer describing the information shown.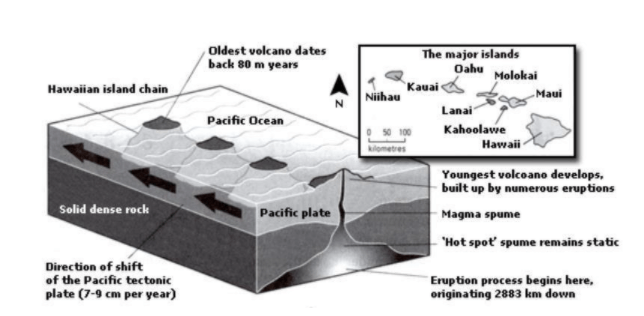 Sample Answer
The map
represents
the Hawaiian island chain, it is
located
in the heart of the Pacific Ocean.
As shown
, it is formed of volcanoes and the active volcanoes are located at the south-east tip, where Hawaii is located. It also shows how the volcano eruption
occurs
.  
It is shown that the chain began to form almost 80 million years ago on the solid dense rock bed and each island started to evolve after an eruption on the seafloor. A hot spot existed on the ocean bed, which let out the material which is known as the magma. Moreover, the hot spot remained static. Hence, magma spume was formed and this magma originated from as deep as 2,883 km below the ocean bed. Eruptions took place and a volcano was formed above the surface of the ocean.  
Later, the spume of magma has remained inactive as the Pacific tectonic plate moves in a north-west direction across it, at an annual speed of 7-9 centimetre. The other major islands in the Pacific ocean are Niihau, Kauai, Oahu, Molokai, Maui, Lanai and Kahoolawe which are located from 0-100 kilometres away from each other.  
Get evaluated for FREE!
Got a quick report in your mind for this question. Don't hesitate to post the same in our comment section. We will evaluate the report/letter and email you the band score & our trainer's comments. And, this service is entirely free.
Also check: