IELTS Academic Writing Task 1 Example 8 : Changes in an American town between 1948 and 2010 – Map
Whitney Houston,
Updated On
The map below shows the changes in an American town between 1948 and 2010.
Summarise the information by selecting and reporting the main features and making comparisons where relevant.
You should write at least 150 words.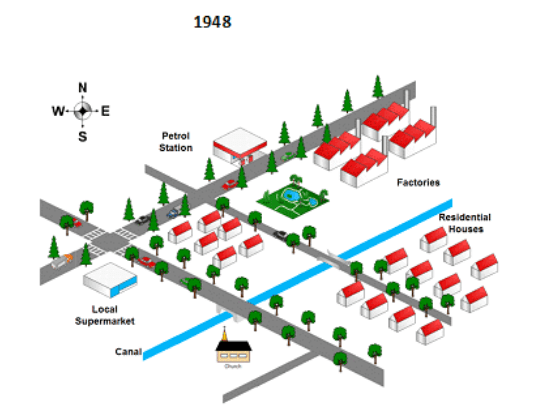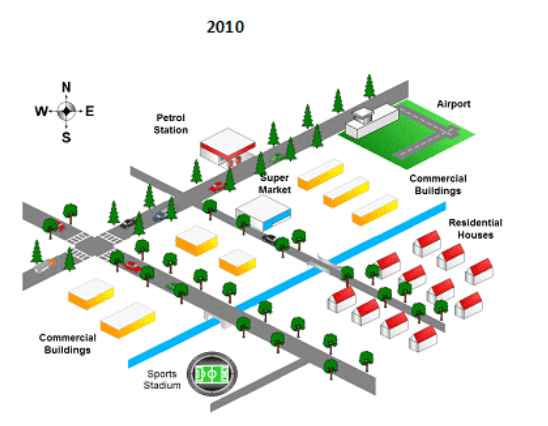 Sample Answer
The given maps showcase how American towns have transformed, by showing how it appeared in two varying years – 1948 and 2010. A quick glance tells that newer buildings have developed almost everywhere, except for the southeast residential area of the town. However, the overall area has neither contracted nor expanded. 
To start with, it is visible that factories situated on the north-east corner were demolished to construct an airport and different commercial buildings. Similarly, the supermarket is built in the place of the lake, which was next to the factories. It should be noticed that four commercial buildings were constructed on the southwest side of the new supermarket. Back in 1948, a church was in the place of the stadium, which is visible in 2010 toward the south direction. 
On the other hand, a variety of features of the town didn't change throughout the period. A canal, the natural elements and trees remain untouched. Also, even the road system did not change with 2 big and 2 small roads. Adding to it, in the north, the petrol station remained intact and so did the residential buildings toward the bottom right corner, unlike the ones on the other side of the canal. 
Get evaluated for FREE!
Got a quick report in your mind for this question. Don't hesitate to post the same in our comment section. We will evaluate the report/letter and email you the band score & our trainer's comments. And, this service is entirely free.
Also check: