How did Writing Begin – IELTS Reading Answers
Justin,
Updated On
The Academic passage 'How did Writing Begin' is a reading passage that appeared in an IELTS Test. 
It contains some of the IELTS reading question types. If you are interested in familiarising yourself with all the question types, don't hesitate to take an IELTS reading practice test.
How did Writing Begin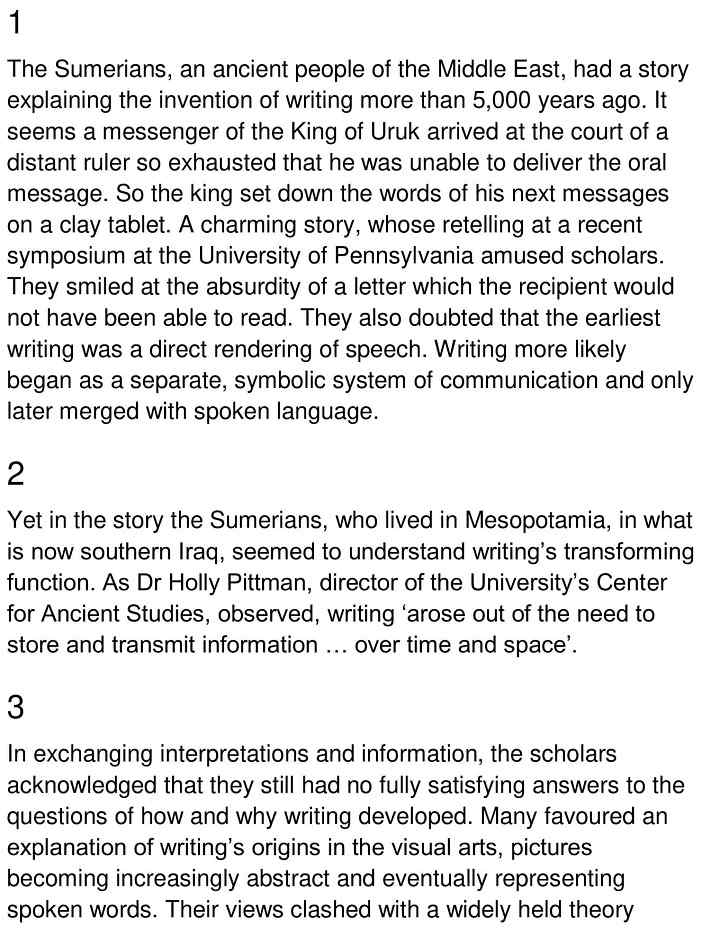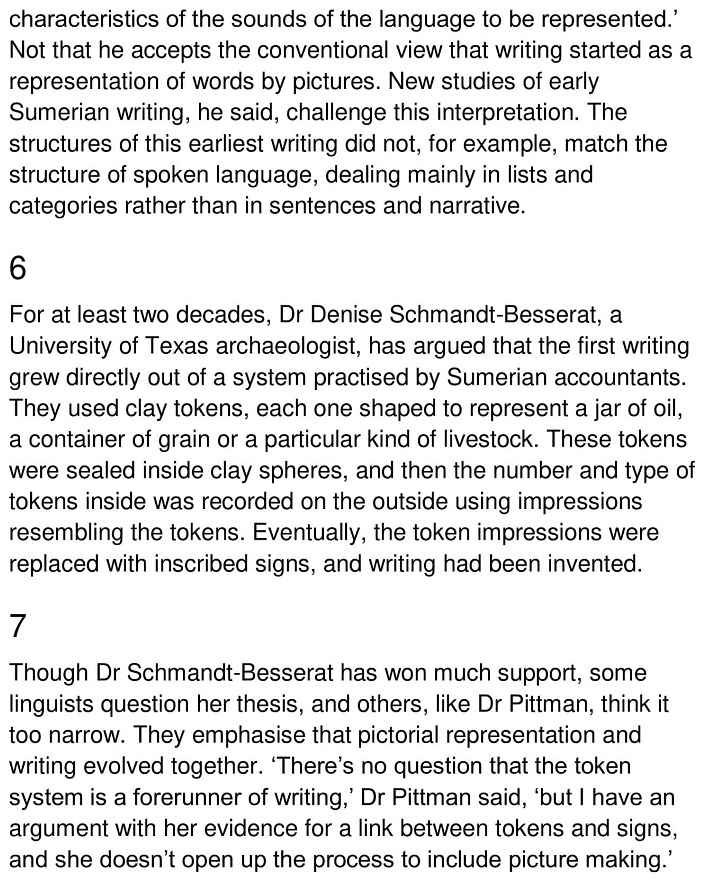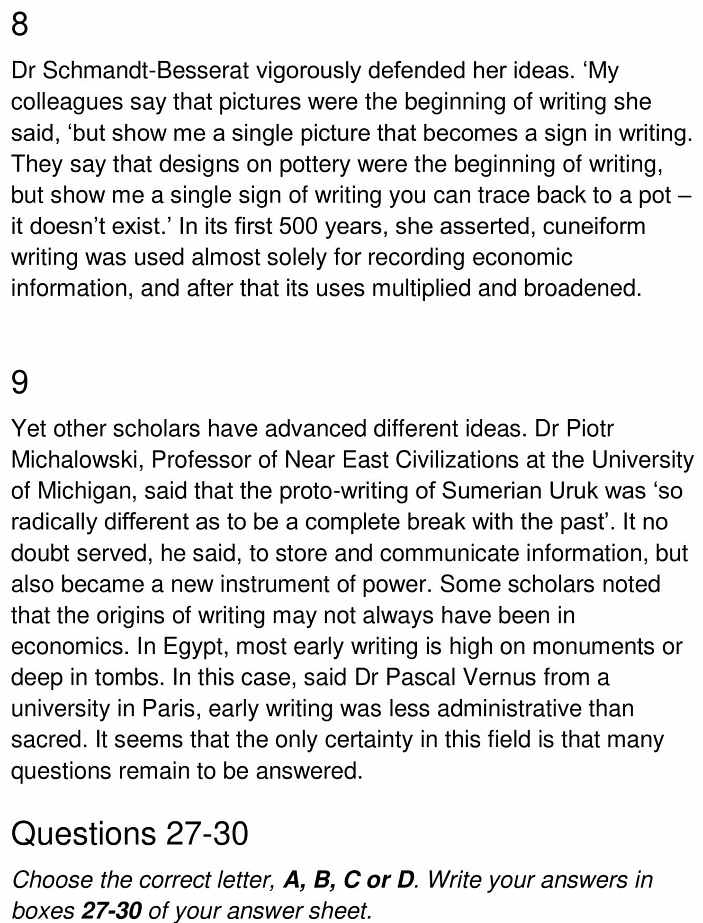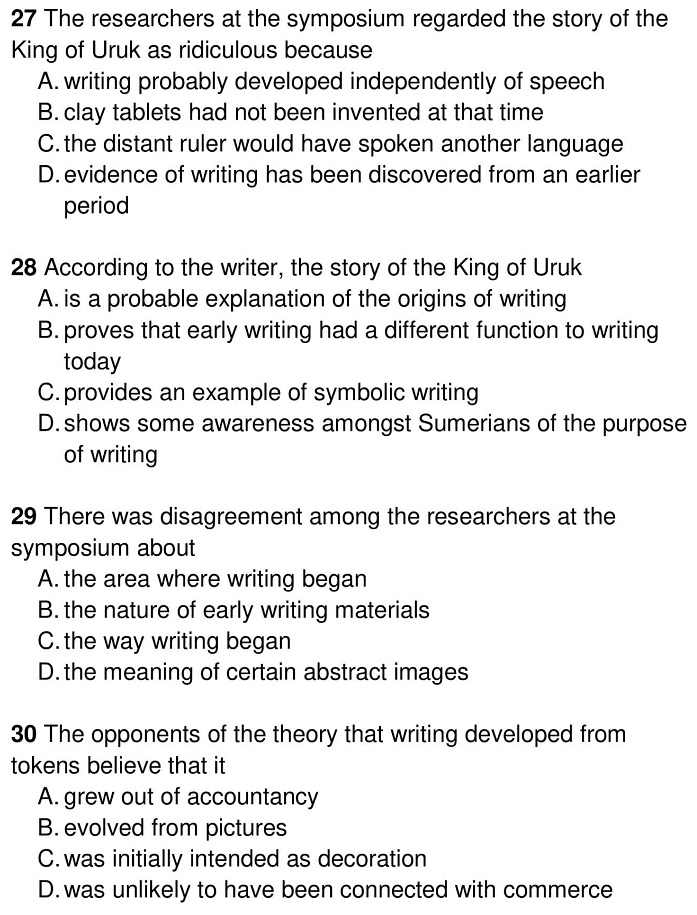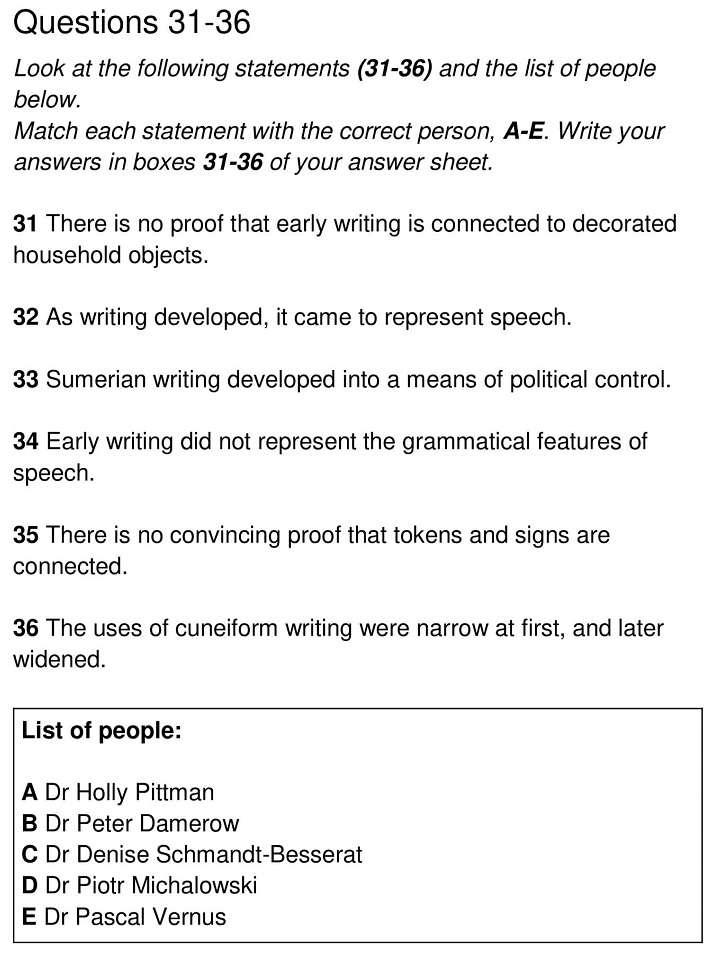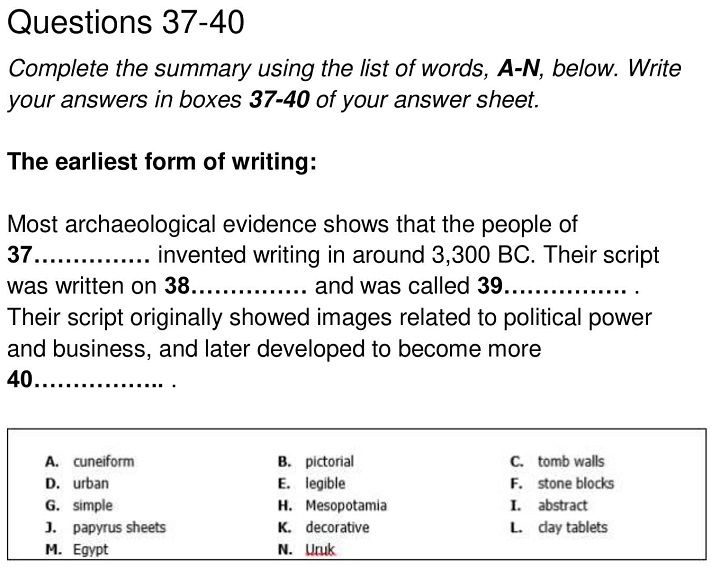 Answers
Unlock Answer
Signup/Login and get access to the answers
The answers to questions 27-40 are given below along with their explanations.
| Question Number | Answer | Keywords | Locations of Keywords |
| --- | --- | --- | --- |
| 27 | A | Writing, began, separate, communication, later merged, spoken language. | Para 1, last 2 lines |
| 28 | D | Sumerians, Mesopotamia, now southern Iraq, understand writing's transforming function | Para 2, first 2 lines |
| 29 | C | scholars acknowledged, no, answers, how, why writing developed | Para 3, first 2 lines |
| 30 | B | Schmandt-Besserat, defended, pictures, beginning of writing | Para 8, first 2 lines |
| 31 | C | designs, pottery, beginning, writing, show, single sign of writing, trace, pot, doesn't exist | Para 8, lines 3-4 |
| 32 | B | development, writing, attains, considerable, independence, flexibility, adapt, characteristics, sounds, language, represented | Para 5, lines 3-5 |
| 33 | D | but, became, new instrument, power | Para 9, line 4 |
| 34 | B | structures, earliest writing did not, match, structure, spoken language | Para 5, lines 7-8 |
| 35 | A | Dr Pittman, argument, evidence, link between tokens, signs | Para 7, line 4 |
| 36 | C | accountants, clay tokens, oil,er of grain, particular, livestock, eventually, token, replaced, inscribed signs, writing, invented. | Para 6, line 2-7 |
| 37 | H(Mesopotamia) | The Sumerians, ancient people, Middle East, story explaining, invention, writing, 5,000 years, lived in Mesopotamia | Para 1, line 1; Para 2, line 1 |
| 38 | L(clay tablets) | cuneiform, script written by, sharpened stick, wet clay | Para 4, lines 5-6 |
| 39 | A(cuneiform) | cuneiform, script written by, sharpened stick, wet clay | Para 4, lines 5-6 |
| 40 | I(abstract) | Sumerian script, evolved, pictorial, abstract | Para 4, last 2 lines |
Check More IELTS Reading Answers
Also check :