IELTS Letter Writing Sample: Write a letter to your friend planning a weekend trip.
Janice Thompson,
Updated On
In this article, we will discuss one of the most common types of personal letter-writing tasks in the IELTS. The sample question asks you to write a letter to your friend planning a weekend trip.
Letter writing is a part of the IELTS General Writing Task 1. You can find the different types of letters with the latest IELTS Letter Writing Topics here.
Read on to take a look at the IELTS letter-writing sample answer as well as a few letter-writing tips!
Question
You are planning a weekend trip with your friend. Write a letter to your friend. 
In your letter:
Mention the vacation spot you have chosen
explain how you plan to spend your time there
invite your friend to join you on your vacation
Sample Answer
Dear James,
I hope you are doing well. What are you up to these days? It has been quite a long time since we met and as you know, the next weekend is quite long, I have planned a small trip to Munnar in Kerala.
As you know that I love making tour plans, I have an idea in mind and would be excited to share it with you. Since you are a nature lover, I'm pretty sure that you would also be excited the same way that I am to visit God's own country.
Once we have checked in by July 1, I have planned a trek on the first day to the Anamudi peak which has the highest and the most alluring viewpoint. We can then chill at night in our hotel and by the next day start visiting the aroma-filled tea plantations. After that, we could visit the famous Mettupetty dam to try out the water sports just like in our old times.
Please tell me if you are interested in this trip. I would really appreciate having you as a company and I look forward to hearing back from you!
Best wishes,
Dave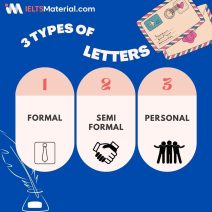 Tips for letter writing
Now let us go over a few letter-writing tips that will help you draft your answers to the above question.
Keep in mind who you are writing to and your relationship with them. Your tone and writing style will be determined by this.
Give careful consideration to the letter's aims and objectives.
You must organise your letter and establish a framework for the content using the three points stated in the question.
Your letter must clearly address each point. Your writing band score will be reduced if you don't address every point in your letter.
To complete the missing information, such as choosing the names of the individuals or places included in your letter, you will have to use your own creativity.
Write an opening line after addressing the recipient of your message. Always end the letter properly with the appropriate sign-offs.
Above 150 words must be written in order to fulfil the task requirements. Aim for between 160 and 180. A letter of more than 300 words should not be written.
Give the letter-writing task 20 minutes in total. Plan for 3 to 5 minutes, then write for the remaining time. Always allow two minutes to proofread the letter for spelling and grammar errors. You will be in charge of managing the time throughout your writing test.
Conclusion
The sample answer for writing a letter to your friend planning a weekend trip has been shared with you. Make use of this reference to write your own answers. For more writing practice, take a look at the Comprehensive IELTS Writing (General) Band 8 Preparation Course.
If you want to keep up with the latest IELTS news and expert advice, sign up for IELTSMaterial now!