IELTS Academic Writing Task 1 Topic : Annual pay for doctors and other workers – Bar chart
Zuhana,
Updated On


Limited-Time Offer : Access a FREE 10-Day IELTS Study Plan!
Describe Image is one of the most complicated tasks in the IELTS Writing is the ideal format for practising the Describe Image problem because it has logically and simply organised all of the components. Elements of the Bar Graph include the layout, the figures, the contrasts, and the similarities.
Task 1: The chart below shows the annual pay (thousands of US dollars) for doctors and other workers in seven countries in 2004.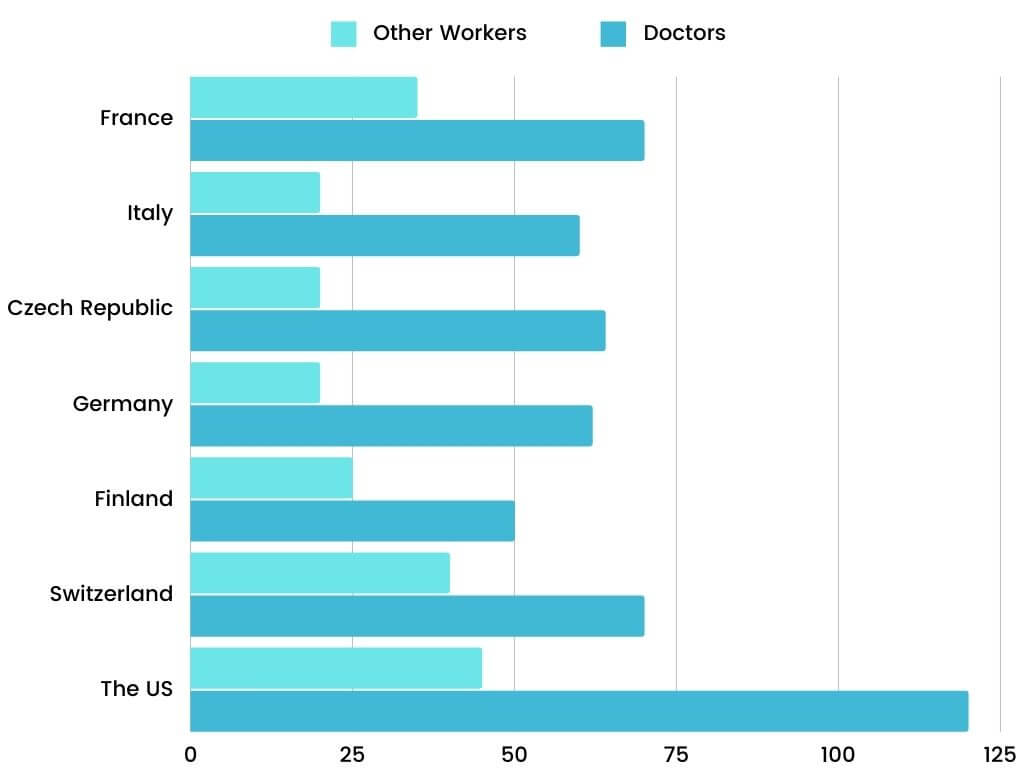 Report Plan:
Paraphrase: shows>compares; annual>yearly; pay>salary; seven countries> several countries
Summary/Overview paragraph:(1) pay of US doctors higher than in the other countries (2) doctors earned more than other workers
Paragraph 3: doctors: contrast US (highest earnings) and Finland (lowest earnings). France & Switzerland – same salary – higher than Italy, Czech Republic, Germany.
Paragraph 4: other workers: lower pay than doctors. Compare the US and Switzerland (highest), next France and Finland, then Italy, Czech Republic and Germany with the same figure.
Report:
The bar chart compares the yearly salary of doctors and other workers in several countries in the year 2004.
Overall, it is clear that the pay of US doctors was much higher than that of doctors in the other countries. In each country, the annual salary of doctors was far higher than that of other workers.
The annual pay of doctors in the US was $120,000, whereas in Finland doctors received a comparatively low yearly salary of $50,000. In France, and Switzerland doctors earned $70,000 per year, compared with around $60,000 annually in Italy, Germany and the Czech Republic.
In contrast, the annual wages of other workers were much lower, at about $45,000 and $40,000 in the US and Switzerland, respectively. Other workers in France earned $30,000, a little more than other workers in Finland, who had an annual salary of $25,000. The lowest annual earnings were for other workers in Italy, Germany and the Czech Republic, at exactly $20,000.
Get evaluated for FREE!
Got a quick report in your mind for this question. Don't hesitate to post the same in our comment section. We will evaluate the report/letter and email you the band score & our trainer's comments. And, this service is entirely free.
Also check :