IELTS Academic Reading 'Music and the Emotions' Answers
Courtney Miller,
Updated On
The Academic passage 'Music and the Emotions' is a reading passage that appeared in an IELTS Test.
It contains some of the IELTS reading question types. If you are interested in familiarising yourself with all the question types, don't hesitate to take an IELTS reading practice test.
Music and the Emotions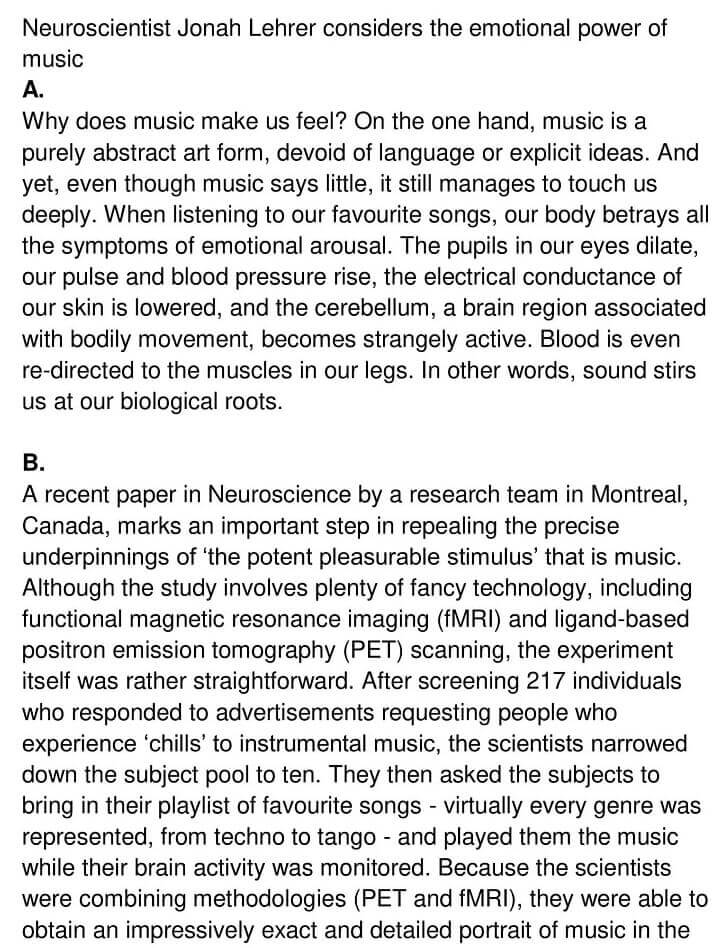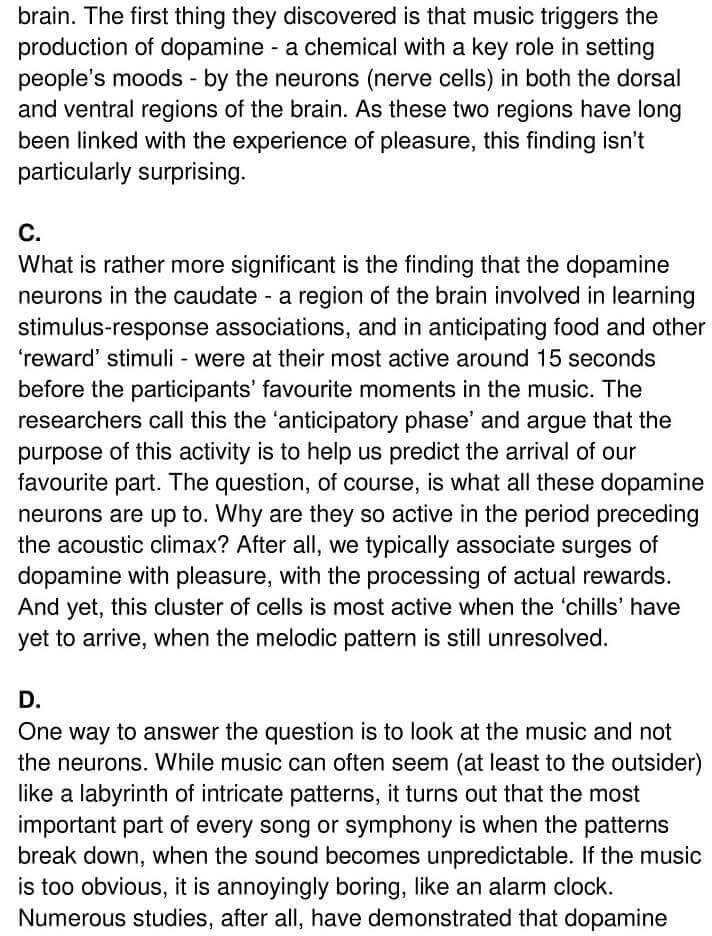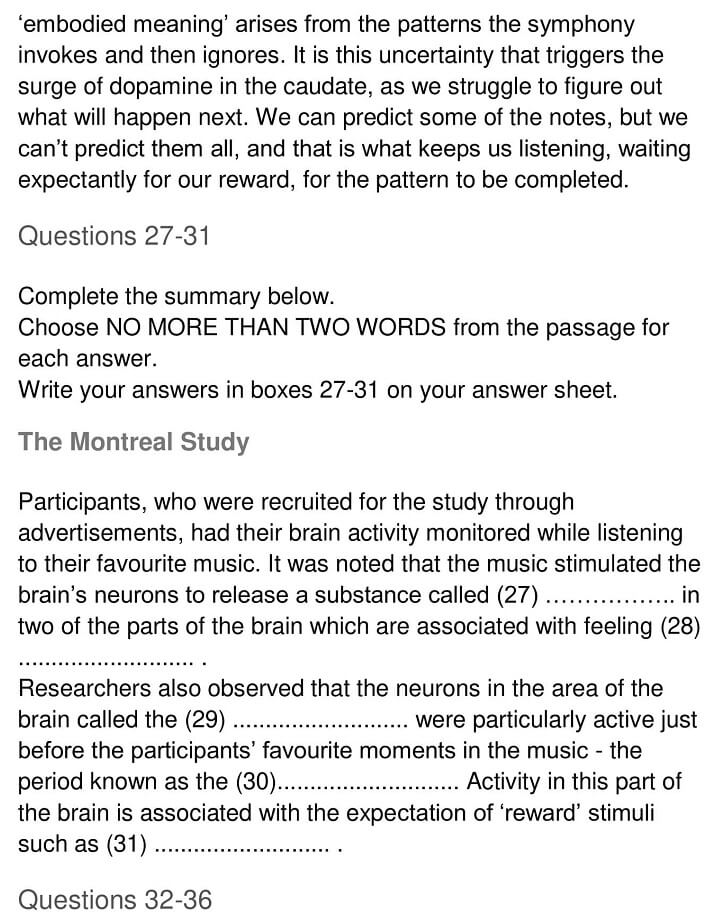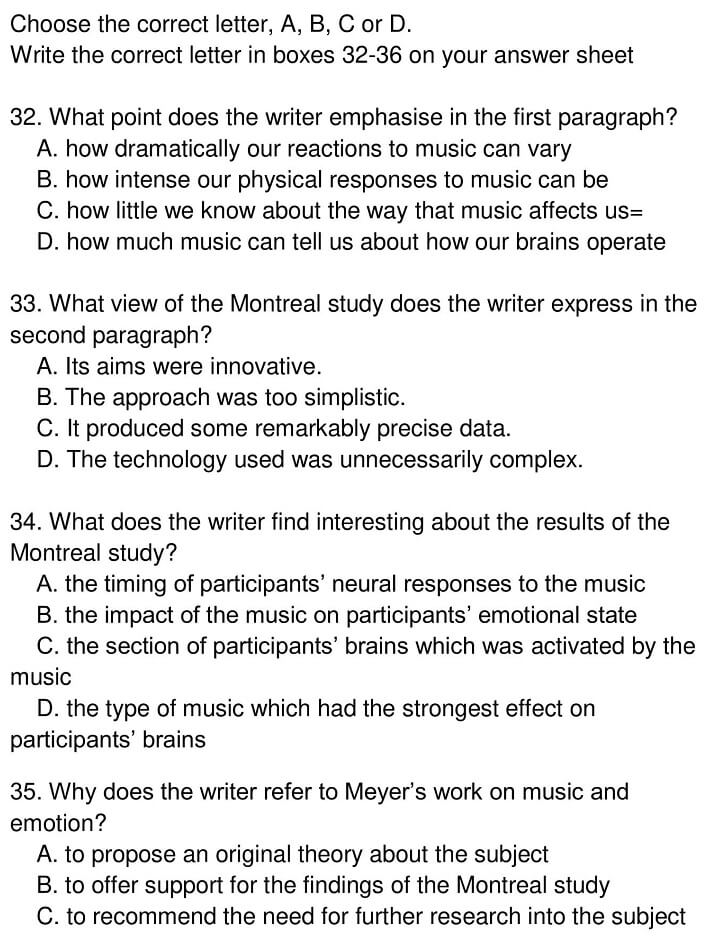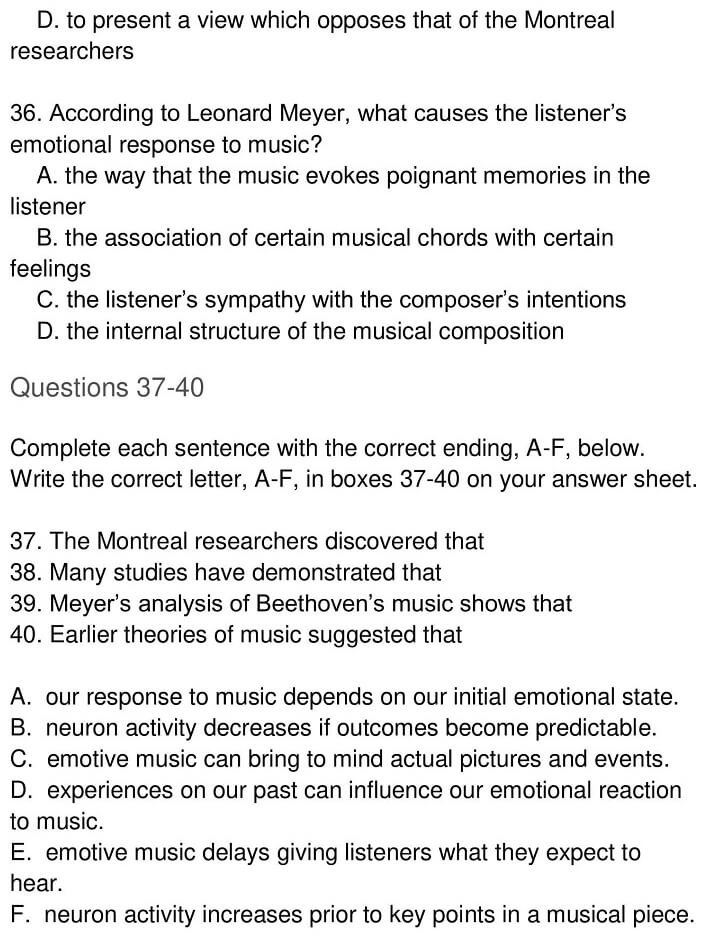 Answers
The answers with explanations are given below
| Question Number | Answers | Keywords | Location of Keywords |
| --- | --- | --- | --- |
| 27. | Dopamine  | Music triggers, production | Paragraph B, Last 5 lines |
| 28. | pleasure | Regions, experience of | Paragraph B, Last 2 lines |
| 29. | caudate | Neurons, region of brain | Paragraph C, First 2 lines |
| 30. | Anticipatory phase | Favourite moments, music | Paragraph C, Lines 5-6 |
| 31. | food | Anticipating, 'reward' stimuli  | Paragraph C, First 4 lines |
| 32. | B | Touch us deeply, our body | Paragraph A |
| 33. | C | Research team, Montreal, precise underpinnings  | Paragraph B |
| 34. | A | Anticipating, most active, 15 seconds  | Paragraph C, First 4 lines |
| 35. | B | This is why composers, to demonstrate this psychological principle, Leonard Meyer, Beethoven | Paragraph D Last 4 lines & E First 3 lines |
| 36. | D | Meyer, in music, unfolding events, music itself. | Paragraph F, Lines 5-6 |
| 37. | F | Most active, 15 seconds, favourite moments | Paragraph C, Lines 4-5 |
| 38. | B | Dopamine neurons quickly adapt, predictable rewards, don't get excited. | Paragraph D, Lines 6-8 |
| 39. | E | Suggest variations, element of uncertainty, that chord for the end. | Paragraph E, Last 4 lines |
| 40. | C | Earlier theories, images and experiences  | Paragraph F, Lines 3-4 |
Check More IELTS Reading Answers
Also check :