The History Of Salt IELTS Reading Answers
Janice Thompson,
Updated On
The Academic passage 'The History Of Salt' is a reading passage that appeared in an IELTS Test. Ideally, you should not spend more than 20 minutes on a passage. Since questions get repeated in the IELTS exam and contains some of the IELTS reading question types, these passages for ideal for practice.
If you are interested in familiarising yourself with all the question types, don't hesitate to take an IELTS reading practice test.
The History Of Salt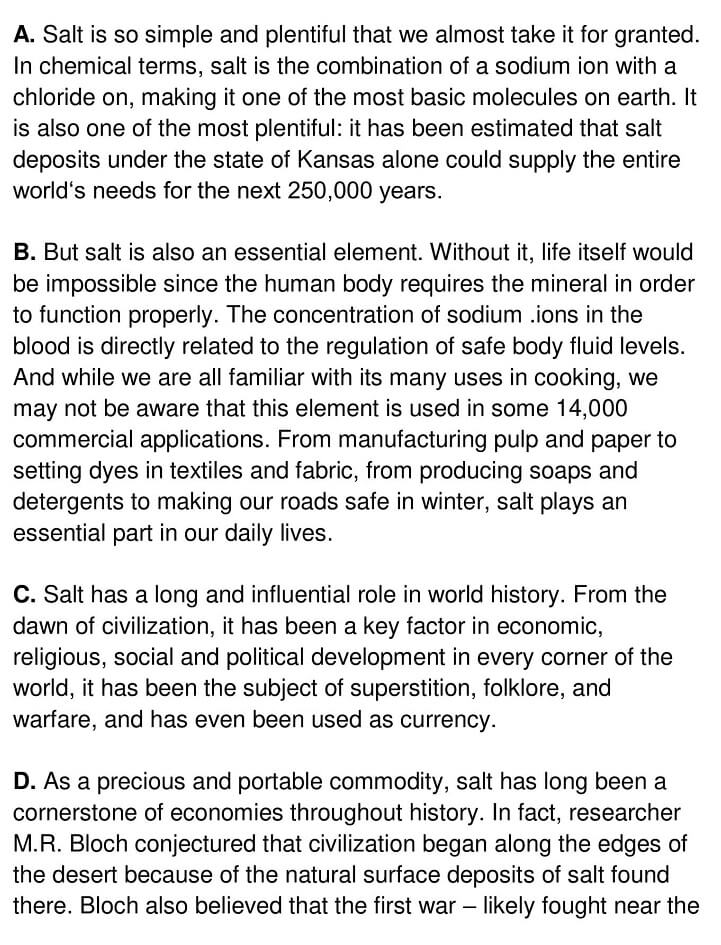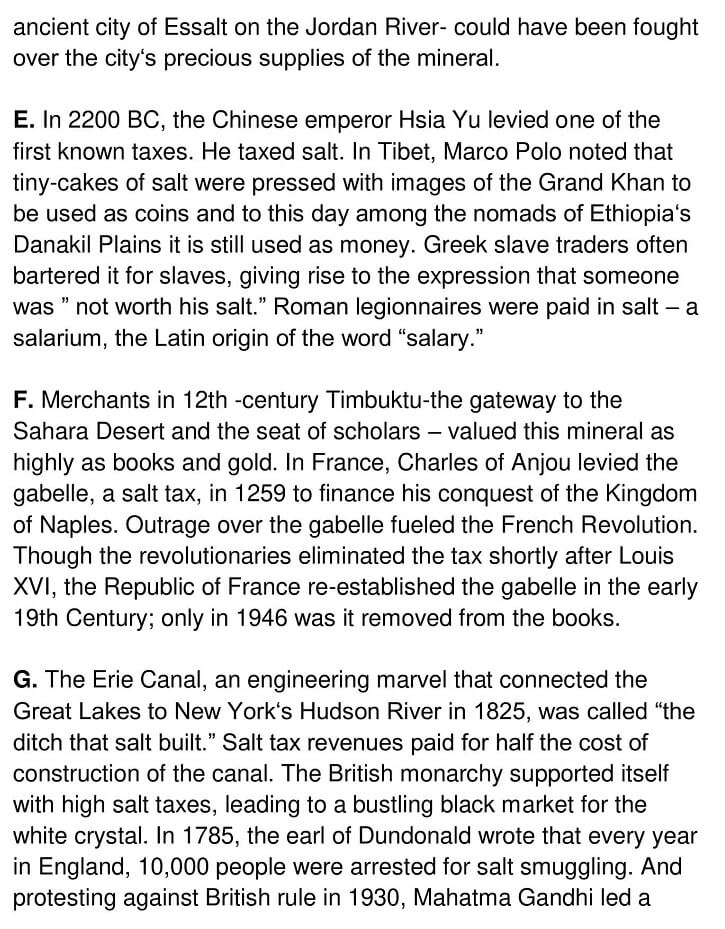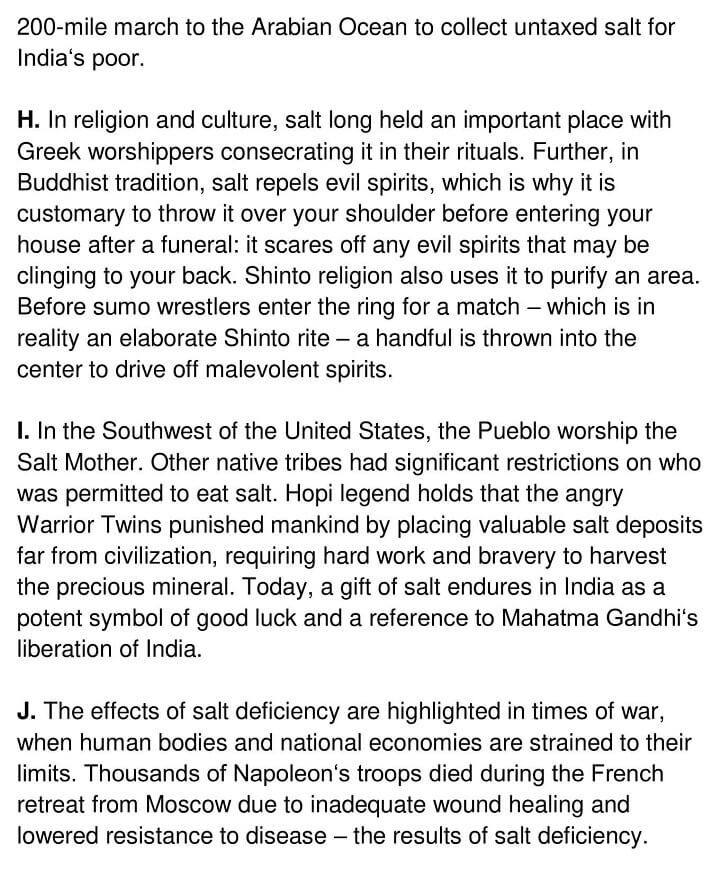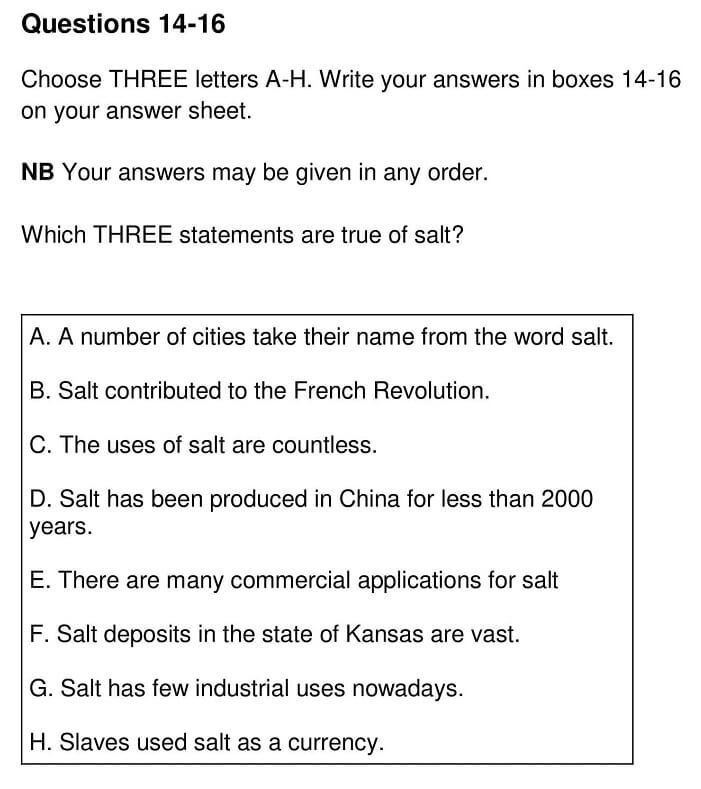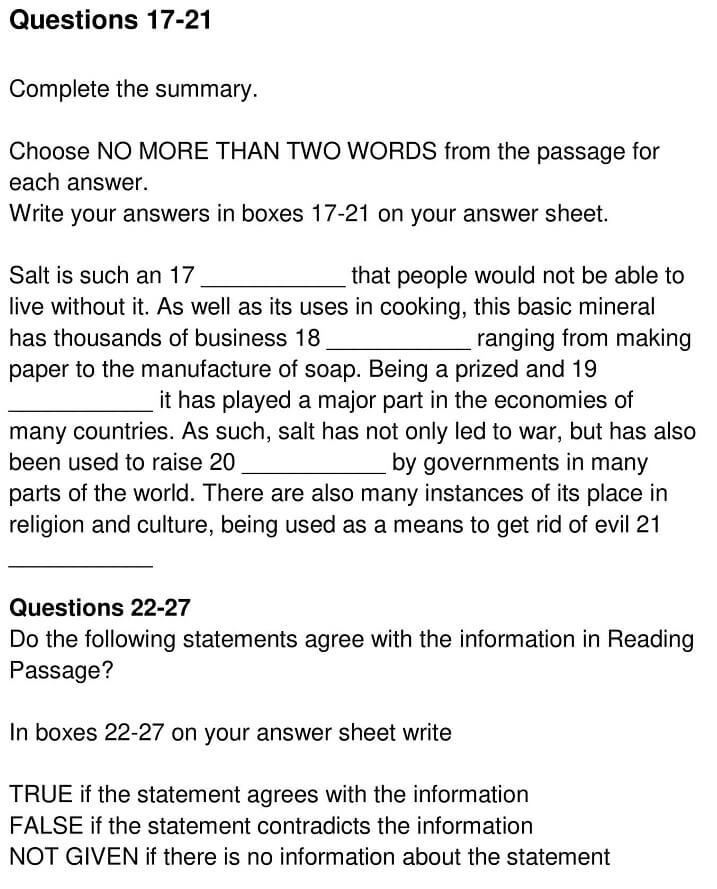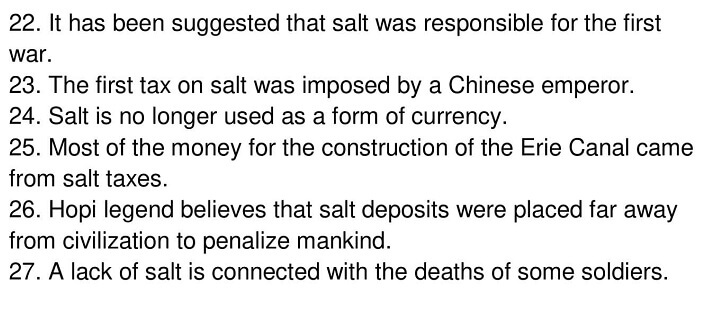 Answers
Question number 
Answer 
Keywords 
Location of keywords

14

B

Outrage over the gabelle fueled the French Revolution.

Paragraph F;

Line 3

15

E

And while we are all familiar with its many uses in cooking, we may not be aware that this element is used in some 14,000 commercial applications

Paragraph B;

Line 4

16

F

it has been estimated that salt deposits under the state of Kansas alone could supply the entire world's needs for the next 250,000 years.

Paragraph A;

Last line

17

Essential element

But salt is also an essential element. Without it, life itself would be impossible since the human body requires the mineral in order to function properly.

Paragraph B;

Lines 1 – 2

18

Applications 

that this element is used in some 14,000 commercial applications. From manufacturing pulp and paper to setting dyes in textiles and fabric, from producing soaps and detergents to making our roads safe in winter, salt plays an essential part in our daily lives.

Paragraph B;

Lines 4 – 5

19

Portable commodity

As a precious and portable commodity, salt has long been a cornerstone of economies throughout history.

Paragraph D;

Line 1

20

Taxes

In France, Charles of Anjou levied the gabelle, a salt tax, in 1259 to finance his conquest of the Kingdom of Naples.

&

Salt tax revenues paid for half the cost of construction of the canal.

Paragraph F;

Line 2

&

Paragraph G;

Line 2

21

Spirits

in Buddhist tradition, salt repels evil spirits

Paragraph H;

Line 2

22

TRUE

Bloch also believed that the first war – likely fought near the ancient city of Essalt on the Jordan River- could have been fought over the city's precious supplies of the mineral.

Paragraph D;

Last line

23

NOT GIVEN

–

–

24

NOT GIVEN 

–

–

25
FALSE
Salt tax revenues paid for half the cost of construction of the canal.
Paragraph G;

Line 2

26

TRUE

Hopi legend holds that the angry Warrior Twins punished mankind by placing valuable salt deposits far from civilization.

Paragraph I;

Line 3

27

TRUE

Thousands of Napoleon's troops died during the French retreat from Moscow due to inadequate wound healing and lowered resistance to disease – the results of salt deficiency.

Paragraph J;

Last line
Check More IELTS Reading Answers
Also check :